Become a Deliveroo driver in the UK: tax, driving licence and how much you can earn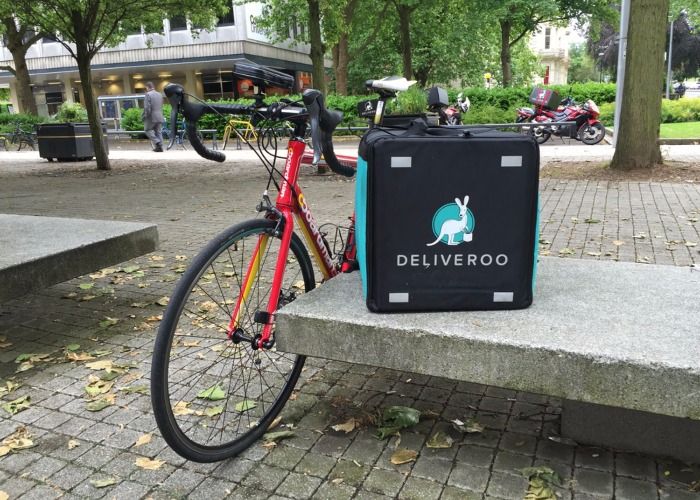 Working for Deliveroo can offer more flexibility, but how do you become a driver and how much can you earn? Read on to find out more.
Working for Deliveroo
Deliveroo has transformed the takeaway market since it was founded in 2013. It has also provided flexible working to 15,000 people across the country.
So, how do you become a Deliveroo driver or cyclist? Are you an employee or self-employed? What equipment do you need? How much tax must you pay? And just how much money can you make?
Read on to find out all you need to know about working for Deliveroo.
Compare life insurance policies with loveMONEY
What is Deliveroo?
Deliveroo is an app and web food delivery business that allows people to order takeaways from an array of restaurants that may not traditionally offer a delivery service. Your meal is delivered to your door by a cyclist or motorcyclist.
It offers access to popular chains such as Byron burger or Wagamama who don't do deliveries otherwise.
Originally, Deliveroo was only available in London, but it has since expanded to 34 UK cities. There are 3,500 cyclists working for Deliveroo alongside scooter riders and car drivers, but cyclists make up 60% of delivery workers.
Deliveroo drivers respond to an app telling them where to collect food from and deliver it to and most deliver on their bicycle, using a large backpack to transport the food.
They decide when they want to work and how many hours they want to do. Many choose to work a three-hour shift over lunchtime and another three-hour shift in the evening.
Tax and salary: will you be self-employed?
This is a contentious issue. At present you would be self-employed, but a court battle is currently underway to get Deliveroo cyclists recognised as employees, which would mean they are entitled to sick pay, holiday pay, minimum wage and employer pension contributions.
As a self-employed deliverer, you would need to fill out a tax return each year, declaring your earnings and paying Income Tax on them. Remember, your bike maintenance costs are tax-deductible.
Compare life insurance policies with loveMONEY
Start up costs
As a Deliveroo cyclist, you'll have to pay a £150 deposit for their gear which is deducted from your pay. You get that money back when you leave the job. The gear includes your Deliveroo backpack, fluorescent jacket, bike lights, helmets and phone holder.
You need to have your own scooter, motorbike or bicycle and a smartphone though.
You have to pay for your bike's maintenance yourself, which can rack up when you consider how much you will be using it. One Deliveroo rider said their brake pads now only last a few weeks, rather than months.
Insurance costs
Your bike or scooter is key to your ability to earn so getting it insured will protect you from the worst.
Conventional cycle insurers won't cover it, but if you go for a specialist like Insure 24-7, you can bag a policy. As they're not as common as standard cycle policies, you'll need to ring up and advisor to get a quote. It also covers scooters and motorcycles.
Similarly, you may want to think about insuring your smartphone. Most people either opt to use the cover provided their home insurance or take out insurance directly through their network provider.
Paying through your home insurance is convenient if your phone is covered by your policy anyway, but claiming might mean that your premium increases at renewal.
How much can you make?
Deliveroo pays £7 an hour plus £1 per delivery, but they are now offering an alternative pay format where you are paid between £3.75 and £4 per delivery depending on where you are in the country.
The company says the new system results in cyclists earning £12 an hour rather than the average £9.50 per hour under the old system.
Realistically, the amount you can earn varies widely.
One Deliveroo driver said they once managed to make £32 in a three-hour shift due to making 11 deliveries, but that was a one-off.
The same driver said they normally only manage one delivery per hour meaning a £8 an hour wage under the old system and £4 under the alternative system.
Other money-making opportunities
If working at Deliveroo isn't quite the right gig for you, why not have a look at our guide to working at Uber? Or, for more money-making ideas, take a look at 21 ways to get rich.
Want more stories like this? Visit the loveMONEY homepage or sign up for our daily newsletter and let us send the news to you!
It's also wise to invest in a life insurance policy. Get a free, no obligation quote today
Be the first to comment
Do you want to comment on this article? You need to be signed in for this feature