Virgin Money 'digital' account ‒ is it any good?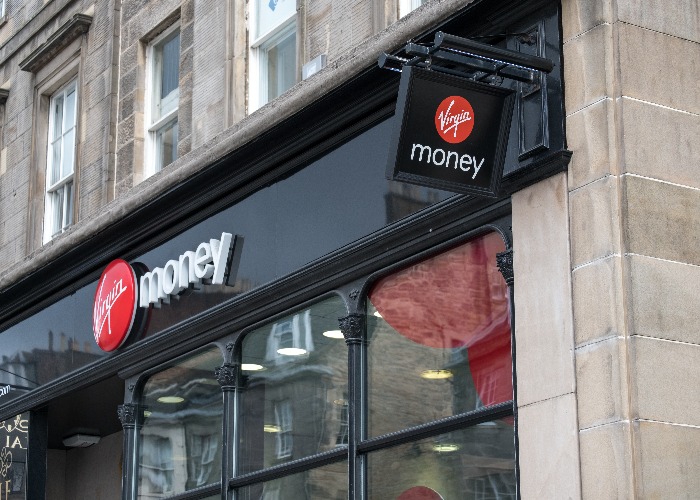 Virgin's new current account offering is a halfway house between high street banks and app-only account providers.
When it comes to bank accounts, huge numbers of us are turning away from the traditional names.
The most recent current account statistics, covering the three months up to the end of September, show that large names like Barclays, Halifax, Lloyds, RBS and Santander all lost thousands of customers.
And it's some of the less well-known names that have been the beneficiaries, with Monzo and Starling Bank gaining around 20,000 new customers between them in that period.
They aren't the only challengers around though, with Virgin Money now promising to "break the big banks' stranglehold" by launching what it is terming its first-ever "digital current account".
So what does it offer? And is it any good?
The best UK packaged accounts revealed
Boosting your balance
The first thing to note is that the Virgin account does pay interest to those in credit, albeit only at a rate of 0.5% on balances of up to £2,000, with no interest paid on your balance above that.
While this is better than nothing, the truth is that if your priority is to earn a return on your current account balance, you'd be better off looking elsewhere, such as the Nationwide FlexDirect account which pays 5% on balances of up to £2,500, albeit only over the first 12 months.
However, another selling point is the fact that it includes a linked easy access account paying a rate of 1% AER, with no restrictions on withdrawals.
This is pretty competitive, though again you can do a little better if you look elsewhere. The Marcus account, for example, pays a variable rate of 1.45%.
However, as a combination, it's pretty attractive.
Earn the best rate on your savings with these cash accounts
Dipping into the red
On overdrafts, the new account comes with a rate of 19.9% for both arranged and unarranged overdrafts.
There has been a lot of talk about overdraft rates, with new rules coming in from April requiring providers to publish a single, 'simple' rate.
And it has been eye-opening seeing the likes of HSBC and Nationwide confirm they will charge 39.9%.
However, Virgin has said that its announced rate is based on the old regime, with further announcements to come closer to the time covering how things will work once the new rules are in place.
In other words, it's very much 'wait and see' to see how things shake out as to whether its offering is any good.
If you're regularly in the red, take a look at our roundup of the cheapest accounts for going overdrawn.
Going mobile
However, the new proposition from Virgin is not just about interest rates ‒ it's also trying to rival the likes of Monzo and Starling through a host of additional, mobile-centric tools.
For example, there is a 'sweep' feature which means money is automatically moved from savings accounts to the current account when balances are running low, in order to avoid fees and charges.
There are budgeting tools too, such as allowing to put your money into 'pots' for specific purposes within the account, as well as live spending data and alerts.
There is also a "digital store" offering users the chance to find services and products, including an energy switching tool that Virgin has put together with comparison site GoCompare.
On the security front, there are some strengthened security features, allowing you to sign in using your face or fingerprint, as well as a passcode.
It's all a step beyond the sort of thing you're likely to see from your typical high street bank app, but it's pretty similar to what you expect to see from the app-based banks that have won favour in the last few years.
In fact, those accounts perhaps have something of an edge if you tend to head overseas, with both Monzo and Starling offering users the chance to spend or withdraw cash abroad without incurring fees, which isn't currently the case with the Virgin account.
That is set to change though, with Fergus Murphy, group personal director at Virgin, stating: "We know our customers love to travel, so well ahead of the summer holidays we'll be making our new current account fee-free for debit card and ATM transactions overseas."
Best bank accounts for earning cashback
Finding the middle ground
On the whole, the new Virgin offering strikes me as particularly enticing to those people who have had enough of the old, traditional accounts offered by the banks and building societies they see on the high street, but who are still a bit wary about going all-in with an app-only bank with a name they've never heard of.
While Virgin is talked of as a challenger bank ‒ it's not exactly Halifax or Nationwide in terms of its high street legacy ‒ it's still an incredibly strong brand that generates some serious loyalty, whether that's on communications or travel.
And now that it has completed its merger with what used to be Clydesdale and Yorkshire Banks, it has a more significant high street presence of its own from which to push this effective 'hybrid' offering.
What do you think of the Virgin account? Will you be switching, or is your current account better? Let us know in the comments section below.
Be the first to comment
Do you want to comment on this article? You need to be signed in for this feature