Sainsbury's shoppers 'paying more for identical Argos goods'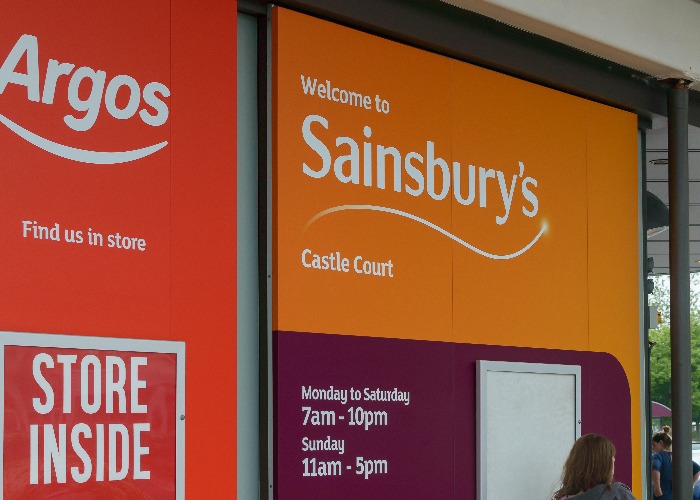 You could pay more for the same item depending on which till you go to in Sainsbury's and Argos stores.
Part of being a savvy shopper means comparing prices.
You don't just buy the item you want from the first store you come across – it's a good idea to search around, whether online or in person, to ensure you aren't paying more than necessary.
However, it has now emerged that you could end up paying two very different prices when you shop in a single store, simply because of which aisle you pick up the item from.
Earn Nectar points and get 26 months interest-free with this Sainsbury's credit card
Dual pricing at Sainsbury's and Argos
The issue comes from the fact that around 280 Sainsbury's stores in the UK now have an Argos under the same roof in the form of a 'click and collect' store.
It means you can order online and then pop into your local Sainsbury's to pick up your order.
The supermarket purchased Argos back in 2016, and so now hundreds of stores across the nation boast both brands in the same location.
The trouble is that there are certain items that both Argos and Sainsbury's sell, and it has emerged that in some cases the price differential can be pretty stark.
How much for a Henry?
An investigation by The Sunday Times has revealed that there are plenty of items where paying at a Sainsbury's till, rather than an Argos one, will leave you sharply out of pocket, even if they are under the same roof.
For example, it found that at the Sainsbury's store in Northampton a Henry Hoover vacuum cleaner will set you back £149.99. That's rather more than the £109 you'll have to cough up to get it from the Argos in the same store.
At the store in Crystal Palace, south London, an LG sound bar was found to cost £99.99 if you pick it up from an aisle in Sainsbury's. But pop into the Argos inside the store and you'll save £30 for the same item.
In the same location, a portable DVD player costs £59.99 from Argos but £70 from Sainsbury's.
Sainsbury's has said it is investigating the "tiny number" of examples where "pricing has not been consistent".
Earn Nectar points and get 26 months interest-free with this Sainsbury's credit card
One store, one price
This situation is obviously ridiculous.
There's no difference between the Henry Hoover on offer from Sainsbury's or Argos – that there can be such a massive price increase based on which brand you purchased it from, under the same roof, is farcical.
The sensible step from Sainsbury's would be for prices for items which both stores sell to be brought in line.
While Sainsbury's and Argos need to be separate brands, there will inevitably be certain areas where there is crossover in terms of what they sell.
When that occurs the prices charged have to be identical, irrespective of the brand you're purchasing it from.
To be honest, it's fairly remarkable that this wasn't already happening.
This brings with it a certain danger though. I wouldn't be at all surprised to see that by equalising the price charged, the two firms opt for the higher price rather than the lower one previously offered by Argos.
Doing your homework
This controversy does raise important issues around how shoppers have to put the work in to make sure they get the best possible deal on whatever it is they are looking to purchase.
Thankfully on certain items this is pretty straightforward. With your grocery shopping, for example, MySupermarket is a good resource, allowing you to swiftly work out where your basket or trolley will work out cheapest.
Google Shopping is great for more general price comparison too, though it's also worth factoring in whether using a voucher from the likes of VoucherCodes would help you save even more.
Finally, whenever you shop online it's important to check whether you can get some cashback on your spending by shopping via a tracked link on sites like Quidco or TopCashback.
And no matter where you shop you can get something back if you spend with a cashback credit card.
For more, check out What's the best way to earn cashback?
Earn Nectar points and get 26 months interest-free with this Sainsbury's credit card
Be the first to comment
Do you want to comment on this article? You need to be signed in for this feature