Are Aldi's 'copycat' brands good value for money?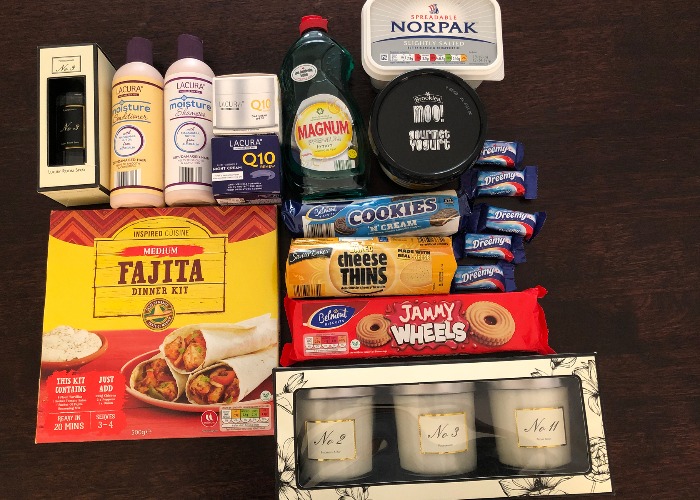 Are Aldi's copycat products any good and should you switch to them? Rebecca Goodman tested out 10 to see how they stack up.
Aldi is well known for beating the high street supermarkets for cost and is often praised for creating products which are better than the big brands.
Since the first shop opened in 1990, it's gone from strength to strength.
It has hundreds of new shops planned and this year was named the Best Grocer of 2019 and the best supermarket for Own Brand Range products by Retail Week.
Aldi sells a huge range of different products, from well-known high street brands to its own versions of best-selling items.
When it launches a copycat item, these usually sell out quickly with shoppers praising how similar some of these are to the originals – at a much cheaper price.
Earlier this year it hit headlines for its £1.89 detergent which some shoppers claim is as good at removing stains as more expensive branded products.
Its make-up range has also been compared to much more expensive branded items.
Its two in one concealer and foundation priced at £5.99, for example, has been compared to a £183 version from designer brand La Prairie.
But Aldi, and the other budget supermarkets, have also come under fire from brands for reproducing what they see as cheaper copies of their products.
Earlier this year, for example, it was accused of copying a BabaBing baby changing bag which sells for £49.99 but in Aldi was £17.99.
So how is it possible for Aldi to sell some copycat items and not others, and just how good are they anyway?
Here I've picked out 10 items from Aldi to see just how good they are compared to the originals.
If you're a fan of Aldi, let us know if you swear by any of its copycat products, or if you would always stick with the originals.
Never get ripped off at the tills again! Check our weekly roundup of the best supermarket deals from Aldi to Waitrose.
10 Aldi copycat products tested
You don't have to look far online to find examples of sold-out Aldi copycat products which are supposedly better than the more expensive originals.
From washing up liquid and detergents, to perfumes and beauty products, in my local Aldi in Walthamstow I picked 10 items to test out.
The prices are compared with the cheapest and most appropriate branded version I could find using shopping comparison site Mysupermarket.com.
Cookies n Cream biscuits
Aldi price: 36p
Cheapest supermarket price: 99p
Oreos have been a firm favourite in my biscuit jar for many years and therefore I was keen to try Aldi's Cookies n Cream biscuits, made by Belmont Biscuits.
The packing is almost identical to Oreos, using the same light and dark blue colours, and are described as 'Chocolately, creamy sandwich cookies'.
But while the look is familiar, I didn't think the taste was as good as the originals.
The texture of the biscuits is a lot crispier and thinner than a genuine Oreo and they feel less substantial.
However, unless you're a die-hard Oreo fan, these biscuits are a good option if you're looking for something with chocolate and they're less than half the price of the originals.
Prefer to shop at Asda? Earn 1% cashback on every shop with this free credit card
Norpak spreadable butter
Aldi price: £1.99
Cheapest supermarket price: £3
We tend to get through quite a lot of spreadable butter in our house, so I was keen to try out Norpak as a cheaper alternative to my normal go-to spread, Lurpack.
The design is once again almost identical to Lurpack, with the overall quality of the butter impressive.
The colour was lighter than the original but everything else seemed to match the more expensive version and at £1 cheaper per pack it's an alternative I'll be swapping to from now on.
Mini Dreemy bars multipack
Aldi price: 89p (for 16)
Cheapest supermarket price: £2 (for 14)
The design team have been unsubtle once more and the Dreemy bar could easily be mistaken for a miniature Milky Way bar at first glance.
The Aldi version is made by the firm Dairyfine and the taste is a winner from me.
I couldn't tell the difference when testing the Aldi version against the original from Mars – plus they're under half the price for a multipack, which is a significant saving.
Magnum washing up liquid
Aldi price: 69p
Cheapest supermarket price: £1
Fairy Liquid is a household staple among washing up brands but Aldi's Magnum washing up liquid is not only cheaper – it seems to get things clean just as well.
I've tried a few budget washing up liquid products before and I find they can be a bit of a false economy.
To actually get things clean I usually find I'm using a lot more washing up liquid and therefore replacing it more often when compared to brands such as Fairy Liquid.
However, so far the Aldi version has stood up to the test and I've still got quite a lot left when compared to using a more expensive version.
I'm not the only one either: consumer group Which? has previously named it as a best buy product.
Cheese thins biscuits
Aldi price: 59p
Cheapest supermarket price: £1.29
Aldi's cheese thins tick the box again for design, mirroring the look of Jacob's 'Cheddars' cheese biscuits.
Both packets are in the same colours, and both have the 'made with real cheese' stamp on the packet.
However, the taste doesn't compare for me.
The Aldi biscuits are really thin and crumbly, and I didn't think the cheese taste was strong enough – and certainly not anything compared to the Jacobs variety.
The Aldi biscuits were pretty disappointing imitations and despite the fact they're a lot cheaper, they didn't convince me to change brands.
Peony Blush Glass Candle
Aldi price: £3.99
Jo Malone price: £47
Jo Malone's luxury candles are a firm favourite with those after high-end products, but they come with an expensive price tag.
Aldi launched its own version of the candle a few years ago and they come in a range of scents for £3.99 each.
Compared to the Jo Malone version, Aldi's candle is a tough competitor and the candle takes a long time to burn, which is rare for a candle so cheap.
The scent or quality isn't the same as the original, and this is because the ingredients are completely different, which explains why the price is so much lower.
However, it's still a good quality candle for the price and gives off a pleasant smell to fill a room and doesn't leave any black residue when burning.
It mirrors the design of the more expensive version, in a weighty glass jar and comes with a lid to keep the scent in when you're not burning it.
Luxury pomegranate room spray
Aldi price: £2.99
Jo Malone price: £26.99
I sought out this room spray in my local Aldi and because I'd heard so much about it – it often sells out fast, with fans desperate to get their hands on the dupe.
To start with, as with the candles, the design is spot on. From the elegant black and cream box to the sleek design of the bottle, the designers behind the Aldi version have done an excellent job at making a premium-looking product.
When it comes to the scent, as with the candles, the ingredients are obviously different to reflect the price but I really liked the Aldi version.
You don't need to spray much of it to create a difference and it's not overpowering either.
Jammy Wheels biscuits
Aldi price: 37p
Cheapest supermarket price: 50p
My next product to try was Aldi's Jammy Dodgers… sorry, Jammy Wheels, which are made by Belmont biscuits.
From the font of the writing to the splodge of jam in the background, the packet looks similar to the original – apart from the design of the biscuit which has a round rather than heart-shaped hole where the jam is.
Overall the taste is good and pretty much what you'd expect, although I'd say the Aldi biscuits are a little softer and slightly less robust than the originals.
But for 35% cheaper I'd take the Aldi version.
Lacura renew Q10 day and night cream
Aldi price: £1.45
Cheapest supermarket price: £10.99
There are hundreds of skin care products promising an end to wrinkles and the ageing process and most have a price tag to match these claims.
Therefore, I was intrigued to test out the Lacura face creams from Aldi designed for ageing skin.
The creams are thick in texture but feel very light when you apply them to your skin and left my skin feeling soft and smooth – without a greasy layer which can happen with cheaper products.
The reviews for these creams speak for themselves with hundreds of people – both on the Aldi website and across social media – praising their benefits.
The nearest match I could find when looking at more expensive products was a day and night cream from Nivea.
The design of the creams is extremely similar and after using both products I didn't notice a difference.
Therefore, for a 10th of the price, I'd happily choose the Aldi version from now on.
Moo! Yoghurt
Aldi price: 89p
Cheapest supermarket price: £2
After spotting headlines last year about small brands accusing Aldi of ripping-off their designs, I was keen to try one of these.
The Moo! Yoghurt from Aldi looks pretty much identical to the Collective's Live Yoghurt range, but is less than half the price.
The dairy brand has accused Aldi of producing a product that is too similar to its own.
The design is certainly similar – and some of the flavours are also the same – and I found the taste was a good match too.
Aldi's version mirrors the more expensive version, with real fruit and yoghurt separated in the pot, however I found the cheaper version was not as creamy as The Collective's original.
Prefer to shop at Asda? Earn 1% cashback on every shop with this free credit card
Legality of copycat brands
Several of the Aldi products look and taste a lot like the originals but in each example are a lot cheaper.
Tessa Laws, partner at Acuity Law firm, said budget supermarkets are able to get away with doing this thanks to what is known as "passing off".
The law around this comes under 'common law tort' which means there is no specific legislation surrounding the offence.
The elements of passing off include:
Goodwill or reputation attached to the goods or services, a misrepresentation to the public, whether intentional or not, leading or likely to lead the public to believe the goods or services offered by the defendant are the goods or services of the claimant;
Damage suffered by the claimant pursuant to the erroneous belief that the goods or services offered to the public were those of the claimant, as opposed to those of the defendant.
Laws says: "The main reason Aldi and other retailers are able to emulate the products similar to those created by their higher-end counterparts is because the misrepresentation must cause an element of confusion as to the origin of those goods.
"It is unlikely that the public would confuse those goods in Aldi with those sold by the likes of Jo Malone or Elizabeth Arden.
Without this element of confusion, the prospect of success for higher-end retailers hoping to bring a passing off claim against Aldi is "particularly low", Laws adds.
"It could be argued that Aldi has now established something of a reputation for selling products which imitate higher-end retailers, meaning the likelihood of actual confusion is exceptionally slim because consumers know what they are paying for; a somewhat unique defence purely available due to Aldi's distinctive business structure."
In this article, I've shared my personal views on various products at Aldi – I'm not saying any are definitively good or bad. If you disagree with me, or you think I missed a particularly good/bad deal, let me know in the comments section below.
Be the first to comment
Do you want to comment on this article? You need to be signed in for this feature