The best time to book a holiday: get your flights, hotels, cruises and more for the lowest price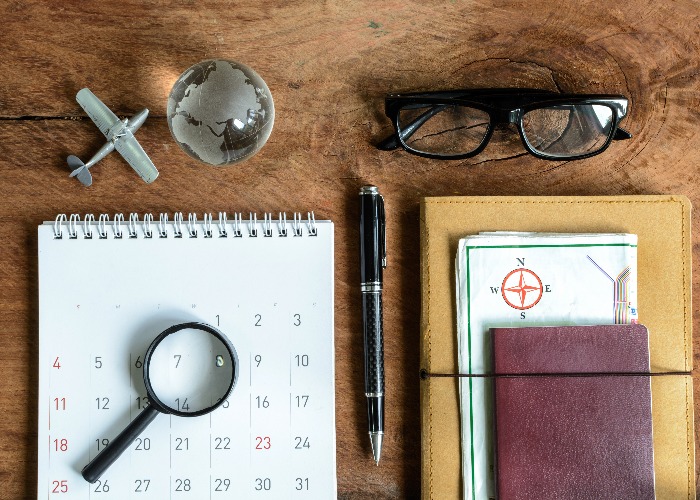 Planning your 2019 holiday? Here's when to book your travel and accommodation to bag the best deal.
January is when we plan for our holidays for the year ahead: from the New York shopping trip in March to the family trip to Cornwall in August to the European city break in October and the skiing getaway in the Alps come December.
So you've got an idea of where you want to go, but when is the best time to book your travel and accommodation to pay the lowest price?
Flight tips
In general, the best time to book your flights is in January - but don't worry if you've missed it, because September is almost as cheap.
Skyscanner analysed flights from last year and found that January was the cheapest month, followed by September and then February.
The cheapest day to buy your tickets on is Sunday, but the cheapest day to depart from the UK is, surprisingly, Friday - perfect for a weekend away. In fact, you could save a fifth on your airfare by flying on Friday rather than Sunday, the most expensive day.
December is, in general, the most expensive month to fly, with November and March not far behind.
However, given different countries have very different celebrations, climates and school holidays, it's always advisable to do your own research.
Skyscanner also listed some of the destinations that have seen the biggest falls in flight prices since 2017.
Best value long-haul destinations:
Austin, USA (28% fall)
Chicago, USA (19%)
Detriot, USA (17%)
Best value European destinations:
Frankfurt, German 26%
Cologne, Germany 23%
Kaunas, Lithuania 18%
Compare the best credit cards for travel with loveMONEY
Eurostar, ferries and carsharing
Eurostar tickets are released 138-190 days before departure so book them as soon as you can.
Eurostar says the cheapest times to travel are on Monday afternoon and evening, any time Tuesday, Wednesday and Thursday, or on Saturday afternoon.,
Knock even more off the price off your train travel by reading How to save money on Eurostar tickets.
Ferry travellers should book themselves on to midweek and night ferries as, unsurprisingly, they're cheaper than weekend ferries.
DFDS says that ferries departing Dover in the afternoon can also be surprisingly cheap.
Organising a journey through carsharing sites like BlaBlaCar are also best left until the eleventh hour as drivers often have space for passengers right up until they travel.
They don't just travel to destinations in the UK either: there are trips heading to Lille, Rotterdam, Romania and Brussels at the moment. All you have to cover is your share of the fuel cost. Bargain!
Travel insurance - don't go without it! Take five minutes to compare policies and apply with loveMONEY
Accommodation
Skyscanner says that hotel rooms should be booked one month in advance to get the best prices.
Don't be rushed into booking by comparison sites that claim there is 'high demand' or 'just have a couple of rooms left'. These tactics are misleading and soon to be banned.
It's always worth checking if the hotel itself is offering a cheaper deal by booking direct.
Finally, don't forget about Airbnb - for larger groups it could work out much cheaper than a hotel.
Family holidays
Get your family holiday sorted between December and the end of February as there will be loads of deals on discounts aimed at families who want to get away during the school holidays.
As a rule, don't travel in the first half of the summer holidays as it'll be horrendously expensive. If you can go earlier or later, particularly if your children's school breaks up or goes back at different times to the rest of the UK, then opt for those dates.
Some parents opt to risk a £60 fine by taking their children on holidays during term time, given the considerable savings on offer.
However, more serious penalties including court-ordered parenting classes or even prosecution leading to a fine of up to £2,500 are available to authorities.
Cheap holidays: online booking tips to cut the cost of your next trip
Cruise
Cruise tickets are released around 18 months to two years before travel so snap them up as soon as you can. You'll get first dibs on cabins and early bird perks such as free airfare (just check this is worth it on Skyscanner) or a complimentary upgrade.
You can bag a last-minute discount if you book 45-90 days in advance. Your choice of cabins will be severely limited and airfares may be higher, but if that doesn't bother you then you can get a bargain.
For more on cruise holidays and saving money, read our dedicated money-saving guide.
Skiing
Book in December or January for peak seasonal skiing; over Christmas and New Year is best.
If you're OK to go during 'low season' (early November until Christmas and after Easter) you can get a top deal if you book as close as possible, as long as you don't mind where you go.
Get the right cover for your winter sports trips at the loveMONEY travel insurance comparison centre.
Camping
As we all know, the British weather can be a touch unpredictable, with a likelihood of rain, which means that booking in advance to get the cheapest price carries an element of risk.
However, if you can wait in the hope there's a good forecast then you might be able to bag a last-minute bargain.
Pitchup.com is a useful one-stop site to find out about the best camping spots across the country.
Surprise yourself
Good news for spontaneous travellers: you can get a good last-minute deal if you don't care where you go!
Subscribing to email alerts from travel sites including lastminute.com and Expedia will help you keep up to date. Just don't be rushed when making what is still an expensive decision.
Make sure you get some travel insurance before you go: it'll cover you for a range of holiday mishaps. With loveMONEY, you can compare single and multi-trip travel insurance from some of the UK's top insurers. Find out more at our travel insurance comparison centre.
Be the first to comment
Do you want to comment on this article? You need to be signed in for this feature