Saving money: can you get a better price by being nice?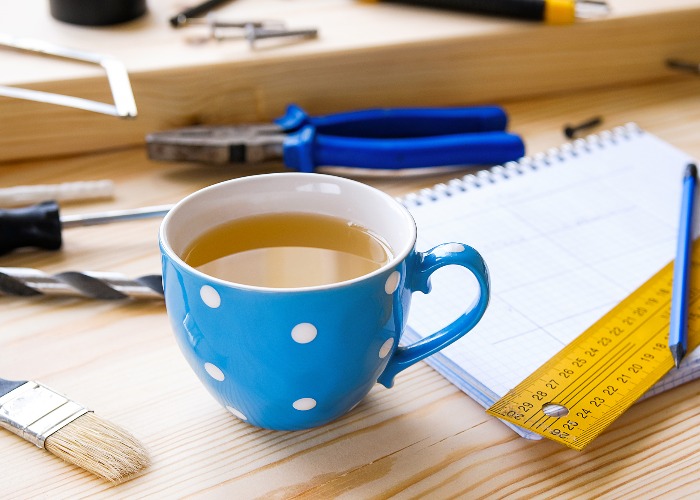 Don't underestimate the 'buying power' of a cuppa. Sue Hayward reveals how offering a brew has paid dividends by helping her save money.
Brits are well-known for their love of a good brew, either as a much needed pick-me-up after a long day at work or as a treat. But, did you know making a cuppa could potentially save you money?
Making a cup of tea has saved me more than a few quid over the years as it's proved to be a widely accepted trading currency when striking a deal with tradespeople.
I've found it can be an easy way to get folks on your side, which may mean they're happy to go the extra mile.
You may be wondering why I'm suddenly talking about cups of tea.
Recently, Amanda Holden's carpet cleaner, (stay with me on this!), was complaining to the papers that while working for the 'Britain's Got Talent' judge, he was never offered a cup of tea or even glass of water.
When I get a quote for a job, I've never yet seen one claiming tea and biscuits are part of the deal, and while I've no idea if any were on offer in the case of Amanda Holden's carpet cleaner, it got me thinking about the money saving potential of the humble cuppa.
I've always been one to stick the kettle on the minute anyone comes to my house to do a job, and found the offer of a fresh brew plus a plate of biscuits, (chocolate Hobnobs have proved a favourite), go a long way.
We're often quick to complain if things go wrong, (and rightly so), so on the flip side, why not get things off to a good start?
Looking for a personal loan? Compare a range of loans at loveMONEY
How a mug of tea saved me a repair bill
I reckon offering a brew saved me a repair bill after our washing machine developed a nasty leak.
It was still under warranty, so the manufacturer sent out an engineer although the firm warned me upfront, if the problem wasn't caused by an actual fault with the machine, I'd be billed for the visit.
So the engineer duly turned up and I made him a cup of tea.
We got chatting and he told me how he regularly turned up to troubleshoot 'faults' on machines that were caused by nothing more sinister than bits of kids' toys getting stuck inside or the filter not being cleaned.
Strictly speaking, he said, even if the machine was under warranty, he was told to bill for his time if the problem wasn't caused by a genuine fault with the machine.
But his thinking was, if he'd been given a 'decent cup of tea', he didn't bother charging if he could fix the problem, as he got paid for his day's work regardless.
The problem with my leaky machine was down to 'an incorrectly positioned outlet pipe' (rather than a fault) and in case you're wondering, I didn't have to pay for it as I passed the unspoken 'tea test'.
Need a credit card to foot a bill? Compare credit cards at loveMONEY
£100 saved on car costs
On another occasion, I had someone round to fix the sunroof on my convertible after it got jammed.
I was told they'd be a call out charge including the first hour's labour and beyond that, a fixed hourly rate.
As I was working at home, I made a point of regularly popping out with tea and biscuits, (and to keep an eye on how things were going), while mentally totting up the bill in my head.
So I was rather chuffed when after working on my car for the best part of five hours, the chap in question suggested I just pay him for three hours work – as he said he'd stopped to enjoy a few cups of tea during this time.
If we do the maths, it costs around 13p to make a cup of tea according to consumer group Which?, including the cost of boiling the water, the tea bag and a splash of milk.
So, for an outlay of just a couple of quid, by the time you add in the biscuits, I'd saved around £100.
Jobs done for free
Recently, we had a local decorator who came round to revamp our hallway, stairs and landing.
Having agreed his quote and booked him for the job, I got back in touch to ask if he could fit a new bathroom door at the same time.
No problem he said, but he'd need to add on an extra charge, which was fair enough.
During the decorating days, I decamped downstairs to work and did several tea runs.
While I'm not suggesting this is totally down to my tea-making abilities, when it came to pay the bill, he refused to add anything extra for the door, and did the lot for the original price.
If you're considering redecorating, visit Dulux for helpful tips
Making a cup of tea may be a small gesture, but it's clear from my experiences that it saved me money – and could save you money too.
Yet before you rush out to stock up on tea and biscuits, remember any savings are not guaranteed as it depends on the individual doing the work.
*This article contains affiliate links, which means we may receive a commission on any sales of products or services we write about. This article was written completely independently.
Be the first to comment
Do you want to comment on this article? You need to be signed in for this feature