Rachel Riley talks being self-employed, managing money and more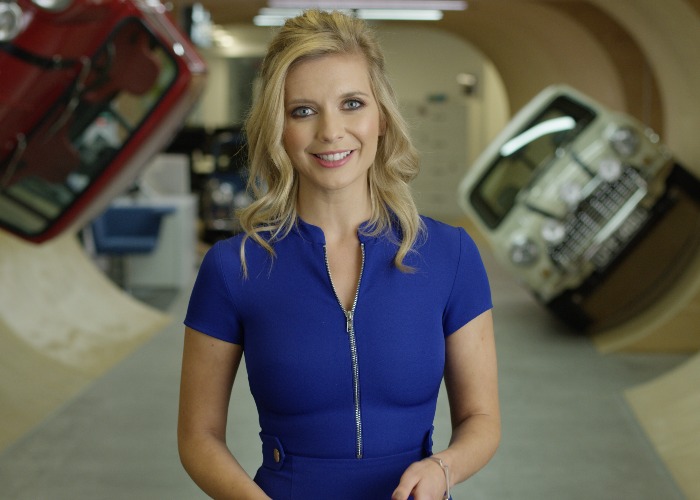 Rachel Riley chats to loveMONEY about managing her money, the challenges of being self-employed and why one person in a relationship should always take the lead when it comes to finances.
Rachel Riley is a self-proclaimed 'savvy shopper', so she's clued-up when it comes to handling her finances.
She tells loveMONEY what she spends her money on and how your budget can help you bag an affordable motor.
Family finances
My parents are both from working-class backgrounds. Mum always spent money on us but not on herself when we were growing up. We'd have one nice holiday a year which we would all look forward to.
I've had jobs ever since I was 14 or 15. One of the first jobs I had was working in a sandwich bar – at school you can only really work one day a week, so I worked all day on a Saturday and got paid £25.
You know how much time and effort you had to put in to earn that. If I went out, I wouldn't take a taxi home at the end of the night because that's most of my money and I don't want to spend it.
I'd rather save up and buy a jumper I really wanted – that's just me, that's how I've been brought up.
My brother has more of a lax attitude to money. He's a typical younger brother!
A bit of balance
I'm a spender and a saver, really.
Personally, I'm not comfortable spending a lot of money on credit card interest and things like that. I look at the overall cost of something.
Learning the difference between good debt and bad debt is important. I consider debt like student loans and mortgages as an investment for the future.
When it comes to contracted payments like that, I always think of the worst-case scenario and work out what I can afford.
For the smaller stuff, I use cashback websites as I don't like spending more than I have to.
If you use cashback sites, you could be getting some of the money in your own pocket, so why not use them?
Sign up to Topcashback and Quidco today.
I haven't made any major financial mistakes, I just spend quite a lot on clothes. My taste can change every five minutes, or I can buy clothes which I love and will last me 10 years.Compare mortgages with loveMONEY
Money and relationships
When we're both working, my partner [Strictly Come Dancing pro Pasha Kovalev] and I never have time to see each other, so I'd rather spend money on entertainment and doing something memorable like holidays, going to the theatre or for a nice dinner.
Pasha doesn't do any of the finances! I'm the savvy shopper – I make spreadsheets to track what we spend.
I think in relationships that one person should take the lead when it comes to finance. Otherwise, you've got two people doing different things – they don't know what the other person's doing.
And yes, my friends do turn to me when we need to split the bill. They also come to me for money advice.
Figuring out a budget
People have a different attitude to money than they used to. Grandparents would never dream of putting a car on finance where younger generations are happy to do that.
There's so much uncertainty with Brexit and the pound going up and down. Money is very tight.
Campaigners are looking at changing the attitudes towards buying a car. A lot of people buy a used car with finance options, so they know how much they have to spend every month.
But with interest payments on debt, it costs some people more in the long run. It's about looking at what you're signing up for and whether it's the best deal for you.
Find out more about the cost by using Auto Trader's new search by monthly price tool.
Budgeting isn't the most riveting thing to do, I know. People don't like to look at their finances but it's a way of taking control.
When you think 'I'm spending £3 a day on coffee' and you realise you're spending £60 a month on lattes; it's saying 'I can afford to spend money here, but I can save money here if I want to'.
If you look at your direct debits, there might have been something you'd forgotten about. It's not just things like energy, there are so many media subscriptions these days, like media bundles or gym memberships. I would ditch the gym and just go for a cycle somewhere.
It's better to have an idea of what you've got rather than feeling guilty every time you spend.
My financial goals
My friends are all starting families at the moment so they're thinking about pensions and writing their wills.
I'm self-employed and really need to take my head out the sand. It's difficult being self-employed as you're working in arrears and don't know how much you need to save month-to-month for the taxman.
I'll buy a property to cover my pension – that's quite an old-fashioned attitude, isn't it?
Rent money goes to nothing but with buying property you're putting money into an asset. Hopefully, it'll be a good investment, but only time will tell.
Pensions vs property: which is best for your retirement plan?
Rachel Riley is working with Auto Trader on its new #KnowYourNumbers campaign, which provides budgeting tips for your next car purchase. To learn more head over to the website. If you want to dive straight in, use the search by monthly price tool.
Be the first to comment
Do you want to comment on this article? You need to be signed in for this feature