'I started making my own greetings cards after my freelance work disappeared'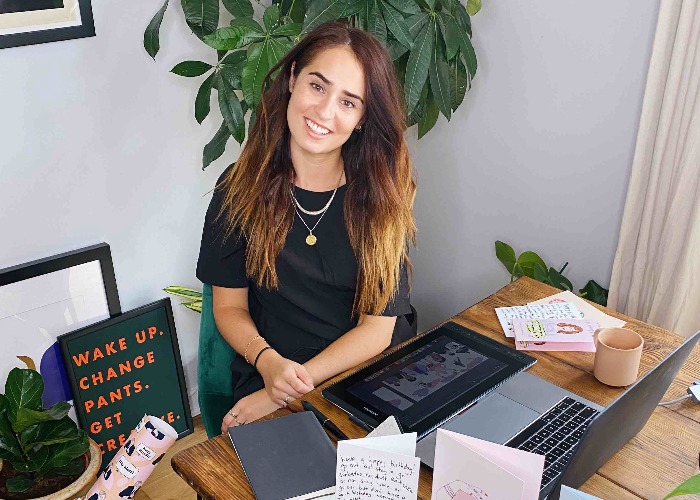 Fifi Khudhairi has already made £25,000 from humorous greetings cards about current affairs and popular culture.
The global pandemic has forced many thousands of workers to find new ways to make money as existing income streams suddenly dried up.
Fifi Khudhairi was one of those affected, realising she had to act quickly because she could no longer rely on freelance work to keep her afloat.
Rather than simply look for similar work elsewhere, the 33-year-old brand strategist took the unusual decision to start making and selling greetings cards – a risk that has paid off handsomely.
Khudhairir sold 45,000 Boris-inspired greetings cards in just one month during the height of the first lockdown.
She's now set to build on her £50,000 worth of sales to date by launching a range of humorous Christmas cards featuring the Queen, cabinet ministers and best-selling Boris.
In just eight months, she has turned a £500 investment into a popular illustration-led brand which reacts to current affairs and popular culture.
'I've always been creative'
Fifi Khudhairi, who lives in Peckham, previously worked in advertising and marketing but decided to launch herself as a freelance brand strategist three years ago.
But despite her successful freelance career she was itching to get back to her creative roots having studied fashion design at university.
"I have always been creative, I'm a self-taught illustrator but I wasn't using my design skills, I was working with other creatives," explained Khudhairi.
She began by launching the South East 15 blog, a local Peckham guide showcasing events, art and creativity in the area. Through the site she started selling a few products such as t-shirts and bags.
Then, a year ago, she decided to buy a digital drawing pad and a new computer.
In March this year, she was ready to pour all her time and attention into her new lifestyle brand Eat the Moon, and ease back from her brand strategy work.
Then suddenly the world changed.
'I started playing around with designs'
"I had decided to give up everything and here was this global pandemic," she said.
She quickly changed tack and within three weeks had a line of products.
"I decided I was just going to design lots of cards and get them on multiple marketplaces."
The cards were based on popular culture such as characters from TV shows and films like The Office, Tiger King and American Psycho, as well as a series of tarot card designs.
But Khudhairi also really enjoyed being reactive and started playing around with designs involving politicians.
In May she came up with a design centred on Boris Johnson and one of his "confusing" speeches to the nation.
She designed a birthday greetings and Father's Day version.
"Boris was giving his speeches and it was quite confusing," she said.
"Everyone was trying to decipher what was going on, what you can do and what you can't do.
I did an image and sent it to a friend, who thought it was funny.
"I made it into a birthday card and was surprised by how quickly it took off.
"Everyone was feeling the same thing and the only way to get through it was with a bit of humour," she added.
In the beginning, Khudhairi was posting the cards herself but when the big orders started coming in this soon become unmanageable.
"I live in a one-bedroom flat with my partner. I was getting up at 5.30 am to get to the post office with hundreds of orders."
Selling in marketplaces vs selling through your site
In the run-up to Father's Day she sold 45,000 Boris cards.
"This was the card that kicked things off for me," she explained.
"I was one of the first doing it. Now I have got a lot of copycats.
"I have to try to get my design out first so that I rank well on the marketplaces."
Having tried and tested different online marketplaces and built up relationships with printers, Khudhairi now sells products via her own website using Shopify as well as on Etsy and Thortful.
She also uses Instagram and Pinterest to promote her brand.
"There is a listing fee on Etsy and they take a percentage of the sale, which is quite expensive.
"It is the same whether you sell something for £4 or £40.
"That is why volume of sales is important," she explained.
Utilise your existing skillset
And her background in advertising and marketing has equipped her with excellent skills to promote the brand.
"I have to think about the platforms they go on because my designs are a bit cheeky and have swear words.
"I like taking traditional ideas and tweaking them to tell a slightly different story," she said.
Each card takes about 10 hours to design and can be made available within 24 hours.
She will test out a design and see how well it sells in the first few days before deciding the prominence to give to it.
"With the Boris card it took two days from the idea to selling it and it took off straight away."
Investing to grow
Having secured her place in the market this year via her bumper Boris sales, Khudhairi plans to reinvest her revenue and continue extending her range of items which now include prints, journals, wrapping paper and even jewellery.
She is also in discussions with retailers and hopes to have her cards in real-world shops in the near future.
"It has been a huge learning curve," she said.
"I am taking on everything I have learnt this crazy year into the new year, to make better margins.
"As a freelance, I had a day rate but when you are selling products there is no limit to what you can earn."
And she has already identified her next bestseller following the launch of 15 irreverent Christmas cards.
"I definitely think the Queen card will be the bestseller, I have sold quite a few already and it has just gone up this week," she said.
"It's still so weird seeing my artwork going around the UK and the world."
Be the first to comment
Do you want to comment on this article? You need to be signed in for this feature