Asda shopping tricks, tips and hacks to save money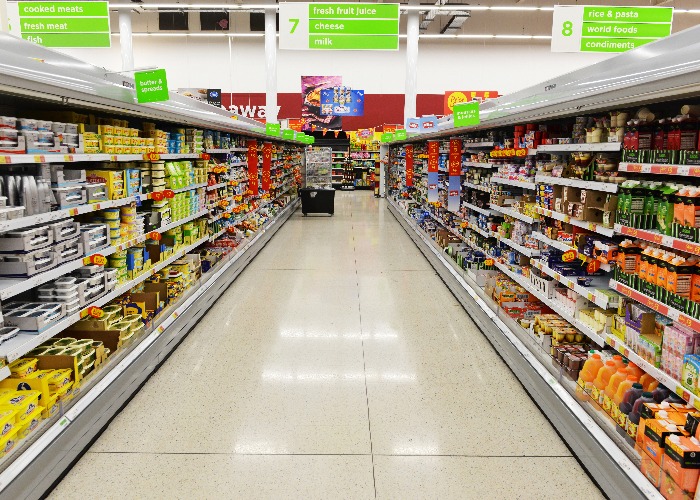 Shopping at Asda? Here are the best ways to make your money go further, whether you shop online or in-store.
Pick up a Christmas Savings Card
Even though Christmas might seem an awfully long way away, Asda's Christmas Savings Card is worth getting now.
You save money on the card and, come 19 November, you'll receive a bonus based upon what you've saved.
If you save £49 and get a £1 bonus; save £97 and get a £3 bonus and save £144 and get a £6 bonus, which is a higher effective interest rate than you're likely to get from a savings account. There's no limit to the number of cards you can get.
You can load money onto the card at the checkout; an easy way to do this is simply rounding up your bill. Make sure to register your card online so you still have access to your money if you lose the card.
Also, keep in mind that the card balance can only be spent at ASDA and that the scheme isn't FSCS protected, so you would lose your money in the unlikely event Asda went under.
To save even more, combine your use of the Christmas Savings Card with a cashback credit card; learn more about these here.
Earn cashback on every Asda purchase with this credit card
Get an Asda Delivery Pass
Asda charges up to £6 for grocery deliveries when you order online, but you can save with the Asda Delivery Pass.
For a set monthly or annual price, the pass allows you to order as many deliveries as you might need.
Delivery Pass options include:
Anytime Delivery Pass – 12 months (£5 per month for 12 months)
Anytime Delivery Pass – 12 months (£60)
Anytime Delivery Pass – 6 months (£6 per month for 6 months)
Anytime Delivery Pass – 6 months (£36)
Anytime Delivery Pass – 1 month (£8)
Midweek Delivery Pass – 12 months (Tuesday to Thursday for £24).
The pass gives you access to a choice of peak-time delivery slots at no extra cost, so you'll always be able to pick a delivery slot that suits you. Plus they also come with a savings guarantee. Asda promises if the pass doesn't save you more than standard delivery charges, you'll receive an eVoucher for the difference.
You must spend a minimum of £40 to enjoy the benefits of the Delivery Pass. If your shop is below the minimum spend you can still checkout, but you'll be charged the price of your chosen delivery slot.
We've put together a guide to supermarket deliveries and saving money here
Take advantage of the Asda Price Guarantee
If you regularly shop at Asda you should take advantage of the Asda Price Guarantee.
This promises if your Asda shop is not 10% cheaper than Tesco, Sainsbury's, Morrisons or Waitrose on your comparable grocery shop, it will pay you back the difference with a voucher.
In order for shopping to be eligible for the Asda Price Guarantee, customers need to have purchased at least eight different items, of which at least one must be comparable to the rivals mentioned.
Asda has now made changes to its Price Guarantee criteria, and you now need to have an Asda Groceries Home Shopping account to claim back your vouchers. For more on this deal read the terms and conditions.
Consider the Asda Smart Price range
You could also find savings by shopping Asda's own-brand value range, Asda Smart Price, instead of buying expensive branded goods.
Products include breakfast, lunch box essentials, meal makers, ready meals, snacks and desserts.
The Smart Price range promises to make the most out of every penny and all food is free from artificial colours, flavours and hydrogenated fat.
If customers aren't 100% happy, the Smart Price team tweak the recipe and some products will have an 'improved recipe' message on the packaging.
Shop with the Asda Credit Card
If you're a regular Asda shopper, you might want to consider an Asda Cashback or Cashback Plus Credit Card.
The Cashback Credit Card gives you 1% cashback on all Asda spend as well as 0.5% on all other purchases.
You'll even bag a whopping 10% cashback on selected Asda Money insurance products with the card. Get 0% on balance transfers for 12 months and 0% interest for 6 months on all George purchases costing £200 or more.
To top it all off, there's no card fee.
As its name suggests, the Cashback Plus card offers the same perks, but with a little added extra. Get 2% cashback on all of your spend at Asda and 1% on all other purchases as well as 10% on selected Asda Money insurance products.
You'll also bag 0% on balance transfers for 15 months and the same 0% purchase deal as the Cashback Credit Card. There is a payment for the privilege though: this card has a £3 monthly fee.
Compare even more credit cards with loveMONEY
Join the Asda Baby & Toddler Club
Parents are able to join the Asda Baby & Toddler Club for free.
By signing up you'll receive regular newsletters which gives advice, inspiration and parenting resources from conception to birth and upwards. You'll also get details about Baby & Toddler Events – where you can snap up offers, savings and great prices on a range of popular products.
You'll receive specially selected offers straight to your inbox, handy tips about weaning and toddler development and information about the Little Angels range – which is quality approved by Mumsnet.
Last but not least, there's also the chance to win prizes from big brands. Past prizes have included the chance to win your child's first birthday party with Arla.
Use cashback websites
If you're using Asda online for the first time you can earn cashback on your first order by using a cashback website like Quidco and TopCashback.
TopCashback is offering £6.90 on initial orders over £25 for new customers.
Quidco is offering £5.50 to new online customers on orders over £25. As a new customer you can also earn up to 10% cashback exclusively with Quidco on purchases at George and £20 for opening an aforementioned Asda Money Cashback or Cashback Plus Credit Card.
You just need to register for one of these sites, click on the tracked Asda links and do your shopping as normal. Cashback will be paid into your account shortly after.
While offers are normally reserved for first time customers it doesn't hurt to keep an eye out for ones that might apply to existing customers too.
Be the first to comment
Do you want to comment on this article? You need to be signed in for this feature