Redundancy: what it is and what to do if it happens to you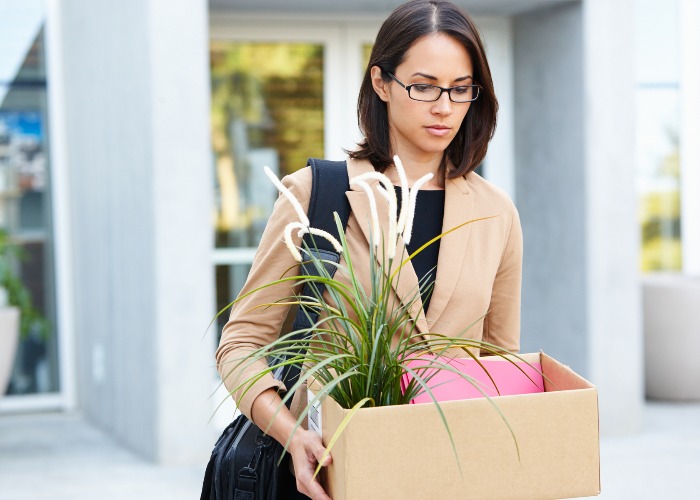 Being made redundant can be an incredibly distressing experience, filling you with anxiety and uncertainty. Should such an unfortunate circumstance befall you, we share our top tips for what to do next.
What is redundancy?
Redundancies have been in the headlines over the last year with staff at top names such as Asda, Debenhams and HMV being told they may lose their jobs.
In fact, nearly two fifths of retailers are planning to hire fewer employees over the next few months, according to the British Retail Consortium.
Unfortunately, redundancies are nothing new.
Every year, thousands of people are given the devastating news that they will soon be out of work.
So, what should you do if you're made redundant?
Three ways to guarantee your income if you lose your job or can't work
Step one: Know your rights
There are many ways of being made redundant, including the business closing down or financial problems forcing your boss to make drastic cutbacks. Being aware of your rights can make the difficult process a lot more straightforward.
Your employer must use a fair way of selecting people for redundancy, such as last in, first out; asking for volunteers; disciplinary records; or on the basis of staff appraisals.
However, you can't be selected on the basis of age, gender, race, disability or pregnancy. If you are then you should be able to claim unfair dismissal at an employment tribunal.
Being put out of work may make you eligible for certain rights, such as redundancy pay, a notice period, the option to move to a different role, or time off to search for a new job.
Workers are normally entitled to redundancy pay if they've been working for their current employer for at least two years.
The amount you'll receive depends on your age and length of service. As an added bonus, redundancy pay under £30,000 isn't taxable.
Redundancy pay: get the biggest payout if you lose your job
Step two: Sort your finances
The biggest headache caused by redundancy is paying your bills. Even a modest lifestyle requires a decent income to cover rent/mortgage and household expenditure.
Ideally, you will already have a so-called 'rainy day' fund that will support you in such a crisis should you suddenly find yourself without any money.
However, a quarter of adults don't have any such savings, according to a disconcerting survey from GoCompare Money. Either way, you'll need to put your expenses under scrutiny to make sure you're only spending out on important items until you have a new job.
Draw up a list of all your expenses and divide them into essential items, such as mortgage payments; and non-essentials such as weekly trips to the takeaway.
Top savings accounts: where to find the best rates for your cash
Step three: Consider your options
Have a think about the type of work you want to do. Are you happy being in the same profession? If so, start looking for similar roles in other companies.
The key here is networking – and the good news is that it's never been easier.
There are millions of people on social media so log-on and find out what's available. There are also specialist sites such as LinkedIn that enable you to not only connect with potential employers but find out about vacancies opening up.
If you're not bothered about being in the same line of work, then maybe it's time to consider a complete change of direction. You could even turn redundancy into a positive, as Matthew Bull did.
Step four: A new career
If you need inspiration, log on to sites such as the National Careers Service where you can find out what different jobs entail, the average salaries paid, working patterns and the entry requirements.
You may even be able to apply for grants and bursaries to pay for training, so find out what's available in your area.
Those in financial hardship should visit Turn2US who may be able to help. Adult learners can apply for grants and bursaries to help pay for courses and training. Usually, you don't have to pay this money back.
Three ways to guarantee your income if you lose your job or can't work
Step five: Going it alone
Of course, you may decide to work for yourself. Think of your hobbies and passions and see if there's any way of turning it into a full-time income. You need to do proper research – not just carrying out a straw poll of friends and family who are likely to be biased in your favour.
Emma Jones, founder of business group Enterprise Nation, believes operating in an area you personally find of interest is crucial.
"Try to come up with an idea based around something you enjoy – and then make their product or service as niche as possible," she says.
How to turn your hobby into a career
Tips for how to cope
Redundancy is a very stressful experience, but it's important to remember that you can get your life back on track and rebuild your future, just as Matthew Bull did.
Janet Davies, author of Rebuilding your life after redundancy – The New Life Handbook, doesn't believe you can really prepare for such a shock.
"The distress of being made redundant doesn't get easier even if the writing has been on the wall for a while," she says.
"The key thing is to stay calm, focus, and not make any rash decisions you might regret because you're so worried about your future."
Davies has identified six stages of grief associated with losing your job: shock, denial, anger/resistance, acceptance, exploration and challenge.
The first three are all to do with coming to terms with what has happened, while 'acceptance' acknowledges that the old life is gone.
"Exploration is the willingness to look at options and is often the point at which you might consider re-training, finding a new job or setting up your own business," she explains.
"The 'challenge' part, meanwhile, is actually making a move."
Be the first to comment
Do you want to comment on this article? You need to be signed in for this feature