The real cost of living in a market town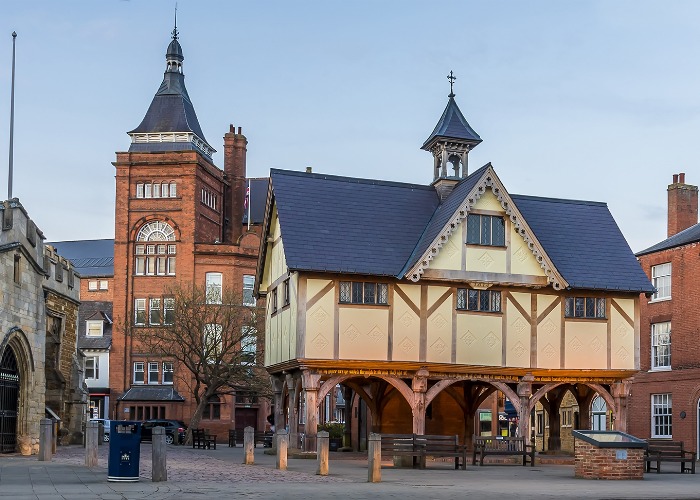 Living in a market town can be appealing for those who want access to the countryside, but at what cost? Lily Canter looks at how her personal costs stack up.
Market towns are often viewed as a dream location for Brits as they can offer a blend of urban and rural life. But am I being ripped off by living in one of the UK's most desirable locations?
Potential buyers need to find an extra £40,000 to buy in a market town, according to a report by Lloyds.
And prices in towns which are in a commuter-friendly distance from London are at a particular premium – in some cases 158% higher than their county's average.
I've lived in Market Harborough, Leicestershire, for the past seven years.
I enjoy the boutique shops, direct trains to London, Nottingham and Sheffield, as well as access to rolling countryside, which is a five-minute walk from my doorstep.
Market Harborough often features in the 'best places to live in the UK' lists and was described by the Sunday Times as a "middle class fairy tale".
But I have wondered if my family is paying more than the national average to live in this East Midlands market town.
In all honesty, Market Harborough is not especially pretty or culturally rich compared to nearby Stamford or Uppingham.
The UK's most expensive and cheapest towns and cities to live in
House prices 'higher than average'
I moved to Market Harborough from Northampton, a town 10 times the size and around 15 miles south.
It was immediately noticeable that house prices were higher in Market Harborough and could rise £30,000 if the postcode was in a village now swallowed up by the town.
According to Zoopla, the average price for a property in Market Harborough was £331,428 in September 2019. This is considerably higher than the national average of £232,710 recorded by the Land Registry in July this year.
Although this is 43% higher than the national average, it is nowhere near as crippling as other locations.
For example, Beaconsfield in Buckinghamshire boasts average house prices of £1,053,975 or Marlborough in Wiltshire at £441,296.
And prices are continuing to rise in Market Harborough.
A recent valuation of our four-bedroom semi-detached property showed it was worth an estimated £125,000 more than when we bought it in 2012 – an increase of 55%.
House prices: from pubs to street names, factors that affect your home's value
Council Tax
Despite higher than average house prices, Council Tax is on par with the national average.
Looking at the Council Tax bill for our Band D property of £1,787 every year, it is only a few pounds more than the national average of £1,750.
I feel fortunate not to live in the neighbouring county of Rutland.
It has a small population and one of the most expensive Council Tax rates in the country with Band D tax in 2019/20 costing £1,995.
Council Tax bills to rise again in 2019/20: how to pay less
Commuting costs a fortune
One of the reasons we moved to Market Harborough, like many people, was due to the train line.
There is a direct train allowing you to commute to London St Pancras in under an hour, and trains to Leicester, Loughborough, Nottingham and Derby.
I travel up to Sheffield once or twice a week, and it takes about 75 minutes. The trains are mostly reliable and quick – but they cost a fortune.
A peak day return ticket to Sheffield costs me £73, which is where you get well and truly ripped off for living in a market town.
The next stop north is the city of Leicester, just 10 minutes away, and the same train from Leicester to Sheffield costs £37. Even when I buy a split ticket (Harborough to Leicester, then Leicester to Sheffield), it costs me almost £50.
Going south is even more financially debilitating with a peak return ticket to London costing £123, while a season ticket will set commuters back over £8,000 (not including a London Travelcard).
Even a season ticket to Sheffield would cost at least £5,000.
When it comes to fuel, Market Harborough is aligned with the national average, currently 126p per litre of unleaded and 131p per litre of diesel.
But prices are 5p a litre lower in the neighbouring town of Corby, 12 miles away, although this is not a market town.
Cheap rail season tickets: six ways to cut costs
How do childcare prices compare?
Fortunately, childcare is not at a premium in the town, although before and after school care can be pricey.
The average price for 25 hours a week nursery for a child under the age of two is in line with the national average (£127) as prices range from £110 to £150 across various childcare providers.
The price for additional hours for three and four-year-olds beyond the 30 free hours supplied by Government funding, is again around the national average of £96.
Before and after school care is few and far between, so prices are slightly higher than the national average by around £8 per week.
School holidays: how to get help with your childcare costs
The cost of leisure
Cinema tickets (£8.50), gym membership (£30 a month), swimming sessions (£6.50) and even a pint of beer (£4) all appear to be roughly in line with national averages.
This makes Harborough a relatively inexpensive place to spend your disposable income.
Parking in the town centre is relatively cheap at £1 for two hours or £2.50 for four.
But where you really save is via community events such as Parkrun and Junior Parkrun, which are free all year round.
Each year, there are also free events including a Christmas fair, arts fresco, Classic Car Show and Beach on the Square.
How to get free and cheap cinema tickets
Verdict
Earlier this year, The Guardian revealed Market Harborough to be the most liveable place in England thanks to its balance of 'affordability of homes with employment opportunities and local school performance.'
Although house prices are a little higher than the national average and you'll get stung by steep travel costs, the quality of life and overall price of living is more economical than market towns in the home counties.
There is the best of both worlds with traditional trades such as a fishmonger, butcher, baker, award-winning indoor market and a smattering of high street chains and charity shops.
It is small, but not too small, and there is an active community where it is possible to find something for most interests from drumming to triathlons to needlework.
So even if I am being slightly ripped off, I really don't mind.
Compare credit cards at loveMONEY
Be the first to comment
Do you want to comment on this article? You need to be signed in for this feature