Gohenry is a finance app the lets your kids learn the basics of budgeting and banking without the worry of racking up huge charges or costs.
While it doesn't have all the features of children's bank accounts, it is available to kids as young as six – most traditional accounts are only available to those aged 11 and over.
Hundreds of thousands of parents and kids are currently using gohenry – an impressive amount considering the £2.99 monthly fee per child.
In this article, we will outline what you can do on the gohenry app and some of the pros and cons.
What is gohenry?
Launched in 2012, gohenry aims to make it easier for parents to give their children the freedom to spend any pocket money in a safe way, while teaching them how to be good with their money.
There's no overdraft available so there's no risk of your little one racking up debt and charges.
Sadly, while many of the top children's bank accounts offer interest, this isn't an option with gohenry.
On the upside, there's no need to trek to your local bank branch to set it up.
You simply download the app, sign up and your child's prepaid card will arrive within seven working days – no payment details are necessary.
Once you get the card, you log into the website or app to activate your parent account and the card.
It's important to note you need to make a minimum deposit of £5 with your debit card to activate your kid's account, while the contactless feature won't kick in until a chip and PIN payment is made.
Rich and famous people who refuse to spoil their kids
Who can get the gohenry app?
As mentioned earlier, parents can get the gohenry app and a prepaid Visa debit card for their kid if they are at least six years old.
Both parents can manage the account – it'll only cost £2.99 per month as the co-parent feature is free.
The account holder can invite a co-parent by clicking on 'add a co-parent' in the mobile app. After clicking on the invite link, the other parent will have to download the app and register before they are automatically linked to the main account.
According to gohenry, they check your details at sign-up by matching your information against public records such as the electoral roll, Experian and the telephone landline database.
If you aren't on these public records, you will need to contact the company with your full driving license or two forms of ID, including a UK passport, Council Tax bill or bank statement.
What happens if you lose your card
If your child has lost their gohenry card, you can order a replacement card with the same design on the app free of charge.
Simply login, click 'Cards' at the bottom of the page, select 'New' and then click on 'Replace a lost card.'
If you're happy with the card design and have the correct address, place your order and the new card should arrive in three to five working days.
Changing the card design will cost £4.99.
You should take into account that the new card needs to be activated and the existing card will be cancelled immediately.
Unfortunately, you will need to reactivate the contactless feature by paying for something with a chip and PIN payment.
What you can see
When you log into the parent's app, you'll see your balance, as well as the balance of your child's card and their savings in one glance.
You'll also see when the next allowance is due to be paid and have the option to top up or quickly transfer money to your children.
If you have more than one child on gohenry (you can add up to four), you'll see the same information for these accounts.
For the child or young person using the app, their home screen looks slightly different.
In one glance, they can see their spending limit, how much they've spent that week, their available balance, as well as a breakdown of their funds on their card and savings.
The app also reveals when the next allowance is getting paid (and how much), what tasks are left to do – and how much these are worth.
Teaching kids about money: should parents or teachers take responsibility?
What you can do
The gohenry app lets your child:
See a breakdown of funds on their card and savings;
Find out how much allowance is due and when;
See a history of transactions;
Track how much they're earning via tasks;
See a list of tasks to do and how much they're worth;
See a breakdown of savings and different savings goals;
Retrieve their PIN;
Order a custom card and block their card;
Donate money to the NSPCC (National Society for the Prevention of Cruelty to Children)
Parents can essentially see their child's account as they see it, add new tasks for their child to earn more money, as well as check how much they're paying out to their child.
Tasks can be set to weekly or as a one-off event and payment can be easily set.
Savings goals can also be set up and money can be transferred into the account by parents.
Using the app, parents can block their child's card and determine where they can spend money, as well as get notifications within seconds of where any money has been spent.
Funds can be gifted for a special event using the quick transfer function.
Otherwise, money can be transferred from parent to child via a weekly allowance or tasks.
What we like
Here are a few things that we like about the gohenry app.
It's easy for parents to monitor their child's finances
Allowing your child to have the freedom to spend may be a frightening thought as you may be concerned that the cash may be spent on frivolous or unnecessary items.
But you can check their transactions and offer advice if need be.
Parents can intervene to block a card on their child's behalf, which is useful if they lose their phone and card.
It's also useful that parents can set spending limits, restrict where a card can be used (on the high street, via ATMs or online) and retrieve a PIN if necessary.
Gohenry cards can be used with Apple Pay if the owner is at least 13 years old.
20 money lessons every kid should learn
It incentivises children to earn money
Using the gohenry app, it is very easy to add new chores and decide how much is paid out on top of the weekly allowance.
Children can be rewarded for completing tasks by a certain date, helping them value their allowance more, instead of simply handing over money.
Another positive for parents is that they don't have to mess around trying to find loose change for pocket money, which is important in an increasingly cashless society.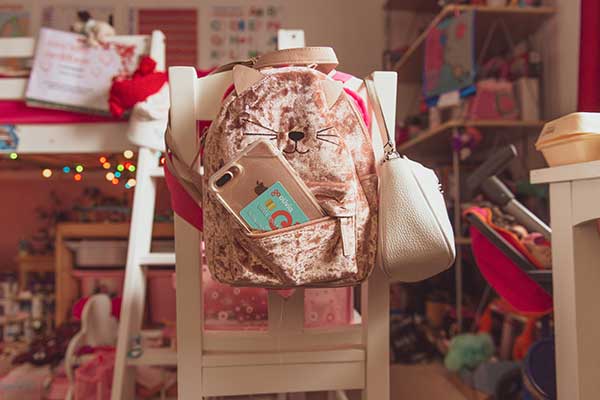 It encourages savings and setting goals at an early age
Having a goal is a vital part of building a savings pot – if you don't know what you're saving for, how can you keep your motivation running high?
While it's unlikely six-year-olds will have lofty goals, getting them to save for a new game, clothes or a fun event will help them understand how to save.
The app helpfully allows the user to determine how much to save each week, which is also shown as a percentage of the weekly allowance.
Relatives can pay into accounts
A relative can send some money to help with a child's savings or even as a gift either immediately or at a later date.
There are a few catches.
A relative account is currently only available via the website, and they must have a registered gohenry account, meaning they will have to pay the £2.99 monthly fee.
Incentives for getting others to sign up
Finally, if you know someone who'd like the app, you can get £10 for yourself and them when you refer them. There's currently no end date for this promotion.
Pocket money: how much should I give, when and how?
The range of card designs available
Your child can customise their card by using picture of their choice alongside their name.
While customising a card may appear gimmicky, it may boost your child's interest in budgeting and saving money.
But the ability to customise a card with a unique design will cost you – £4.99 to be exact.
Interested? You can get the gohenry app here
What we don't like
It can be expensive
There are a lot of advantages to using gohenry, but it does come at a price – £2.99 per child every month, although you can take advantage of a one-month free trial before signing up.
While the monthly membership is only the cost the price of a takeaway coffee (or nearly £36 annually) for one child, fees can quickly rise if you have more than one child.
With four children using the app, you would have to spend over £140 a year on the monthly subscription alone.
While you get one transfer of money to the parent accounts every month included in the membership fee. But if you need to do any more transfers, it will cost 50p every time.
You should note this load is limited to one per parent account, so you don't get more if you have more linked child accounts.
One of the ways to avoid this charge is to use a standing order every month.
The best children's bank accounts
What other customers think
Google Play Store rating: 4.3/5
Apple App Store rating: 4.7/5
*This article contains affiliate links, which means we may receive a commission on any sales of products or services we write about. This article was written completely independently.