Christmas money challenge: can I make up the cost of a winter holiday with cashback, sales and apps?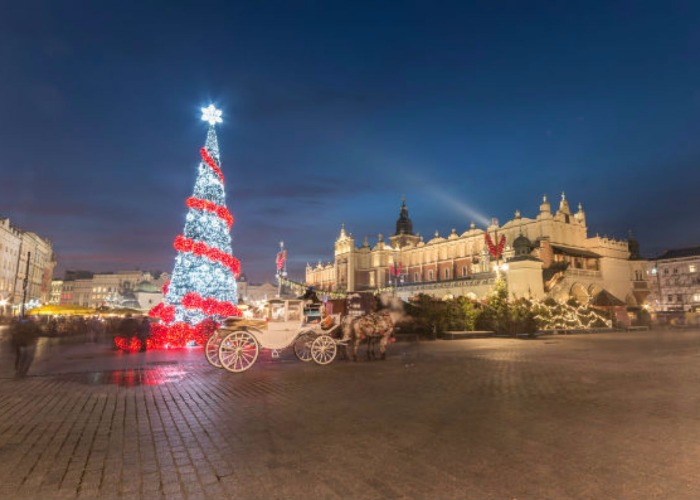 Christmas is an expensive time of year and many of us are trying to save money in any way we can. So I decided to try covering my Christmas market holiday to Poland through cashback, apps and deals. Here's how I got on.
Christmas is a horrifically expensive time of year and I want to save as much money as I can so I'm not scrimping come January.
I love a yuletide market too, but I've exhausted both London and Edinburgh's offerings, so it's time to go further afield.
My mate suggests Krakow in Poland, and I'm not going to say no to mulled vodka. Thank goodness Poland is cheap – flights and accommodation are £95, plus spending money.
So, how much of it can I earn back using everyday money making and money saving tricks? It just so happens that I need new winter garb and cycling kit anyway, along with train tickets home for Christmas and presents for the family.
Have a go at some of these and see how much you could save for your own winter trip.
Switch bank account
This move easily made the biggest dent in my overall spend.
Clydesdale and Yorkshire Bank are currently offering £250 for switching to one of its current accounts.
If you want to get involved, you'll need to move your account through the Current Account Switch Service and transfer over two Direct Debits.
On top of that you'll need to transfer £1,000 within 31 days of the account opening and another £1,000 within 31 days after that.
Read: The best bank accounts for switching bonuses
Amount saved: £250
Head for the sales
Sometimes no voucher code beats a good sale. There's 25% off seasonal wear at New Look and it's mighty tempting.
I spot a bright yellow jumper with £3.50 off at £13.50 and a cycling jersey which is £38.49 reduced from £54.99 at Evans Cycles, saving £14.50. A handy base layer t-shirt is also 50% off, saving £17.49.
After trying out fitness apps last month I got rewarded 5,000 points for filling out a survey which I exchanged for a £5 voucher at Evans Cycles.
Read: Fitness apps – how much can I earn?
That brings my overall spend at Evans Cycles down even more, from £55.98 to £50.98.
Amount saved: £30.49
Using Quidco earnings to get money off winter clothes
I've racked up £5.56 in cashback from my Quidco account since I've opened it. But there's a trick that'll give you a sweet little boost. You have a range of withdrawal options, including cash. However, you'll get extra if you take it as a gift voucher. A-ha.
A Debenhams voucher seems like the best choice as it has one of the highest top-up rates at 15%, raising the value up to £6.39 – not bad at all.
That makes a £16 scarf a slightly more reasonable £9.61.
Amount saved: £6.39
Recycling clothes at H&M
If you take in a bag of old clothes (they don't have to be from H&M) in-store, you can get a £5 voucher. As they're being recycled the clothes don't have to be in any decent state – you can even drop off your old knickers.
Just be aware that when you use the voucher, there'll be a £25 minimum spend. Perfect for a pair of ankle boots. If you want to give someone the voucher as a gift, keep them in the know.
There's also a scheme where you can donate clothes to Oxfam for a £5 M&S voucher. Each donation will need to contain at least one item from M&S.
Amount saved: £5
Cashback on Christmas essentials
Every year I head up to see my family in Scotland by train, and every time I use cashback.
However, Topcashback and Quidco appear to have stopped offering cashback for Virgin Trains, but I can book through Thetrainline which I don't normally do. It's 3% cashback for new customers which is even better than the Virgin Trains deals and I'm actually a new customer, which works out perfectly.
On a return train fare of £80, that gives me cashback of £2.40.
Then there's the Christmas presents. Let's keep it simple: Mum, Dad, my brother, my brother's partner and my niece.
Short of revealing what I got them for Crimbo, I can tell you that I racked up a combined total of £4.12 on five presents.
The only thing to be careful with here is delivery costs. Get free delivery where you can and if the charge outweighs the cashback, you might want to get it in-store along with some of your other shopping.
Amount saved: £4.62
Get even more rewards with a cashback credit card
Pouch
The first stop for new headphones, naturally, is Zavvi. And fortunately, there's a 10% discount for new customers.
I go for a pair which cost £14.99 – with the £1.49 saving that comes to £13.50.
Barely any effort was required. As I used the Pouch plug-in, a notification popped up in the corner of my screen when I went onto the Zavvi homepage alerting to the voucher code. Read our review at Pouch: how much can you save with this voucher code plug-in?
Amount saved: Not quite hundreds, but £1.49 will do
Using voucher codes for meals out and takeaways
There's always money to be saved when it comes to food.
Vouchercodes.co.uk coughed up a code for 30% off orders over £20 online at Domino's to do some damage control on a weekend treat.
Amount saved: £3
Getting a takeaway cheaper
And on the subject of takeaways, apps are a major money saver too.
I used the Too Good To Go app which alerts you to restaurants and cafés who have cheap food up for grabs just before closing time. It can be used in various cities across Britain.
Read: 5 places to get a cheap dinner after work
You can get gourmet-standard fare for a tiny fraction of the price. All you do is search for food that's going spare then register your interest and go and collect it.
I opt for a place called Mister Lasagna in Piccadilly Circus for a pick-up between 10:30pm and 11pm. I got a massive hunk of lasagne worth £5.90 for almost half-price at £3. It's also World Pasta Day so it'd be criminal not to.
It's a really useful app if you're about to go on holiday and don't want to buy any more food or you're renovating or moving house.
Apps like OLIO, which alerts you when your neighbours have unwanted food that they're about to throw out, can be invaluable in situations like these too.
Amount saved: £2.90
Grand total: £303.89
Is it worth it?
Well, I made my flight and accommodation costs back, with a neat little bit leftover for spending money.
The main downside is that it takes an awful lot more time to find the cheapest deals.
Without question, the bank account switch was the most rewarding given the amount of time required.
The rest was tough going.
I had to compare voucher codes to cashback, cashback to Pouch and Pouch to sales to suss out which is cheapest – and this can change from day-to-day.
I also prefer shopping in-store to shopping online. Browsing through shelves and clothing racks is more enjoyable than scrolling through products online and you have to take time to comb the right money-saving platform to find the best offer.
You also have to decide what you want from each shop in advance rather than having a spontaneous and leisurely shopping day.
However, at an expensive time like Christmas, savings like these could be the difference between you going over budget or having that little extra to take a sunny winter break.
Get even more rewards with a cashback credit card
More earning and saving ideas:
Sell your stuff online for less: the alternatives to eBay
11 ASOS money-saving tips and tricks
Cheap fireworks: cracking offers from Aldi, Lidl, Morrisons & more
Be the first to comment
Do you want to comment on this article? You need to be signed in for this feature