Where to find cheap fireworks 2018: best deals at Aldi, Asda, Lidl, Morrisons and Sainsbury's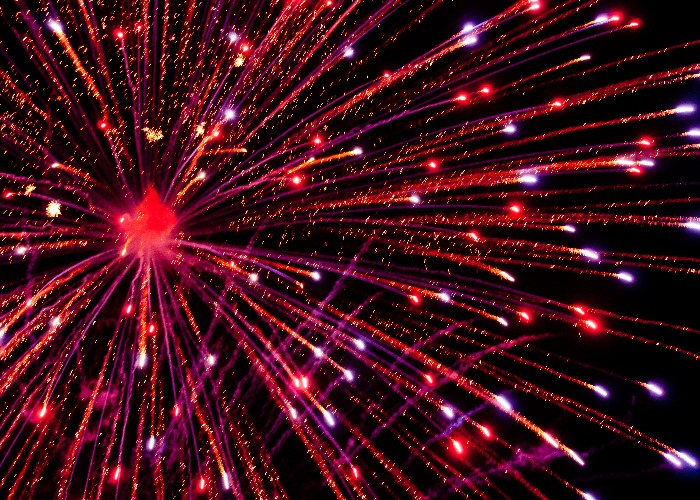 Here are the best cheap fireworks deals for Bonfire Night and Diwali.
With Bonfire Night fast approaching, many of us will be on the hunt for some cheap fireworks deals to mark the occasion.
We've rounded up the best deals so you can plan where to pick up your supplies for less.
A quick introduction to fireworks
Fireworks are great fun, but all these different names can be confusing. We've given you a quick rundown of the most popular types of fireworks.
Cake: A cake is a multi-shot firework which has its effects in tubes so they are aligned horizontally, so you'd have tubes side-by-side rather than stacked on top of each other.
(Roman) candle: A firework with its effects packed in a cardboard tube, as opposed to the cake's horizontal make-up.
Finale: Fireworks which are kept for the end and are noisier than the others.
Fountain: A static firework that creates a fountain effect a crackly sound when ignited.
Mine: All of the elements of the firework are lit at the same time and shoot upward from a card tube.
Rocket: A firework that takes off and displays its effects in the air.
Wheel: Also, known as Catherine Wheel, these fireworks spin quickly to create a wheel of sparks.
The cheapest firework deals
Here's a roundup of the best supermarket firework deals.
Aldi has a wide selection of fireworks ranging in price from £1.65 up to £49.99.
Sparklers
You can pick up a 10-pack of giant, 18-inch sparklers for £1.65.
All-in-one box
An Astro box is available for £4.49 and comes with a Catherine wheel, two Roman candles, one aerial shot, 10 fountains and a finale mine. It promises no bangs just crackles, making it ideal for people with pets.
Going-all-out box
For a longer display, you can go for the Lol Fireworks selection box (£9.99), which comes with four aerial, sky fireworks, one Catherine wheel and 14 long-lasting fountains, giving you a display of around 15 minutes.
However, if you really want to impress the crowds you'll be hard-pressed to beat the £49.99 Ultimate Finale box (pictured below), which includes an incredible 132 shots.
Asda has a range of fireworks costing as little as 75p up to a hefty £70.
Fireworks will need to be purchased in-store. Don't forget you can earn cashback when buying your fireworks at ASDA with this credit card.
Sparklers
Grab a 10-pack of gold glitter mini sparklers for just 75p, or, if the weather's truly rubbish, five indoor party sparklers for £2.
All-in-one box
If you really don't know much about fireworks, or simply can't be bothered to shop around for a bunch of separate items, you can get the Super Party All-In-One fireworks pack (pictured, right).
In it, you'll get 10 rockets, 11 shot tubes, one multi-shot and five sparklers.
Going-all-out box
If you've a wedge burning a hole in your pocket, you could opt for the TNT Solar Invasion Multi-Shot for £70 (pictured below), which burns for 65 secs and includes 60 shots.
Lidl's fireworks range is available from £1.99 up to £39.99.
Sparklers
You can get a 12-pack of giant sparklers for £1.99. Each sparkler lasts approximately two minutes and is 40cm in length.
All-in-one box
A great deal here on The Equaliser 14-piece box set, which contains a selection of fountains, shot tubes and roman candles.
You can get one box for £7.99 or three-for-£20.
There's also a multibuy offer on the Plasma Attack (three-for-£20), which is described as "a punchy 16-shot cake full of white, gold and gritter glitter effects". Each one will burn for 25 seconds.
Going-all-out box
If you're interested in getting value for money, Lidl's best shots-per-pound firework box is the Knight's Quest.
It'll set you back £24.99, includes 40 shots and burns for 35 seconds.
Like Asda, Morrisons will only sell its fireworks in store, with prices ranging from 50p to £100.
Sadly, we don't have product shots for this supermarket.
Sparklers
There's a five-pack of 10-inch mega sparklers for 50p each or three for £1. Alternatively, you can pick up five 18-inch Monster sparklers for £1.
All-in-one box
We like the look of the Nitro Selection Box, which contains 15 pieces and costs just £10.
Going-all-out box
The Magnificent Finale offers just that, featuring a 144 shot barrage for £45.
Sainsbury's is stocking a range of fireworks starting from £1 and going all the way up to £100. You can pick up a leaflet from your local store showing its 2018 range.
Don't forget you can rack up Nectar points when you buy your fireworks with this Sainsbury's credit card.
Sparklers
You can pick up a five-pack of Giant Moonlight sparklers for £1.
All-in-one box
Not in one box, admittedly, but there is a two-for-£25 offer on selected fireworks to take advantage of.
Why not pick up the 12-shot Electric Storm cake (£17.50) and the Family Fun 16-piece selection box (£17.50)?
Going-all-out box
There is a two-for-£35 offer, which includes the Gala Blaze cake (£22.50).
Get more bang for your buck: earn cashback on every penny you spend with a cashback credit card
Home insurance
Don't get hit by horrible surprise costs after the event. Make sure you have comprehensive buildings and contents insurance.
If you damage your property, with a stray firework, for example, this can be claimed for under a comprehensive buildings insurance accidental damage cover plan. Find out how to Cut your home insurance costs.
Stay safe
There are also certain precautions to keep in mind before the day.
Fireworks should always be kept in a sealed tin and used one at a time. Check for BS7114:1988, BS EN 15947:2010, or CE markings, which confirm they've been made to meet British or European safety standards.
Get more bang for your buck: earn cashback on your spend with a cashback credit card
More money-saving tips:
UK Flu vaccine 2017: cheap and free places to get this year's flu jab
Be the first to comment
Do you want to comment on this article? You need to be signed in for this feature