Food charity boss: how we can all cut back on food waste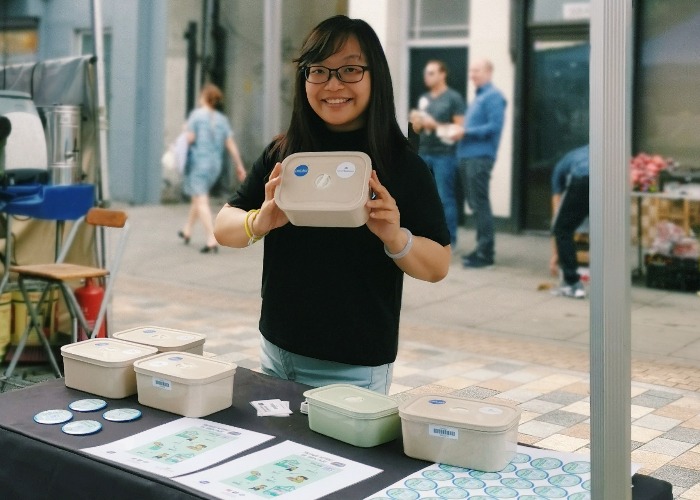 Josephine Liang has set up a charity to help cut excessive food waste and shares her top tips with us so we can also cut down.
It's been over a year since we caught up with food campaigner and director of DayOldEats Josephine Liang and things have certainly changed.
Yet Liang is still keen to fight excessive food waste.
DayOldEats is a charity enterprise that saves surplus goodies such as pastries and sells it to corporations, with profits donated to Magic Breakfast and reinvested in the business.
Magic Breakfast is a charity that aims to offer healthy school breakfasts to hungry and malnourished children in disadvantaged areas in the UK.
Up to 1.8 million children of school age in the UK are currently at risk of going hungry in the morning as Universal Credit, squeezed incomes and higher demand for free school meals takes its toll.
Since DayOldEats launched two years ago, it has saved approximately 2,000 kilograms of food from getting binned, equivalent to 10,000 meals for children.
Food waste: average person 'throws away £12,350'
Back in 2018, Liang spent only £5 a week on food, but a strict diet following a serious health problem has had an impact by making it more difficult to keep costs low on a weekly basis.
While Liang is no longer rummaging through bins to save food, she is passionate about curbing food waste and helping others to do the same.
"Food waste is a symptom of a skewed distribution," says Liang, who believes more needs to be done.
"You go to the shops and don't really see the other side of it – and there's so much waste that shops can redistribute as surplus."
The food campaigner argues food needs to be better distributed, and we don't need more food produced.
She is not alone in this view.
Feedback Global, a campaign group, has dubbed the food system "dysfunctional" as we use too many limited natural resources and produce too much waste and pollution.
Unfortunately, there are many barriers to improving food waste. For Liang, a big issue is that lots of people turn down surplus due to potential liability if the food makes someone unwell.
"Charitable acts need to avoid punishment," comments Liang.
Over three years ago, France became the first country in the world to ban supermarkets from throwing away good quality, unsold food by donating it to charities instead, but there's been little progress by other countries since.
Get cashback when you shop – compare your options at loveMONEY
What's next?
Earlier this year, Liang co-founded CauliBox, London's first reusable lunchbox scheme.
The scheme works by charging a £5 one-time membership fee, which allows members to show their ID and order their lunch from a choice of 15 vendors in Tachbrook market (Westminster).
Members get a box to use, which is then dropped off at a collection point, where the boxes are then washed and reused.
Each time you use the scheme, you earn points that can be used for rewards, when you have enough.
Outside of CauliBox, DayOldEats is currently in talks with a London university over a potential joint venture to distribute food and drinks in a London café.
Liang wants the café, which will sell hot drinks and DayOldEats' pastries, to be zero waste and to encourage people to cut down on their own.
Unlike traditional cafes, people can pay what they want but profits will be donated to a yet to be disclosed charity.
Top tips to cut waste
"When you put in the work, it's not that much hassle," comments Liang.
She recommends using your freezer where possible to keep food preserved for longer.
But this is not the only trick you can use, as adopting a unique storing technique can also help.
Much like supermarkets do, try storing items with the soonest best before dates at the front and those with the further date at the back of the refrigerator or cupboard.
That way you won't have to spend lots of time figuring out what to use first.
By using this system, you can also cut down on unnecessary waste by encouraging you to use these items before they expire.
Financial challenge: can I live on my store cupboard leftovers?
If you're out and about, you can cut food waste by using an app such as TooGoodToGo, which says food waste is responsible for 8% of all global greenhouse gas emissions.
You simply download the app, find your local area and food of choice, pay for it and then rescue it.
You'll end up with a 'Magic Bag' – a collection of food you have saved, which could include salads, wraps, pastries and more depending on the restaurant.
Unfortunately, you won't know what you'll get until you get there, so you could end up disappointed. It's also vital to check with the store first about any allergens if you're concerned.
One of the downsides of TooGoodToGo is it could have a wider reach with more restaurants participating and that you can only collect food at specific times.
So, you may not be around during the collection time or have to wait longer for a more environmentally friendly lunch or dinner.
Olio can also be a handy app, allowing you to share food such as bread rolls and coffee, as well as non-food items with neighbours for free instead of chucking them in the bin.
Liang also says anyone can volunteer to help cut food waste, including at DayOldEats.
Containers can also be used when shopping to cut down on packaging waste, regardless of whether you go to a superstore or a local butcher.
Liang believes there are so many ways to cut down on food waste whether it's donating money, growing your own food or even promoting awareness by sharing content on social media.
Don't waste your money: 19 things you shouldn't be spending your cash on
Be the first to comment
Do you want to comment on this article? You need to be signed in for this feature