Downsizing: should you consider renting instead of buying a property?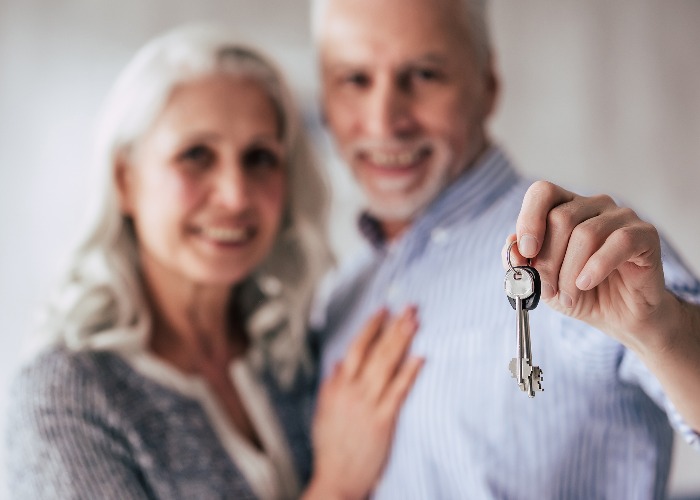 Downsizing is a big decision, but should you consider renting instead of buying a property? Joanne Christie reveals the pros and cons of downsizing and renting.
It's long been common for people to downsize when they get older as they may no longer need a large family home.
In the past, those doing so would generally have bought a smaller home, but today more people are choosing to rent one.
According to data from estate agent Hamptons International last month, over-50s now make up 15% of rented households so far this year, with the number of homes rented by over-50s up 61% since 2012.
Last year, the English Housing Survey revealed there were 414,000 over-65s renting privately in 2016 to 2017, a big jump from the 257,000 doing so a decade ago.
It would be easy to attribute the rise in older renters to high house prices shutting people out of the property market, but many are likely to be renting through choice rather than necessity.
"We have noticed a real increase in the more mature lifestyle renter," says Jemma Scott, partner at property search agent The Buying Solution.
"Many of our more mature rental search clients are definitely baby boomers who benefitted from huge house price growth, are mortgage free and likely haven't rented since their student days."
Carsten Swift, an associate in estate agent Knight Frank's senior living team, agrees.
"There has been a shift in mentality over the past 12 months," comments Swift.
"The generation who have always, or certainly for the last 30 or 40 years, owned are now considering renting."
So, could it work for you?
We examine the advantages and disadvantages of renting if you choose to downsize.
Downsizing to fund retirement? Make sure you aren't left short of cash
What are the benefits?
The most obvious benefit is that selling up and renting releases the equity previously tied up in your home, which means it's available to spend on travel, your family or other pursuits.
Even better, selling your home won't affect your entitlement to the additional main residence allowance for inheritance tax (IHT) purposes – you can use this even after you've sold up.
How to cut your Inheritance Tax bill
One of the other big draws of renting is the flexibility it offers says Mark Hayward, chief executive of estate agent association NAEA Propertymark.
"Renting provides a greater level of flexibility, giving the opportunity to move frequently and explore different areas of the country, giving the feeling of a permanent holiday," comments Hayward.
This may work well for those with children in different parts of the country as they may wish to be on hand for certain years in their grandchildren's lives, before moving to be closer to other family members.
Another plus of renting is that it does away with the hassle of property maintenance.
"Silver surfers are choosing to remove themselves from the shackles of homeownership and hand the responsibilities of home maintenance back to landlords," says Scott.
Renting also removes any need to deal with the complexities of leasehold ownership.
While retirees may want to move to more urban areas when downsizing and may be happy to live in a flat, they may be less willing to buy a property that isn't freehold if that's what they've owned before.
Stamp Duty can also a big turn-off when it comes to downsizing the traditional way, particularly for those moving to London, comments Swift.
"There is a raising of eyebrows from a lot of the people we deal with at the amount of Stamp Duty," he says.
"Often these are people who haven't paid stamp duty for quite some time, because on average, those with whom we are dealing have been in their home for 25 years."
With the last two points in mind, it's perhaps little wonder that research from Hamptons found the South East had the highest proportion of older renters, with 19% of tenants over the age of 50.
An increase in demand for renting in later life has pushed housebuilders in the industry to change tack.
Many housebuilders, including McCarthy & Stone, are increasingly offering rental as well as purchase options.
Downsizing your home for retirement: 4 things pensioners need to think about first
What are the downsides?
If you don't want to rent in a retirement living development, the private rental market may prove too insecure, says Rebecca O'Connor, personal finance specialist at Royal London.
"The lack of security of tenure for older renters in the private sector can be a big problem," warns O'Connor.
"The stress and difficulty of having to move if required by a landlord, on top of the risk of rent rises beyond your control, are some of the disadvantages of renting into retirement."
Looking for a personal loan? Compare a range of loans at loveMONEY
It's also harder to adapt rented property if your needs change as you get older.
Landlords may be unwilling to either undertake or allow you to undertake changes such as providing accessible bathrooms if needed, as these may not be attractive to future tenants.
While having your cash in the bank can be a good thing, it may impact your ability to receive assistance with care home fees due to the way councils assess eligibility, points out Jeannie Boyle, executive director at EQ Investors.
"If one spouse needs care, the value of a jointly owned home is disregarded from the financial assessment whilst one partner is still living there.
"If you have a joint bank account, the partner going into care will be assessed on their half.
"If this is over £23,250, they will be required to pay the whole costs."
Care home costs: cheapest and most expensive areas revealed
There's also the worry your cash will run out and pensions are unlikely to make up the shortfall, says O'Connor.
"Pensions are not designed to cover housing costs – they assume that people have paid off mortgages before they retire.
"The additional pension pot required to fund the cost of renting in retirement is actually quite significant.
"A private renter needs roughly an extra £185,000 in retirement to cover their rent in order to leave them in the same position net of housing costs as an outright homeowner."
There are many things to consider when deciding whether to rent or buy when downsizing, but it seems the decision is no longer as clear cut as it once was.
Interested in similar topics? These articles may be of interest:
17 steps to make your early retirement dream a reality in 2019
Be the first to comment
Do you want to comment on this article? You need to be signed in for this feature