Why you should be open about your mental health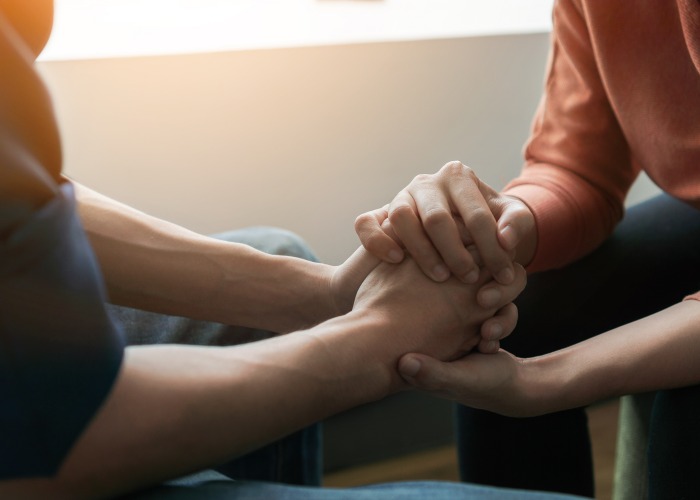 Writer Katy Ward talks about the relationship between debt and mental health and the steps you can take to overcome these issues.
Two days after my 21st birthday during a panic attack before my university finals, I called an ambulance convinced I was having a heart attack.
While in the hospital ward after speaking to the community mental health team, my debit card was stolen, forcing me to walk five miles home at 1am since I was too embarrassed to explain the scenario to my family.
These were the first signs of the anxiety that would accompany my career as a permanently skint financial journalist ­­– always knowing what I should do, but never having the energy to do it.
I don't want sympathy. My struggles could be far worse. Nevertheless, there's ample evidence of a correlation between mental health and financial struggles.
How to get therapy on a low income
'This is an all too common problem'
According to the Money and Mental Health Policy Institute, over 420,000 people in problem debt consider taking their lives in England each year, and more than 100,000 actually attempt suicide.
When my mental health issues came to a head, I rarely opened correspondence from my bank and didn't have the energy to pay bills.
"This is an all too common problem," says Richard Colwill, spokesperson for mental health charity SANE.
"Poor decisions can and do lead to people's financial circumstances and mental health spiralling out of control," he says.
"Avoiding the problem, be it financial or mental, invariably means it gets worse."
"Debt can cause or exacerbate mental health problems, and mental illness can lead to ever more unmanageable debt."
Clearly, I ought to have been shrewder given my profession. When I confided in a friend, she told me just this.
I wanted to explain financial journalists are also vulnerable to the mental health issues that affect one in four of us. Instead, I mumbled something I can barely recall.
Compare personal loans with loveMONEY
How I regained control
Following a series of counselling sessions, I got back on top of things. The first step was to speak to creditors – the main one being HSBC. I was massively overdrawn and stopped paying my credit card bill while I was unwell.
I made an appointment with the bank and spoke to the specialist team dealing with people in this situation. I felt humiliated.
I'd often vented on Twitter about my frustrations with my bank, but the team were amazing.
They explained the relevant procedures (most of which I knew on a professional level, though not perhaps a personal one). For most of the session, my hands were shaking, and I dread to think how I came across.
The adviser informed me I shouldn't be embarrassed and that she often meets with employees from financial services who find themselves in debt. I found this strangely reassuringly as I wasn't the only professional daft enough to make mistakes.
At the end of the meeting, the adviser asked me if I am allergic to flowers as she was going to arrange for a bouquet to be sent to my house since 'they make everyone feel better'.
Perhaps I was lucky to get this wonderfully understanding adviser, as I suspect not all people in debt have such a kind one. I'm glad I did and would like to see it soon become an industry standard.
"I suffered a burnout": how mental illness can affect your finances
Most mainstream banks and loan companies theoretically ought to be 'responsible lenders' – adhering to an industry wide code of conduct for dealing with those in debt, which includes:
transparency over the money you borrow
affordability in relation to your income and expenditure
dealing with you fairly if you're suffering with a mental health condition
"There are provisions in the Lending Code that allow for people who get into financial difficulty, and a growing understanding amongst at least some lenders and legislators that mental health needs to be considered when dealing with people in financial distress," says Colwill.
To mark Mental Health Awareness Week (13-19 May 2019), we look at the options lenders may offer those in debt suffering from a mental health issue.
Agreeing not to include a debt collection agency
Responsible lenders normally agree to keep debt in-house. This should mean you don't need to worry about a bailiff knocking on your door during one of the most stressful periods of your life.
Suspending accounts
My bank agreed to place my accounts on hold while I sought mental health advice. This meant freezing charges, but at least the debts (and interest) weren't accruing while I was unwell.
If you have a mental health condition, you may be more likely to overspend, so a bank may note this on your file and flag up if you're making unusual transactions.
Refunding charges
Following my discussions with HSBC's specialist team, the bank agreed to refund £200 in interest and penalties I paid while not well enough to fully process the consequences of my borrowing.
Despite my personal finance background, my head-in-the-sand attitude led to massive charges before I was honest with my bank about the reasons I was unable to manage my money.
Suspending contact
While I was in the process of obtaining counselling, the adviser understood I was ludicrously stressed about receiving an endless stream of letters about bills I couldn't pay.
The bank agreed not to contact me for six weeks, which was a huge relief. The adviser I spoke to understood how terrifying letters relating to debts can be during such a period.
How your lender talks to you
If mental health issues mean you struggle with communications in certain formats or at particular times of day, responsible lenders may accommodate your needs.
They may, for example, make sure you only receive calls from a team dedicated to mental health issues or agree to make calls at a time of day you find least stressful.
State benefits
If you're experiencing mental health worries, you may be able to claim benefits if you're not able to work. These include:
The way forward
"We would like to see greater protections for people to help reduce the misery that a debt crisis can cause for individuals and their families," says Colwill.
The charity welcomed the announcement of the 'breathing space' scheme in last year's Budget, which allows a 60-day break from paying bills for people in trouble.
"But we also need financial education so people are more aware of the traps laid by providers of easy credit.
"The bitter reality is that lenders are in the business of selling debt to consumers, and as long as that is the case they will likely always present a risk to the vulnerable or unaware."
Considering income protection? Get a quote here
How to get help
If you're dealing with financial and mental health issues, there are several resources that should be able to help:
*This article contains affiliate links, which means we may receive a commission on any sales of products or services we write about. This article was written completely independently.
Be the first to comment
Do you want to comment on this article? You need to be signed in for this feature