M&S Mobile, Pay, Go app: in and out the shop in 40 seconds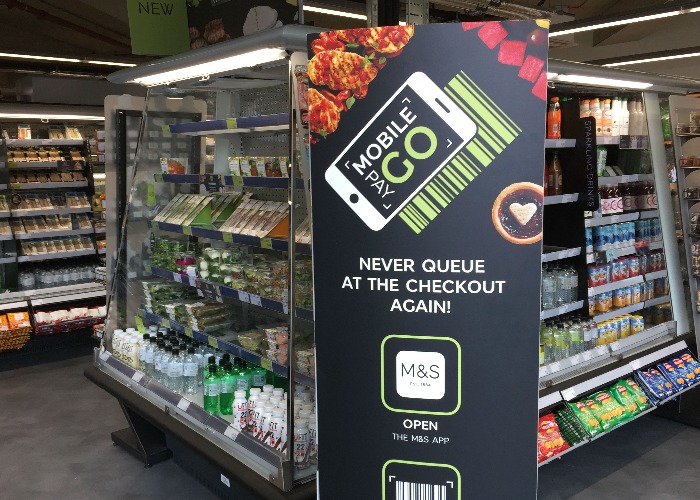 Marks and Spencer's new mobile app function allows customers to pay and leave their shops without ever going near a till.
What if you could walk into a shop, grab what you need and then just go?
Presently known as 'shoplifting', and very much illegal, this could soon be a legitimate option for millions of shoppers, thanks to mobile apps.
Marks and Spencer is the latest supermarket to try 'till-free' shopping, following hot on the heels of Sainsbury's new app, which we tried last month.
M&S claims that their 'Mobile, Pay, Go' option means that "customers can purchase lunch (sandwich, crisps and a drink) in under 40 seconds".
We went to M&S' Waterside Store near London Paddington Station, to put this claim to the test.
Marks and Spencer tips, tricks and hacks to save you money
Shopping without a till
What M&S has done is turn your smartphone into a mobile scanner, like those at the tills, using your phone's camera.
Before you get started, however, you'll need to download the M&S Mobile App and have logged into your Sparks account (M&S' free loyalty scheme) for the Mobile, Pay, Go option to appear in the app's 'more section'.
When you open it, you'll be prompted to enter a payment option. This can either be a saved debit or credit card, or a saved card on Apple or Google Pay.
The M&S store is then your oyster… unless you're planning to buy alcohol, medicines or loose fruit or veg that doesn't have barcodes (luckily, quite a few do).
At present, the app is only intended for purchases of food items, so it's mainly aimed at the lunchtime crowd.
Also note that there's a £30 limit on spending using the app, plus you won't earn M&S Bank points whilst spending on it, although other credit card loyalty schemes (such as American Express) still work.
We gave it a go
Spoiler alert: I was able to buy an (unusually healthy) lunch in under 40 seconds – in fact, it was more like 15 seconds.
The app took a few seconds to open, but scanning barcodes was instantaneous: you can scan the barcode on the item itself, or on the shelf you've taken it off.
You then enter a payment page which requires you to swipe – or use your fingerprint or face on Apple Pay – and then you're done.
Crucially, you can do all this by the shelves or indeed anywhere in the shop, unlike Sainsbury's which insists you scan a sticker on the window of their stores.
The app then comes up with a QR code that you should keep on your screen until you're out of the store. This acts as your receipt in case you're stopped by security.
The app worked flawlessly when we tried it. It's worth noting, however, that you'll need a phone with internet access (some M&S stores have wifi) and enough battery that it doesn't fail halfway through as mine did.
M&S Dine In meal deal for two: top picks in new £12 food offer
Our verdict
As with Sainsbury's till-free shopping app, leaving a store without appearing to pay takes some getting used to.
But if you can get used to it, you can save a huge amount of time because Mobile, Pay, Go function really does let you avoid the queues. No longer will you spend your lunch break stuck behind someone doing their weekly shop.
Unfortunately, it'll be some time before this genuinely helpful technology comes to your high street.
M&S are only rolling out Mobile, Pay, Go at six stores, all in London, before Christmas, including Waterside, Edgware Road, West Hampstead, Bankside, Canary Wharf and Stratford Westfield.
As the project is still a trial, they don't have any date set for rolling out beyond the capital, or whether you'll be able to buy non-food items using the app.
That's a real shame for many M&S shoppers, but it could be well worth waiting for.
Get up to £25 in M&S vouchers when you use your M&S Reward Plus card for the first time
Be the first to comment
Do you want to comment on this article? You need to be signed in for this feature