Co-op meal deal: the £5 frozen food offer
The Co-op meal deal gives you five different items for the freezer for just £5. Here's how the offer compares to some of the more popular food offers available from rivals.
Co-operative Food offers a frozen family meal deal as a cheaper alternative to the Marks & Spencer Dine In for Two and Tesco Finest meal deal.
The Co-op's 'freezer fillers' deal allows you to choose five different items, including chicken burgers and Cadbury Creme Egg ice cream for just £5.
But if you're interested, you'll need to be quick, as the latest Co-op deal will only be around until 25 January.
Let's take a look at what's on the menu, before comparing it to rival offers.
What you get and how much you can save
This offer is ideal if you want to pick up food that you can stick in the freezer as it includes:
Birds Eye crispy chicken in tempura batter (170g)
Birds Eye chicken burgers (200g)
Birds Eye mixed vegetables (340g)
Birds Eye mini potato waffles (456g)
Cadbury Creme Egg ice cream (480ml)
The deal will save you £5.25 compared to buying the items individually.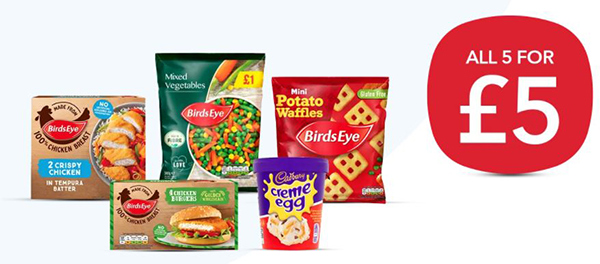 How it compares to rivals
The Co-operative Food meal deal is half the price of the M&S Dine In deal and Tesco's offer, but it has to be said that the offer is also far more limited.
The Marks & Spencer meal deal lets you choose a main, side and a starter or dessert while Tesco offers a Finest main, side, pudding and bottle of wine or a pack of soft drinks.
Both are complete meals that are good to go, while the Co-op offer is more about picking up items to use gradually as parts of other meals.
Ultimately, it comes down to personal taste and preference.
But given that most of the wines on offer from Tesco are worth well over a fiver on their own, you have to say the Co-op meal deal probably isn't as good value.
Finally, and forgive us for pointing out the blindingly obvious here, the Co-op option is purely frozen.
So, if you want flexibility on when you actually eat it, the Co-op deal has a clear advantage.
Which store do you think offers the best meal deal? Let us know your thoughts in the comments section below.
Up next:
Be the first to comment
Do you want to comment on this article? You need to be signed in for this feature