Tesco meal deal for two: best options in the Finest £10 food offer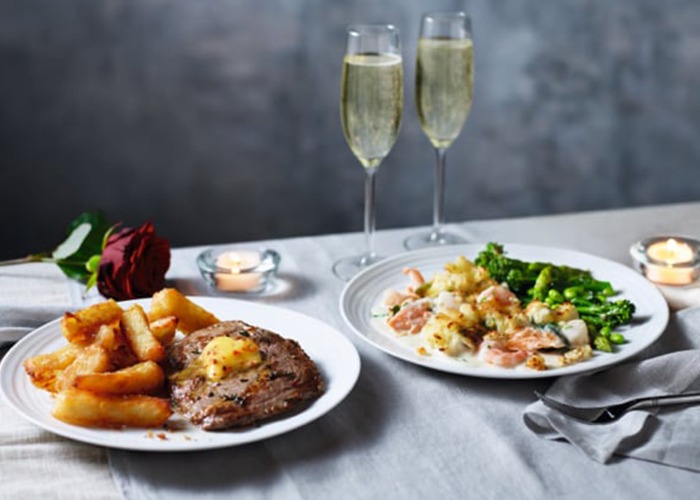 The Tesco meal deal lets you pick from the supermarket's Finest range for £10 and offers better value for money than the M&S Dine In promotion – here's what you can get.
The Tesco meal deal lets you choose from its Finest food and drink range. Shoppers can pick up a main, a side, a pudding and a choice of wine or soft drinks for £10 – perfect for two.
Not sure which supermarket meal deal to go for? This article explains what you can pick up at Tesco, while you can head this way to find out more about the M&S Dine In meal deal.
Earlier this year, M&S cut the price of its Dine In meal deal from £12 to £10 but this is arguably less competitive than Tesco's deal as you will no longer get a bottle of wine or non-alcoholic alternative.
You can find out more about the changes in the M&S Dine In deal here.
For long-term value, you should check out our weekly update of the best deals from all the big supermarkets, or look at our Tesco-specific shopping tips.
What's in the Tesco Finest £10 meal deal?
If you're interested in the £10 meal deal, you should note the current menu is available until 26 October, after which the options may change.
The mains have been refreshed with the likes of ranch steaks with garlic butter and chicken and chorizo paella being replaced by lasagne and chicken in prosecco sauce.
There are five sides on the sides menu (down from six) with creamed savoy and cavolo nero added to the menu.
The desserts menu now offers three options (down from five) with chocolate and orange pots and tarte au citron still available, while lime cheesecake slices have been added.
To see the full list of dishes available under the £10 meal deal, check out the list below.
Mains:
Tesco Finest beef lasagne
Tesco Finest chicken, leek and bacon filo pie
Tesco Finest chicken in prosecco sauce
Tesco Finest portobello mushroom stroganoff
Tesco Finest Indian inspired lamb bake
Tesco Finest chorizo mac and cheese
Sides:
Tesco Finest chunky chips
Tesco Finest peas, leeks and pancetta
Tesco Finest potato dauphinoise
Tesco Finest lemon and thyme roast potatoes
Tesco Finest creamed savoy and cavolo nero
Desserts:
Tesco Finest lime cheesecake slices (two pack)
Tesco Finest Belgian chocolate and orange pots (two pack)
Tesco Finest tarte au citron (two pack)
Drinks:
Rose Garnacha from Spain
Bottle Green twin pack (2 x 750ml)
Diet Coke (6 x 250ml glass bottles)
Tesco Finest Pink Lady apple juice and lemonade (two pack)
Chardonnay from Spain
Shiraz from Spain
Sauvignon blanc from Chile
Merlot from Chile
Want to find out the latest news affecting your money? Have a look at our dedicated household money section.
More money-saving tips:
Online shopping tricks that could save you hundreds
Tricks supermarkets use to hike shopping costs without us noticing
Be the first to comment
Do you want to comment on this article? You need to be signed in for this feature