Tesco meal deal for two: best options in the Finest £10 food offer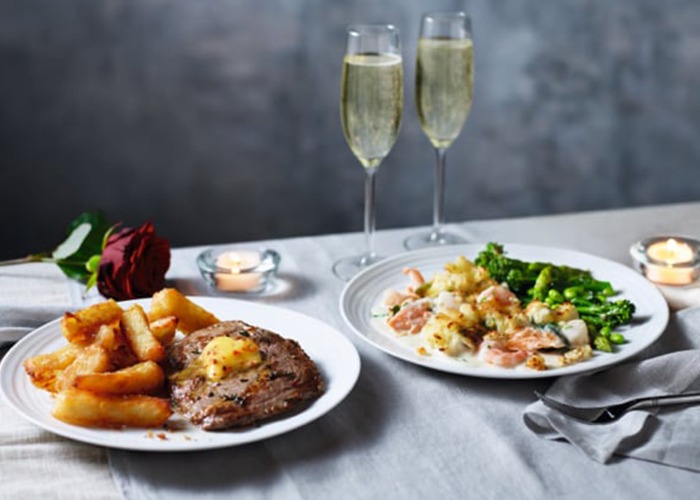 The Tesco meal deal lets you pick from the supermarket's Finest range for £10 and looks just as good as the regular M&S Dine In promotion – here's what you can get for your money.
The Tesco meal deal lets you choose from its Finest food and drink range, which is a particularly appealing deal given that the popular Marks & Spencer Dine In offer isn't available at the time of writing.
Shoppers can pick up a main, a side, a pudding and a choice of wine, beer, or soft drinks for £10 – perfect for two.
Not sure which to go for? This article explains what you can pick up at Tesco, while you can head this way for our verdict on the latest M&S meal deal.
Collect Tesco Clubcard points while you spend with the Foundation Credit Card
What's in the Tesco Finest £10 meal deal?
For long-term value, you should check out our weekly update of the best deals from all the big supermarkets, or look at our Tesco-specific shopping tips.
Live near a Tesco? Why not bank with them: apply for a Tesco current account
If you're mainly interested in the £10 meal deal, you should note the current menu is available until 4 February, after which the options may change.
Looking at the new options under the deal, steak lovers may be disappointed as ranch steaks are no longer available.
Several desserts have also been removed, including chocolate profiteroles, Millionaires tarts, and mixed berry trifle, while the likes of chocolate and salted caramel pots and passion fruit and raspberry tarts have been added.
To see the full list of dishes available under the £10 meal deal, check out the list below.
Mains:
Tesco Finest mushroom, leek and brie filo pie;
Tesco Finest lemon and herb chicken;
Tesco Finest slow-cooked gammon shank in pineapple;
Tesco Finest chicken cabernet sauvignon;
Tesco Finest traditional lasagne;
Tesco Finest chicken and ham hock mustard pie;
Tesco Finest chicken and chorizo paella.
Sides:
Tesco Finest potato dauphinoise;
Tesco Finest creamed spinach;
Tesco Finest mac and cheese;
Tesco Finest butternut squash gratin;
Tesco Finest chunky chips with sea salt;
Tesco Finest trio of cabbage.
Desserts:
Tesco Finest apple and blackberry flapjack crumble;
Tesco Finest vanilla cheesecake slices (two pack);
Tesco Finest lime cheesecake slices;
Tesco Finest chocolate and salted caramel pots (two pack);
Tesco Finest passion fruit and raspberry tarts (two pack).
Drinks:
Rose Garnacha from Spain;
Bottle Green twin pack (2 x 750ml);
Coca Cola Zero (6 x 250ml glass bottles);
Diet Coke (6 x 250ml glass bottles);
Chardonnay from Spain;
Sauvignon Blanc from Chile;
Shiraz from Spain;
Semi sparkling wine from Spain;
Peroni Nastro (4 x 250ml).

Want to find out the latest news affecting your money? Have a look at our dedicated household money section.
Live near a Tesco? Why not bank with them: apply for a Tesco current account
More money-saving tips:
Online shopping tricks that could save you hundreds
Tricks supermarkets use to hike shopping costs without us noticing
Be the first to comment
Do you want to comment on this article? You need to be signed in for this feature