Aldi free £85 voucher scam: fake coupon doing the rounds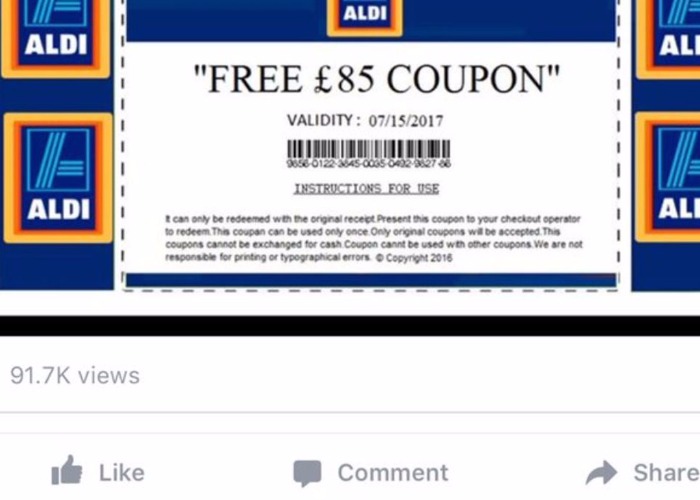 A fake £85 Aldi voucher is being shared widely on Facebook and Twitter. The coupon is really designed to steal your personal details.
A fake £85 Aldi voucher designed to steal shoppers' information is being widely shared on social media.
Victims are asked to click on a link and then provide certain personal details before they can print off the fake coupon.
They are also asked to share the voucher on Facebook or Twitter so as to keep the scam circulating.
Aldi has been inundated with queries about whether the vouchers are valid or not.
Hi Lynsey. We can confirm that this is not an official Aldi voucher. It is a fraudulent offer that cannot be redeemed in our stores, and we strongly advise that you do not complete any personal details. Please rest assured that this is currently being fully investigated. Thanks.

— Aldi Stores UK (@AldiUK) December 2, 2018
Those who click on the links are taken to a fake 'survey' which asks for personal details.
One giveaway is that the website's address is 'aldi-reward', rather then Aldi's official website Aldi.co.uk (click on the image to expand).
How to stay safe
Fake supermarket vouchers are a common tactic for scammers as they have such widespread appeal. After all, who doesn't want cash off their next grocery shop?
They will generally feature some spurious reason for offering this huge 'giveaway', such as celebrating a birthday or anniversary.
Scams often contain spelling or grammatical errors, but you can't rely on this to spot one: there aren't any immediate errors in the coupon above.
However, you may have spotted that the expiration date is also written in the American style of Month, Day, Year.
Looking more generally at voucher scams, you should always be suspicious of any offer that requires you to hand over details to get it.
Finally, if something seems too good to be true, it probably is.
If you want to be sure you're not missing out on a bargain you can contact the supermarket's customer support team and ask them (just don't follow any links in the voucher in question).
For more long term savings, have a look at our top 10 tips to save even more at Aldi.
Be the first to comment
Do you want to comment on this article? You need to be signed in for this feature