Rare pound coins: which are the most valuable old 'round pounds'?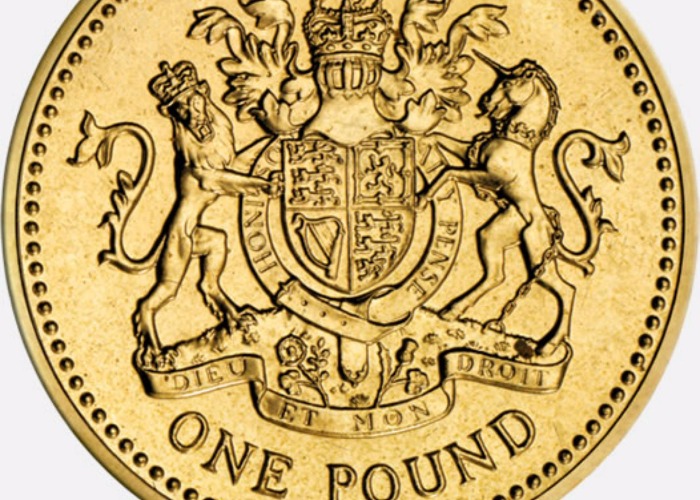 'Old' rare pound coins are proving hugely popular with collectors, desperate to snap them up before they disappear for good. So which are the most valuable old 'round pounds'?
The hunt for rare pound coins has intensified as the deadline for spending the old £1 'round pounds' rapidly nears.
What's more, the Royal Mail has revealed that the new 12-sided £1 coins now outnumber the old coins, indicating they are fast disappearing from our shops.
Coin specialist blog Change Checker says there are many £1 coins in circulation that could be worth as much as £50.
To date, the biggest confirmed sale we've seen on eBay is £25, but that doesn't mean other £1 coins won't fetch a higher sum at a later date.
Head this way if you want to learn more about rare new pound coins. Or take a look at the most valuable 50p coins in circulation.
Ranking £1 coins by estimated value
Here's a rundown of valuable £1 coins, based on Change Checker's £1 Scarcity Index. It ranks coins from 1 to 100: the higher the rating, the more valuable the coin is likely to be.
Where possible we've given an indication of what the coins might sell for, but of course this can vary widely. As mentioned earlier, the most valuable coins on the list are expected to fetch up to £50, according to Change Checker.
A word of warning
For those looking to buy one of these coins as an investment, a quick word of warning: you'll be paying a lot more than face value for them, but there's no guarantee they'll retain their value in years to come.
Collecting these coins is great as a hobby or a bit of fun, but you shouldn't expect to make a lot of money from it.
1. Scotland: Thistle (1984,1989)
The thistle coin was introduced in April 1984 and designed by renowned silversmith Leslie Durbin.
Scarcity rating: 1
2. UK: Royal Arms (1983, 1993, 2003, 2008)
This was the first £1 coin to roll on to the scene and replace the £1 banknote, being reintroduced three times.
It's designed by Eric Sewell, chief engraver at the Royal Mint. The coin's inscription says 'DECUS ET TUTAMEN', which means an 'ornament to be safeguard'.
Scarcity rating: 1
3. N.I: Celtic Cross (1996, 2001)
Third in a four-part UK series, the design is a rich Celtic cross, surmounted by the Broighter Collar. There's a pimpernel in the centre, which flourishes around Lough Neagh.
Scarcity rating: 2
4. Wales: Menai Bridge (2005)
This coin features Thomas Telford's Menai Bridge as part of Edwina Ellis' bridge series, showcasing some of the UK's finest architecture.
Scarcity rating: 3
5. Wales: Dragon Passant (1995, 2000)
The dragon is the second in a four-part series featuring the countries of the United Kingdom.
It represents the 'strength, fire and spirit' of the Welsh National character. On the coin's edge are the words PLEIDOL WYF I'M GWLAD, which means 'true I am to my country' taken from the national anthem of Wales.
Scarcity rating: 3
6. Scotland: Forth Railway Bridge (2006)
The Forth Railway Bridge coin, designed by wood engraver Edwina Ellis, features a major engineering achievement of the Victorian age.
Though this coin might not be worth all that much on its own, it could be more valuable as part of a set. We've seen an eBay sale where a collection of £1 'flowers, bridges and more' coins sold for £19.80.
Scarcity rating: 6
7. England: Oak Tree (1987,1992)
Oak trees have long been associated with England, which explains its appearance on the back of this £1 coin, designed by renowned silversmith Leslie Durbin.
Scarcity rating: 7
8. Egyptian Arch Railway Bridge (2006)
John Macneill's Egyptian Arch for Northern Ireland features on the third coin in the bridge series, designed by wood engraver Edwina Ellis. The bridges are symbolic of unity.
Scarcity rating: 12
9. N.I: Flax (1986, 1991)
Introduced on 21 April 1986, the Northern Ireland flax coin also has an edge inscription of DECUS ET TUTAMEN meaning 'an ornament and a safeguard'.
Scarcity rating: 14
10. England: Millennium Bridge (2007)
The Gateshead Millennium Bridge coin was the last in the bridge series, designed by Edwina Ellis.
Scarcity rating: 16
11. Scotland: Lion Rampant (1994)
The Lion Rampant was designed by Norman Sillman based on a drawing from the College of Arms.
Around the edge you'll see the Latin motto from the Order of the Thistle, NEMO ME IMPUNE LACESSIT, which translates to 'no-one provokes me with impunity'.
We came across an example of a Lion Rampant coin that sold for £4.50.
Scarcity rating: 19
12. N.I: Belfast City (2010)
Stuart Devlin's 'City Series, as its name suggests, focuses on the four capital cities of the UK.
The ship is representative of the city's shipbuilding centre and the bell appeared on tokens issued to Belfast tradesmen in the 17th century. The motto of the arms – PRO TANTO QUID RETRIBUAMUS – translates to 'what shall we give in return for so much'.
Scarcity rating: 32
13. Wales: Daffodil & Leek (2013)
This is part of a floral series depicting pairs of floral emblems.
Scarcity rating: 40
14. N.I: Flax & Shamrock (2014)
Calligrapher Timothy Mead designed the floral series of £1 coins to honour each part of the UK.
Scarcity rating: 47
15. England: Rose & Oak (2013)
The Rose & Oak coin led the series when it launched back in 2013.
They still go for a fair amount of cash. Someone sold the entire floral collection for £14.50, pretty impressive.
Scarcity rating: 47
16. UK: Crowned Shield (1988)
The Royal Mint's own Derek Gorringe designed the Crowned Shield coin. And in case you were wondering? It's the Crown of St. Edward on top of the shield.
One of these beauties has been sold on eBay for £6.50.
Scarcity rating: 51
17. Scotland: Thistle & Bluebell (2014)
Scotland's Thistle & Bluebell is the rarest of the floral series.
Scarcity rating: 55
18. England: London City (2010)
The motto of the arms on the London City coin reads DOMINE DIRIGE NOS, or 'Lord, deliver us'.
Scarcity rating: 77
19. Wales: Cardiff City (2011)
Naturally, the Cardiff City coin features emblems that are true to Wales: the leek, used to distinguish friend from foe in the battle of Heathfield in 633 AD and the dragon, recognised as Wales's national emblem for over 1,000 years. The city arms motto, Y DDRAIG GOCH DDYRY CYCHWYN, means 'the red dragon shall lead'.
This coin is already selling for £20 on eBay, but prices are expected to climb.
We've seen an example of a Cardiff City coin selling on eBay for £14. You may even strike it lucky as this coin came with an Oak & Rose, a Thistle & Bluebell, Flax and Royal Arms too. Result!
Scarcity rating: 88
20. Scotland: Edinburgh City (2011)
A representation of Edinburgh Castle takes pride of place on the Edinburgh City coin. The city arms motto is NISI DOMINUS FRUSTRA, which translates to 'it is vain without the Lord'.
It's already said to be fetching prices of between £10 and £15 on eBay, but as people scrabble to collect the last ones the price could climb to £25-£50. A set of eight of the rare coin sold for a handsome £80 earlier this year.
Scarcity rating: 100

Photos courtesy of the Royal Mint
Keep your pounds and pennies in check with a top-of-the-range current account. Compare deals with loveMONEY today.
Want more stories like this? Visit loveMONEY homepage or sign up for our daily newsletter and let us send the news to you!
Don't miss these:
New British Gas 'reward' you should ignore
Loyalty customers could finally be rewarded by energy firms
How your mental health affects your money
Be the first to comment
Do you want to comment on this article? You need to be signed in for this feature