Best advent calendars for 2019: cheapest places to buy Cadbury, LEGO and beauty calendars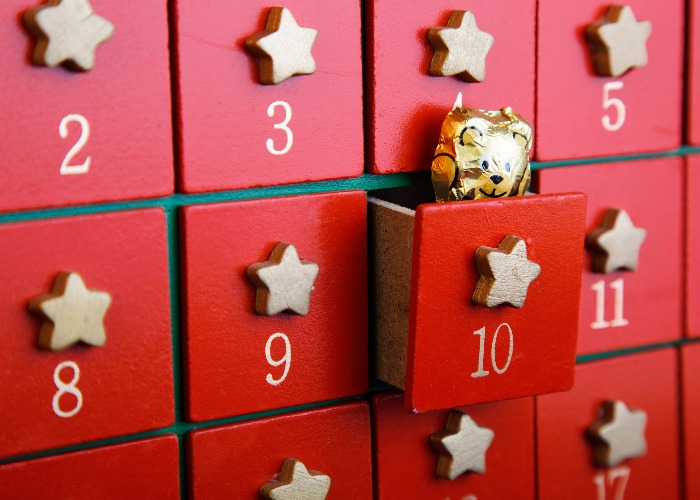 From Lego to Cadbury's, a look at the top toy, chocolate and beauty advent calendars for 2019 and the cheapest place to get them.
Just a few years ago, you knew what you were getting with advent calendars. That is, they cost a few pounds, and were invariably filled with revoltingly sweet kids' chocolates (more on those below).
Then came along the beauty and alcohol advent calendars, with even traditional John Lewis flogging a £600 'Wedgewood Porcelain Tree Decoration Advent Calendar', with a different miniature ornament for every day.
But is there some common ground between the two extremes? A stylish way to count down to Christmas without getting out your credit card?
We went looking for great and original advent calendars under £10 and here's what we found.
Best beauty advent calendars
M&S Beauty Advent Calendar, £40 (plus £25 spend in-store), M&S
Although the £40 price-tag may seem a little steep for our Christmas list, this M&S calendar contains £300 worth of beauty products, making it really good value for money if you would normally buy the items separately.
This year's calendar includes an Emma Hardie Purifying Detox Clay Mask, Pure Super Hydrate Day Cream, and Formula Absolute Ultimate Sleep Cream.
The calendar is a big hit each year (it's already sold out online!), although you do have to spend £25 on clothing, homewares, or beauty products to be able to purchase it.
M&S Dine In meal deal for two: top picks in the latest offer
A Little Something Beauty Calendar, £8.33, Boots
Each day brings a new beauty product with this advent calendar from Boots. Products contain a variety of lip glosses and eyeshadows, as well as brushes and sponges.
Boots is currently offering a discount on selected Christmas items, so although this calendar is usually £12.50, you can get it for £8.33 if you're quick.
Bristle & Smith 12 Day Advent Calendar, £5, Superdrug
Glamorous advent calendars aren't all about make-up.
This 12-day countdown contains a variety of things to keep your beard looking tip-top, from shave balm to tweezers.
Originally £18, it is now available for £5 at Superdrug both online and in-store.
Make your own advent calendar
Gold Scratch Advent Calendar, £9.99, Party Pieces
Rather than filling an advent calendar with treats or tidbits, why not promise a kind deed or even a joke for every day?
Party Piece's stylish advent calendar enables you to write down your own messages and then cover them up with stickers, waiting to be removed like a scratchcard.
It's worth noting that this calendar was on offer for £4.25 in 2018, and so it has seen quite the price hike.
Colour In Fillable Advent Calendar, £5, Hobbycraft
Hobbycraft's calendar is considerably cheaper than most 'fill it yourself' calendars at only £5.
Children can colour in the snowy scene on the front to personalise the calendar and there are compartments that can be filled with anything from cheap sweets to small crafting materials or toys.
Pet advent calendar
Cat and dog advent calendars, £1.50, Wilko
Make sure every member of the family is enjoying the Christmas countdown with Wilko's advent calendars for cats and dogs.
The calendar includes catnip and yoghurt treats for the felines and dog-safe chocolate treats for your canines. You may need to open the doors for them.
Both versions of this calendar are just £1.50. The cat version has sold out online, but the dog version is available online and in-store.

Cheapest chocolate advent calendars
If you just want chocolate in your advent calendar, it's possible to get one surprisingly cheap.
Cadbury's classic Dairy Milk 90g calendar is currently on sale at B&M for £1.89, while it's available at Asda for £2. It's possible to get Galaxy and Nestlé equivalents for similar prices.
If you're happy to go own-brand, Tesco is currently offering a chocolate advent calendar for 75p.
A treat with your name on it
Milk Chocolate Cheeky Elf Advent Calendar, £6, Thorntons
The centrepiece of this advent calendar is a chocolate bar hand-iced with your child's (or indeed partner's) name. Getting this advent calendar personalised doesn't cost anything extra.
Thorntons have a couple of personalised chocolate calendars to choose from, including one with a Santa design and one with white chocolate.
These are currently £6 per calendar or three for two.
Alcoholic advent calendars
Bombay Sapphire Gin 5cl & Chocolate Advent Calendar, £3.99, B&M
Whilst most boozy advent calendars come in well above the £10 mark, B&M have a Bombay Sapphire Gin calendar for just under £4.
The discount retailer also has a Baileys Original version for those preferring a slightly more festive beverage.
Each calendar costs £3.99 and comes with one 5cl bottle of alcohol and a chocolate for every day in the run-up to the 25th.
Chocolate-free calendars
Haribo Advent Calendar, £4, Wilko
If you love a sweet treat but don't fancy a daily dose of chocolate, the Haribo Advent Calendar has got you covered. There is a little packet of sweets including cola bottles, MAOAMs, and Goldbears waiting behind each door.
If there isn't a Wilko near you, you can also pick up this calendar at Asda for £5, or at Tesco for £5.
Pringles 12 Days Advent Calendar, £7.99, B&M
If you like your Christmases deep and crisp and even, you'll love B&M's Pringles advent calendar.
Each of the 12 doors conceals a 40g tub of ready salted, sour cream and onion, salt and vinegar, or Texas BBQ Pringles.
These Pringles calendars are available in a range of stores, but we found it was cheapest from B&M at only £7.99.
Naked Marshmallow Co Advent Calendar, £12.95, Santa Sacks
This is The Naked Marshmallow Company's third year of producing advent calendars, and their handmade gourmet marshmallows have been a big hit.
Flavours include salted caramel, gingerbread, and milk and cookies.
You'll struggle to find this marshmallow calendar for under £19 in most retailers, but Santa Sacks are currently doing a flash sale where you can get one for £12.95.
The sale may last for a limited time, so you'll have to be quick if you want to grab one.
Quirky calendars
Peel The Pudding Game And Christmas Countdown, £10, Not on the High Street
Perhaps the most bizarre of the advent calendars, these tissue paper Christmas puddings have 25 layers of treats and jokes to peel off in time for Christmas.
There are Santa and even Brussel sprout-themed equivalents available.
Free From calendars
Free From Advent Calendar, £2, Asda
This calendar is gluten-free, wheat-free, and egg-free, making it a great choice for vegans or anybody with certain dietary requirements.
Asda's free from calendar is currently £2, which we found to be the cheapest of its kind available in supermarkets.
Moo Free Advent Calendar, £3, Morrisons
The chocolates behind each door of the Moo Free calendar are soya, dairy, lactose, gluten, wheat, and casein free.
The calendars can be found in most of the big supermarkets, but Morrisons is the cheapest at £3. The same calendar currently costs £4.75 in Sainsbury's and £4.99 in Waitrose.
Cheap groceries: cut your food and drink bill with these tips and tricks
NOMO Exclusive Advent Calendar, £5.99, Holland & Barrett
Having dietary requirements doesn't mean that you have to have a plain calendar, and NOMO's Christmas countdown is filled with chocolate discs, caramel and sea salt discs, and a chunky chocolate bar.
This Holland & Barrett special is suitable for vegans, coeliacs and nut allergy sufferers and can be found in-store and online for £5.99.
Lego advent calendars
Ok, these aren't under £10 but as your children are likely to demand one, it's worth knowing where to get it cheapest.
Lego is offering four different advent calendars this Christmas: Lego Harry Potter, Lego City, Lego Star Wars, and Lego Friends.
You can generally find the calendars online for £20 at Argos, but these are always popular so it's worth getting in there early if you want to get one before they all sell out.
Free collectables now worth a fortune
Luxury advent calendars
Even if you ignore John Lewis' Wedgewood house, it's quite easy to blow more than £50 on advent calendars for loved ones, particularly if you're looking for branded booze or beauty products.
If that's the case, then save yourself some money by going through a cashback site, such as TopCashback or Quidco.
Combine that with a cashback credit card, which you can use to get money back from almost all your Christmas shopping and gift buying. Just make sure you can pay the balance in full every month (set up a direct debit), so the high interest rates don't kick in.
Compare cashback credit cards on loveMONEY's comparison site
More ways to save money:
Voucher code shopping tool review – find out how much we saved
Cheapest online supermarket delivery deals
11 M&S shopping tips to save a bundle
Be the first to comment
Do you want to comment on this article? You need to be signed in for this feature