Advent calendars 2018: cheapest places to buy Cadbury, LEGO and beauty calendars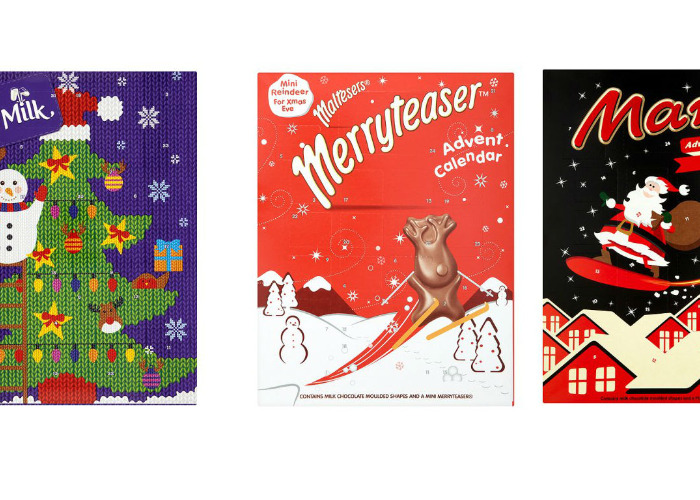 From Lego to Cadbury's, a look at the top toy, chocolate and beauty advent calendars for 2018 and where to find them cheapest.
Just a few years ago, you knew what you were getting with advent calendars. That is, they cost a few pounds, and were invariably filled with revoltingly sweet kids' chocolates (more on those below).
Then came along the beauty and alcohol advent calendars, with even traditional John Lewis flogging a £600 'Wedgewood Advent House', with a different ornament for every day.
But is there some common ground between the two extremes? A stylish way to count down to Christmas without getting out one's credit card?
We went looking for great and original advent calendars under £10 and here's what we found:
Make advent your own
Gold Scratch Advent Calendar, £4.25, Party Pieces.
Rather than filling an advent calendar with treats or tidbits, why not promise a kind deed or even a joke for every day?
Party Piece's stylish advent calendar enables you to write down your own messages and then cover them up with stickers, waiting to be removed like a scratchcard.
It's now been reduced to £4.25, not including shipping.
24 days of glamour
Superdrug Flutter Beauty 12 Day Calendar, £8, Superdrug
Lip gloss, blusher, eyeshadow, nail polish, lipstick and a nail file: there's a lot packed into this ball-shaped advent calendar from Superdrug.
It's currently on sale a £8, previously £16, in-store and online.
Do they know it's Christmas?
Cat and dog advent calendars, £1.50, Wilko
Make sure every member of the family is enjoying the Christmas countdown with Wilko's advent calendars for cats and dogs, featuring catnip treats for the former and dog-safe chocolate treats for the latter. You may need to open the doors for them.
Just £1.50 each (previously £2), online and in store
A treat with your name on it
The Gruffalo Advent Calendar, £5, Thorntons
Inspired by the classic children's' story and now film, the centrepiece of this advent calendar is a chocolate bar hand-iced with your child's (or indeed partner's) name. Getting this advent calendar personalised doesn't cost anything extra.
On sale for £5, or you can three for £10, not including delivery.
Pass the parcel
Peel The Pudding Game And Christmas Countdown, £10, Not on the High Street
Perhaps the most bizarre of the advent calendars, these tissue paper Christmas puddings have 25 layers of treats and jokes to peel off in time for Christmas. There are even Santa and even Brussel sprout-themed equivalents available.
Lego advent calendars
Ok, these aren't under £10 but as your children are likely to demand one, it's worth knowing where to get it cheapest.
Lego is offering three different advent calendars this Christmas: Lego Star Wars, Lego City and Lego Friends.
You can generally find the calendars online for £19.97 - now increasingly sold out - but we've seen Argos selling the City version for £12.99.
Alternately, Lego's own website is selling a 'Lego Christmas Build Up' set for £9.99. It's not an advent calendar per se but does includes bricks and instructions for 24 different models: you take the model apart and rebuild it as something else the next day.
Cheapest chocolate advent calendars
If you just want chocolate in your advent calendar, it's possible to get one surprisingly cheap.
Cadbury's classic Dairy Milk 90g calendar is on sale at the supermarkets at £1.50. It's possible to get Galaxy and Nestle equivalents for the similar prices.
If you're happy to go own-brand, Tesco is offering a chocolate advent calendar for just 75p.
If you are going luxury
Even if you ignore John Lewis' Wedgewood house, it's quite easy to blow more than £50 on advent calendars for loved ones, particularly if you're looking for branded booze or beauty products.
If that's the case, then save yourself some money by going through a cashback site, such as TopCashback or Quidco.
Combine that with a cashback credit card, which you can use to get money back from almost all your Christmas shopping and gift buying. Just make sure you can pay the balance in full every month (set up a direct debit), so the high interest rates don't kick in.
Compare cashback credit cards on loveMONEY's comparison site
More ways to save money:
Voucher code shopping tool review – find out how much we saved
Cheapest online supermarket delivery deals
11 M&S shopping tips to save a bundle
Be the first to comment
Do you want to comment on this article? You need to be signed in for this feature