12 shopping mistakes to avoid this Christmas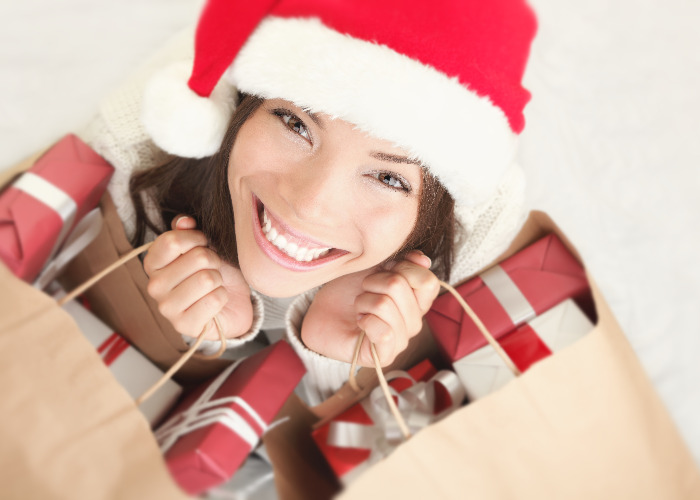 Be savvier with your Christmas shopping this year and avoid these costly blunders.
It's only October, but Christmas is coming up fast and that means shopping for gifts, food and decorations.
During this frenzied buying period it's easy to make mistakes that will cost you, so here's a roundup of the ones to avoid.
Spending too much
Overspending is the number one mistake most of us are guilty of making during the festive season, but it can easily be avoided.
By writing a list of who you need to buy gifts for, what you want to buy and setting a budget, you can avoid spending more than you can afford and dealing with a financial hangover come January.
Read: Save money this Christmas: get cheaper decorations, food, gifts and festive fun for some ideas on how to cut costs.
Paying interest
If you use a credit card for your Christmas shopping, make sure it's an interest-free one!
The Sainsbury's Bank Nectar Purchase Credit Card offers a market leading 28 months 0% on purchases – giving you over two years to spread the cost of your spending.
Take a look at the best 0% purchase credit cards for more of the top offers around right now.
If you have a lot of debt, then consider a 0% balance transfer credit card to help you shift it and freeze the cost. Take a look at the best 0% balance transfer credit cards for more.
Missing 'last order' delivery dates
Watch out for 'last order 'delivery dates when shopping online for Christmas presents and food.
The festive season means services are going to be stretched so some things will take longer to arrive and retailers all have varying dates when they are willing to guarantee delivery for Christmas.
Keep a close eye on the essential dates to keep in mind in: Retailers' last order dates for Christmas deliveries.
Spending over £100 on the wrong card
If you are buying high value gifts you should put the purchases on a credit card to get extra protection should things go wrong.
Anything you buy on a credit card between £100 and £30,000 is covered by Section 75 of the Consumer Credit Act 1974.
This rule holds a credit card company jointly responsible with a supplier if goods are faulty, quality is unsatisfactory and importantly if a supplier goes bust and the order never arrives.
This sort of protection isn't available on a debit card, so it's riskier paying for high value purchases this way.
Falling for scams
Watch out for scams when doing your shopping this Christmas.
Fraudsters typically target people looking for voucher codes and discounts via social media, email, text and Whatsapp messages.
Read: Don't fall for this supermarket voucher scam for a roundup of the latest cons doing the rounds.
You should also be careful when doing your online shopping as some websites could be dodgy.
Be wary of sites that ask for payment via bank transfer, entering payment details on a webpage without a padlock icon next to the 'https' in the address bar, prices that are unrealistically low and online shops you've never heard of.
Read: How to avoid fraud if you're shopping online for more.
Forgetting about cashback
If you're planning to do a lot of your Christmas shopping online, you should check if you can earn cashback on your purchases.
Cashback websites like Quidco and TopCashback, allow you to get paid each time you make a purchase with certain retailers when you shop through tracked links.
But it's easy to forget to do. Luckily Quidco and TopCashback both have widgets that you can download that pop up to alert you each time you visit a site where you can earn money.
For more ways to save when shopping online read: Online shopping tricks that could save you hundreds.
Signing up to a store card
You should be wary of retailers tempting you to sign up to their store cards at the till.
These are often confused for loyalty cards, which allow you to earn points in store but these actually act like credit cards, which give you the chance to buy now and pay later.
Unlike normal credit cards they are limited to use with one store or group, plus they tend to charge high levels of interest.
Unless you are going to take advantage of the offer and pay back what you owe after a month they're best avoided. A 0% purchase credit card is a much better alternative.
Doing all your shopping in one place
A major blunder we we're all guilty of when rushing to get all the Christmas shopping done is not shopping around for the best deals.
It might be convenient for you to shop in just one place, but you're likely to miss out on savings and spend more than you need to for things like food and gifts.
Use MySupermarket to compare your grocery shop and be sure to take a look at our weekly round ups: best UK supermarket coupons, codes and vouchers in October and cheap supermarket offers and deals from Aldi, Asda, Iceland, Lidl, Ocado, Morrisons, Sainsbury's, Tesco and Waitrose for ways to save more.
When it comes to gifts don't always assume Amazon is cheapest.
Use Google to search for the best deals and consider what offers you could use on the highstreet.
Take a look at Best voucher and discount codes, coupons, free stuff, hot deals and financial products for a weekly round up of money saving opportunities.
Being too prepared
It's a good idea not to leave everything to the last minute, but don't be so prepared that you miss out on the sales in the run up to Christmas.
In November loads of retailers will slash prices for Black Friday and Cyber Monday.
Read: Black Friday 2016: best deals and shopping tips for more.
Letting loyalty go to waste
If you've been racking up points throughout the year on your loyalty cards, don't forget to cash in when doing your Christmas shopping.
The Boots Advantage, Nectar and Tesco Clubcard scheme are pretty rewarding and can really help cut your costs.
Read: The top loyalty schemes for shoppers to find out what they offer and how you can spend your rewards.
Not earning rewards
While cashing in on loyalty you shouldn't forget about earning rewards at the same time.
This doesn't mean spending extra, just getting rewarded for money you would have spent anyway.
The Asda Credit Card for example pays 1% cashback on Asda shopping and fuel and 0.5% cashback on all other spending.
Take a look at the best reward credit cards for more of the top deals.
Paying for things you can make yourself or get free
Christmas doesn't have to be a drain on your finances - you can save a lot of money by making homemade cards, decorations and gifts.
These can take time but the effort will be appreciated and is more thoughtful than something you can pick up from the shops.
For some inspiration, have a read of our guide to easy homemade Christmas presents and decorations for mum, dad and all the family.
There are also loads of freebies you can take advantage of around Christmas. Take a look at our roundup in: Free Christmas cards, stationery, music and more!
Compare the top credit cards to help with your Christmas shopping
Live a richer life with loveMONEY:
Card cloning and skimming: how to stay safe
Be the first to comment
Do you want to comment on this article? You need to be signed in for this feature