Waitrose opens UK's first cashless supermarket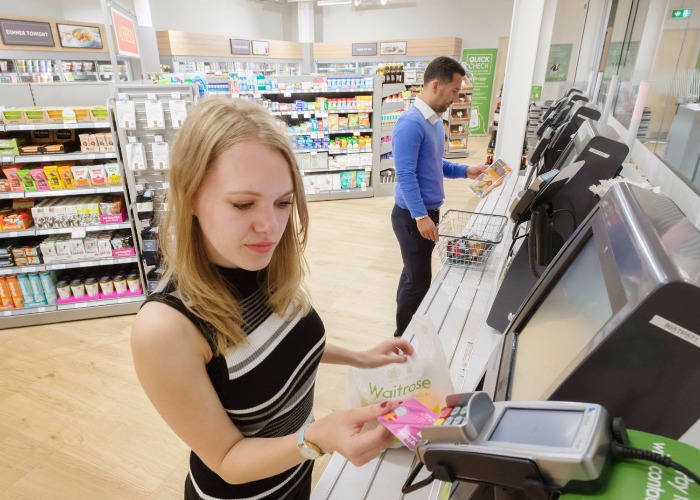 The first cashless store has come to the UK... and it's a Little Waitrose.
Waitrose has become the first supermarket to launch a cashless store in the UK.
The upmarket chain has opened a Little Waitrose in Sky's new head office building at its campus in Osterley.
It's a small shop, measuring only 1,400 square feet with five self-service tills. Nevertheless, it'll be serving 3,500 shoppers, who will only be able to pay by card or mobile devices.
Image credit: Waitrose
The store stocks popular lunchtime foods as well as store cupboard essentials, celebration cakes, freshly-cut flowers and travel miniatures.
There will be still be staff in-store, but only about 20 of them.
Jackie Wharton, convenience director at Waitrose, suggested there could be more cashless stores on the way.
"Our convenience model is now more flexible than ever, especially as payment methods and ranges continue to evolve, so we'll look forward to exploring other opportunities like this in the future."
The rise of cashless payments
Cashless payments have become more and more popular in recent years, thanks to the ease of electronic and contactless payment methods.
In 2015, The Payments Council announced that cashless payments have overtaken the use of notes and coins for the first time ever.
The use of cash by individuals, businesses and financial organisations fell to 48% last year, with the remaining 52% being made up of electronic transactions like high-value transfers, debit card payments and cheques.
Cash payments are expected to fall by 30% over the next 10 years.
That said, figures show that cash isn't dead just yet.
The Payment Council's research also highlights the sectors with the highest proportion of cash payments; newsagents come out on top at 84.8% while convenience stores still take in a rather high 78.5% of their payments in cash.
But with modern technology we're prone to a few slip-ups - sometimes we don't even realise it. Read 6 contactless card mistakes we're making to find out which gaffes you're guilty of.
Could this be the beginning of cashless shops? Let us know your thoughts in the comments section below.
Get something back from your everyday spending with the right credit card. Compare top deals with loveMONEY today
In case you missed them:
Interest rate cut: what it means for you
Amazon SLAMMED over dodgy price trick
Latest move to save energy customers money 'a massive disappointment'
Be the first to comment
Do you want to comment on this article? You need to be signed in for this feature