Marks & Spencer's SPARKS loyalty scheme: how it works, how to apply and how much it's worth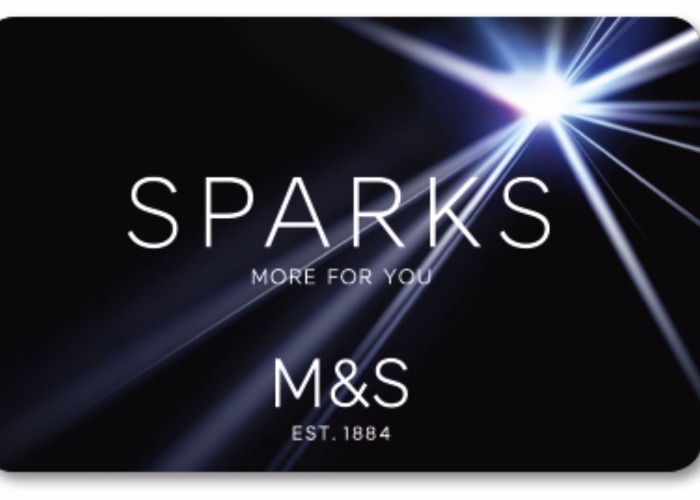 The M&S loyalty scheme allows you to earn 'sparks' when you spend or review products.
The Marks & Spencer (M&S) SPARKS loyalty scheme lets customers rack up points whenever you spend, write a review or 'shwop' (donate old items).
In this article, we'll explain how the SPARKS scheme works, how to apply and how to earn the most points.
But first, did you know you can bag a whopping £25 worth of vouchers when you first spend in store with the M&S Reward Credit Card?
You can apply for the card here (19.9% Representative APR), or you can read our detailed review of the card first if you aren't sure whether it's right for you.
Know anyone who loves the M&S Dine In meal deal? Buy them a special Dine In gift card
How to apply and collect 'SPARKS'
The first thing to note is that it's free to apply for the SPARKS card, so you don't need to worry about losing out.
Once you've successfully applied, the SPARKS scheme allows shoppers to collect points in the following ways:
10 SPARKS for every purchase
10 SPARKS for every £1 spent
25 SPARKS for posting a product review
50 SPARKS when you Shwop (when you bring in an old item of clothing which is then donated to Oxfam).
How much are SPARKS worth?
Unlike Tesco Clubcard points and Nectar points, SPARKS don't really have a comparable cash value.
Instead, you merely build up points to unlock various benefits, which we'll cover in the section below.
What benefits and perks does SPARKS offer?
As soon as members join the scheme, they will be sent a welcome offer, such as a 10% discount in a certain department.
A "tailor-made selection of offers" is then sent out every fortnight for members to choose from, according to M&S. And, as you earn more SPARKS, you can unlock up to four offer slots at one time.
When you hit 3,000 SPARKS, members can unlock 'priority access', meaning you get a preview of new season ranges. When you hit 7,000 SPARKS, you can shop the M&S.com sale 24 hours in advance of the general public.
If you manage to build up 14,000 SPARKS you then unlock special invitation-only events and masterclasses, from food tasting to exclusive shopping evenings.
And then at 17,000 sparks you are entered into draws for "money can't buy experiences", such as a trip to an M&S South African vineyard.
What's more, every single time you shop at M&S, a penny will be donated to the charity of your choice, which you select at registration.
Don't forget to check out our M&S meal deal roundup. It lets you know when the next offer will be available and what's on the menu. Or you can pick up a Dine In gift card if you know someone else who loves the meal deal.
How do I join SPARKS?
Though the scheme doesn't launch until next week, you can collect a SPARKS card from your local M&S store.
Invitations to join will also be sent to selected M&S Bank customers, M&S.com users and shareholders from today.
Managing your SPARKS
You can access your SPARKS hub and see how many SPARKS you have built up through the Marks & Spencer website or via the free M&S app.
How do SPARKS differ from the existing M&S points scheme?
Somewhat confusingly, M&S already had a loyalty points scheme of sorts through its credit cards – and you are free to participate in both.
M&S offer a variety of credit cards (you can view most of them in our reward card comparison centre), which generally pay you a point per £1 spent at M&S and a point for every £5 spent elsewhere.
Unlike SPARKS, these do have a comparable cash value – each point is worth 1p.
For those looking to rack up points quickly, the M&S Reward Credit Card is a competitive offer that will give you £20 worth of points up front when you first spend on the card, plus a bonus £5 when you use the card in an M&S store.
Of course, as this involves spending on a credit card, there are risks involved. Make sure you clear your balance in full every month to avoid racking up interest charges.
If you aren't confident you'll be able to do that, sticking solely to the SPARKS scheme is the safer (and smarter) option.
Waitrose regular? View the top vouchers and deals currently on offer
This article contains affiliate links, which means we may earn a small commission if you click through and make a purchase. This article was written independently and is in no way influenced by any advertiser or commercial initiative.
Save more money with loveMONEY:
These tricks can save you a fortune
Be the first to comment
Do you want to comment on this article? You need to be signed in for this feature