Video GP apps: costs and features of Babylon Health, Push Doctor, Vitality GP, LIVI and Doctor Care Anywhere compared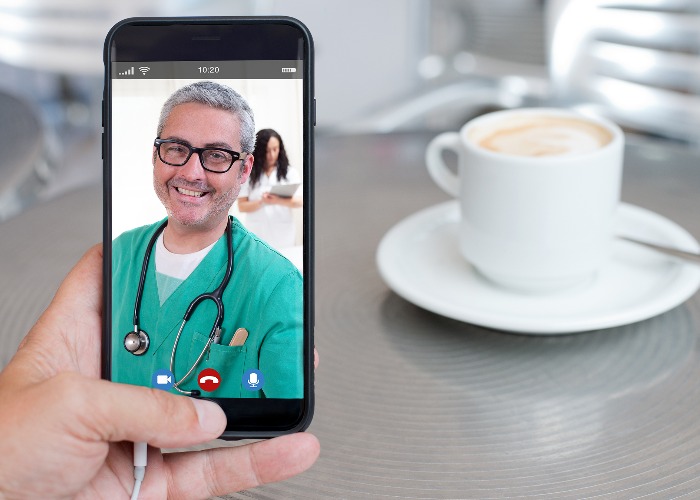 As the weather gets colder and people face longer waits to see their doctor, it can be tempting to book a video appointment. We look at how Babylon Health, Push Doctor, Vitality GP, LIVI and Doctor Care Anywhere work.
Video GPs: overview of prices
It can be frustrating trying to get a doctor's appointment when the temperature drops, so getting a video appointment may be an attractive solution.
But how do these apps work, how much do they cost and do you have to deregister?
We explore how some of the most popular apps work, including Babylon Health and Push Doctor.
If you want a quick overview of costs, a handy table has been included below.
| | | | |
| --- | --- | --- | --- |
| Company | Monthly/annual cost | One-off appointment | Do you have to sign off from your local GP surgery? |
| Babylon GP at Hand | Free | Free | Yes |
| Babylon Private | £9.99* / £89.99 | £49** | No |
| Push Doctor | £3 a month + £20 appointment / N/A | £30 | No |
| Vitality GP | N/A | N/A | No |
| LIVI | Free | Free | No*** |
| Doctor Care Anywhere**** | £12* / £130 | £60 | No |
*Minimum three months
**One-off appointments available for therapists/specialists
***Your existing GP needs to be partnered with LIVI to book an appointment
****Overseas online appointments available at higher prices
Babylon Health
Babylon Health says you can talk to a CQC-registered doctor in minutes at any time of the day.
You can use the app (for phones running Android 5.0 or later, or iOS 11.0 or later) or the website.
If you're overseas, you can still use the app, but a consultation may not necessarily be offered by a doctor in the UK.
Some flexibility is offered by Babylon Health, allowing you to choose the type of clinician you want, the date and time of your appointment, and whether you prefer a phone or video call.
If you're booking an appointment for your child, you can only book a video appointment.
You need to provide a reason for your appointment by explaining the symptoms you are experiencing.
You also need to verify your identity when booking (only once), by uploading your driver's licence or passport, and a selfie.
Cheapest flu jabs 2019: vaccine costs at Asda, Boots, Tesco Superdrug and more
You can register as an NHS patient for free, allowing you to:
Talk to an NHS doctor any time of day from your phone free of charge;
Get same-day prescriptions to your home or preferred pharmacy;
Book face-to-face appointments at a clinic;
Access the symptom checker tool and digital health check (a digital assessment of your health with practical insights to improve your lifestyle).
But there's a big catch with signing up for the free NHS service GP at Hand.
You will be de-registered from your current GP as patients can only be registered with one GP practice.
Also, this service is only available for people living or working in the catchment area of one of the clinic locations but you can get in-person appointments at certain clinics.
Alternatively, you can register for Babylon Private, but it'll set you back £9.99 a month (minimum of three months) or £90 for the year.
You'll get unlimited GP appointments, free specialist referrals, prescription deliveries and fit notes, and access to a digital health check, as well as the ability to replay your appointment.
One-off consultations are available for £49, which includes all the features mentioned above.
The ability to replay an appointment may be helpful if you forget anything the doctor tells you, or if you have a carer that may need to understand what's going on with your health.
The interactive symptom checker asks you questions to analyse your condition by assessing known symptoms and factors, but you need to set up a profile to use this feature.
Babylon Health says its doctors can offer video consultations for a wide range of common medical conditions such as colds, digestive problems, asthma and anxiety.
You can also book to see a specialist or therapist, and get a referral if necessary after a video consultation with the doctor.
GP at Hand offers free 24-hour access to a GP, but what is it costing the NHS?
Push Doctor
Push Doctor offers same-day appointments, allowing you to talk face-to-face with an NHS-trained GP on your mobile, tablet or laptop.
The company recommends you use a device with a new version of Google Chrome or Safari. Compatible Apple devices should be running at least iOS 9, while Android devices should run 4.4 (KitKat) or a newer version.
You don't necessarily need to download an app as you can arrange appointments via the website to discuss your symptoms, medical history and anything else you feel is relevant.
Any medical records can be shared from Push Doctor with your usual GP. If you use Push NHS, you don't need to sign off from your GP.
According to the company, it works with a large number of GP surgeries across the UK to offer digital appointments on the NHS alongside traditional appointments.
Push Doctor says it can treat 'almost everything a traditional GP can' such as skin and ear conditions, cold, flu and sexual health issues but you currently cannot book appointments for children under the age of 18.
When you start your appointment, you will briefly enter a 'virtual waiting room' where you can upload an image of your ID or take a new picture, which will be deleted immediately after the appointment finishes.
Unlike Babylon Health, you have to verify your identity every time you book an appointment. When the doctor is ready, they will ask you to prove your identity and confirm some details before the appointment begins.
Accepted forms of ID include a passport, driving licence, military ID or UK Disabled Driver card, or Police Warrant card.
Push Doctor is only available every day from 7am to 8pm, so it's not a 24-hour service.
Costs also differ from Babylon Health as you can choose an annual membership for £3 a month plus £20 per appointment.
As a member, you can get unlimited time with a doctor, a cheaper appointment fee, as well as no prescription administration fee, or charges for a fit notes or private referral letters.
If you have one appointment a month for a year as a member, you would end up forking out £276.
There is a pay as you go option, where you pay £30 for a 10-minute appointment, but you have to pay £15 each for an extra 10 minutes, fit note or a private referral letter.
You'll also incur an £8 administration fee if you need a prescription (if Push Doctor is allowed to prescribe this) but you can collect this on the same day free of charge.
Of course, this service depends on individual pharmacy opening times, which may be limited over the Christmas holidays, Sundays and bank holidays.
Unfortunately, a repeat prescription service is unavailable, and you also need to pay for any medication at the pharmacy.
There's a chance you could save using Push Doctor compared to Babylon Health, but only if you don't have many appointments and don't need fit notes or referral letters.
You also cannot use Push Doctor overseas unlike other rivals.
Money and mental health: getting therapy on a low income
Vitality GP
Vitality GP only offers video consultations with a private GP. You don't have to de-register with your current GP as you cannot use the service without this.
Vitality GP is not available to everyone as you need to be a VitalityHealth member. Up to four video consultations a year are included, provided you have a Core Cover plan or Vitality Essentials.
At least two face-to-face GP consultations in the London area are also included.
You can book video consultations within 48 hours during weekdays, evenings and Saturday mornings, as well as get consultant referrals and access specialist health information via the Vitality GP app.
Members have to confirm their identity by entering their membership number and email address before their identity is then checked at the start of the video appointment.
The app itself is limited to devices compatible with Apple iOS8 and above or Android 5.0 and above. It's not compatible with BlackBerry, Amazon or Windows Phone devices.
Cheap health cover: how to pay less for private medical insurance
LIVI
With LIVI, you sign up and select your existing GP practice for a free NHS service via the app, which can be downloaded via the Apple Store or Google Play.
You can see a GP (usually within a few minutes) or book for up to a week ahead, although it's key to flag your GP will call you to start the appointment.
You can choose to book a revisit with the same GP via the 'book a revisit' option available under your profile options.
Unfortunately, the service depends on LIVI partnering with your local NHS GP practice, although you can check in the app to see in advance if they work with your surgery.
Once eligibility is confirmed, you need to enter some personal details and upload proof of identity such as a scan of your passport or driving licence, as well as a selfie.
LIVI says GP video appointments are usually available up until 10pm on weekdays (after a partner surgery closes), and during the weekends and bank holidays.
If an appointment is available, you need to fill out a symptom form and can attach photos to help your doctor more accurately diagnose your condition.
Need further care? You may receive a prescription or a referral, as well as a medical fit note if a physical examination is not necessary.
You can book children between the ages of two and 16 an appointment via the app – they must be present during the appointment.
Your spouse and any family members over the age of 16 must sign up for their own LIVI account.
If you're overseas, you can see a LIVI GP although this is limited to medical advice only, with no access to prescriptions or local health services.
Compare life insurance quotes with Active Quote
Doctor Care Anywhere
You can book appointments with a private GP between 8am and 10pm every day using Doctor Care Anywhere, which means you can still make appointments with your usual NHS GP, so you won't be de-registered.
On top of this, you can share consultation notes with your current GP, so your medical records are up to date.
Similar to other companies, you can speak to a doctor on over the phone, online or via a tablet and get access to your patient records during the call.
If you need a prescription, these can be delivered to your home or a nearby pharmacy, while private referrals or fit notes can be uploaded post-consultation.
Doctor Care Anywhere costs £12 a month for a minimum of three months or £130 for an annual plan, the latter of which promises to save you £14 per year.
Both of these plans include:
Unlimited online appointments;
Health tracking;
NHS repeat prescriptions;
Two free international appointments;
Annual membership includes discounts for family members.
You can buy individual appointments although this will cost you £60 every time, making it the most expensive of all the providers for one-off appointments listed in this article.
If you travel overseas a lot, you can choose to get the same features with unlimited online appointments anywhere in the world.
Worldwide appointments can be eye-wateringly expensive, with a monthly plan (of at least three months) setting you back £20 per month, or £210 a year.
Even a single (worldwide) appointment is costly at £80, which costs nearly as much as an annual Babylon Private membership.
What does an EHIC really cover?
*This article contains affiliate links, which means we may receive a commission on any sales of products or services we write about. This article was written completely independently.
Be the first to comment
Do you want to comment on this article? You need to be signed in for this feature