The combination of sunny weather and being stuck at home for weeks – or even months – on end is leading thousands of Brits to launch DIY garden projects, amidst the Coronavirus outbreak.
The past few weeks have seen sales of plants, seeds and garden furniture rise as many people prepared for the inevitable lockdown.
While many people have lost their jobs or had their hours slashed due to the financial impact of COVID-19, some are finding savvy ways to enhance their garden on a budget.
In this article, three people reveal how they are transforming their outdoor space at a time when money is tight.
Get more stylish but simple garden ideas from our sister site, lovePROPERTY
Creating a vegetable and herb garden
Hannah Cox, who runs virtual accountability service BetterNotStop, is working from home with her partner Phil, and has decided to develop their courtyard into a vegetable and herb garden.
But since they are both self-employed, their income is particularly unstable at the moment, so they have kept their budget to £50.
They have managed to get lots of items for free such as manure from the animal shelter Phil volunteers at, as well as their own compost made from eggshells, coffee grounds and food waste.
Their rented property in Glossop had several plant pots lying around the garden when they moved in, so they have used these, plus two abandoned horse troughs, which they turned into planters.
"We have been getting stuff as cheap as possible," said Hannah.
"It has been a welcome distraction to have something going on that is not crazy.
"We get the benefit of feeling we are growing something and also there is the money saving aspect as we are growing produce that we can use."

When it came to buying seeds, Hannah went to discount stores and budget supermarkets rather than garden centres to save money.
"We picked up gravel for £2 a bag from Wickes," commented Hannah.
"We also got lots from Poundstretcher, including three bags of compost for £6, six green potato bags for £6 and three bags of compost for £6."
For seeds, she shopped at B&M spending a total of £8 and she bought fully grown flowers and herbs from Aldi for £1.99 each.
"I also saved some aloe vera and mint cuttings I bought and put them in water, and they have started to grow roots, so I can plant them and get more plants for free."
The garden will produce potatoes, rosemary, white and gold thyme, chive seeds, basil, cress, tomatoes, lettuce, carrots, coriander, radishes, courgettes, French beans and mint.
Finance DIY: how I made £850 from just 5 hours' work
Do-it-yourself sauna
In Henley-on-Thames, PhD student Jonathan Warby has been making the most of his time back at home to work on a DIY sauna.
He has created a budget sauna for £1,500 in his parent's back garden, making use of an old air raid shelter, but these costs later increased as he wanted to make the sauna even hotter.
"It was just sitting there not being used and I thought turning it into a sauna would be a really good use for the space," said Jonathan.
Buying a sauna and having it installed in your garden can cost anywhere from £5,000 to £30,000 but Jonathan found a cheaper solution using self-build company Finnmark Sauna.
"I spent £800 on a sauna heater, which is the bit you really need to invest in, and then I used cheap wood from a wood recycling centre to make the benches," commented Jonathan.
"For floor lighting, I bought fairy lights for £20 from Amazon.
"They are made with copper wire and can be put underwater and they last really well.
"I thought I would buy something that looks nice and works for a while and then only costs £20 to replace."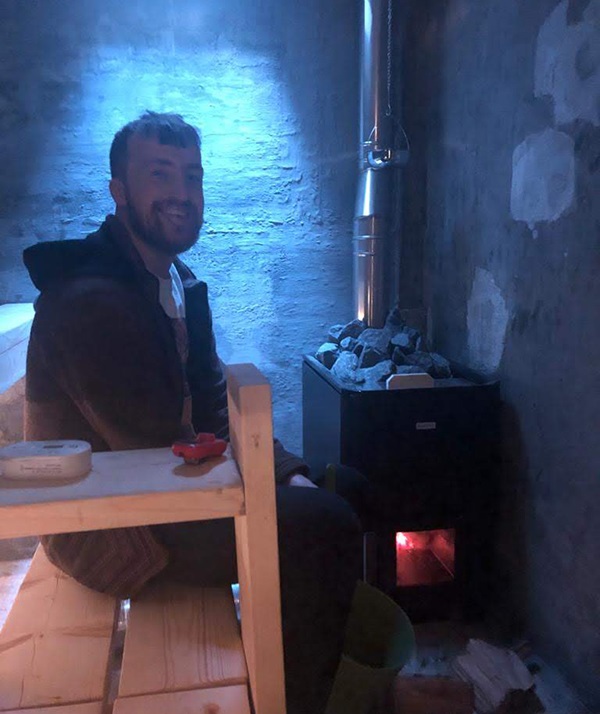 Jonathan spent several weekends kitting out the sauna but now he is back home indefinitely, he has moved onto stage two and spent £2,000 on cladding, insulation and tiling to make the sauna even hotter.
The project will soon be complete, and he will have plenty of time to use it.
"It has been quite fun and not a big investment in terms of tools. I had to do some drilling but a £30 plug-in drill from Screwfix does the job," said Jonathan.
He believes the project would have be easier and cheaper if he had been converting a shed as the concrete of the bunker makes it more difficult to reach a high temperature.
"With the insulation, we should get up to 90 to 100 degrees centigrade," said Jonathan.
"We also have a kiddy paddling pool with ice-cold water in it to jump into, between sauna sessions."
Cheap homemade gifts you can easily make from scratch
Creating an allotment for £25
Having a project to keep her children entertained while they are off school has been the focus of accountant Andrea Pugh, from Shellingford, Oxfordshire.
She wanted to keep costs down as her hours at work may be reduced and her side hustle It Won't Cost the Earth, an online sustainability marketplace, is yet to take off.
The day it was announced that schools were to close, she got organised and contacted local businesses and Facebook groups to get free and low-cost garden items.
She was donated several wooden pallets and two large tyres to turn into planters and bought five hessian sacks for 50p each from a local coffee roaster, to use as potato planters.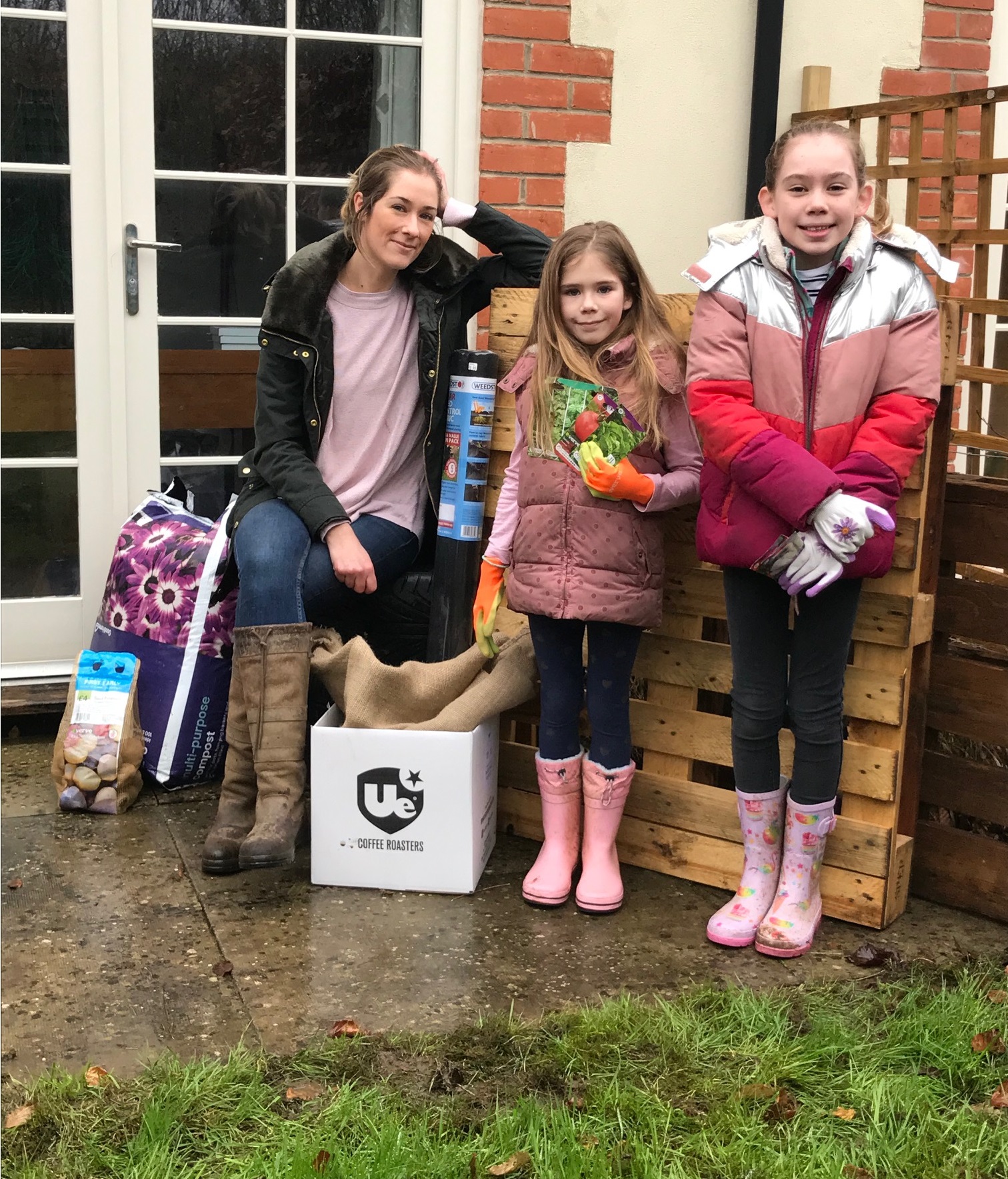 She also spent just £23 at B&Q picking up 100 litres of compost, liner, seed potatoes and parsnip, tomato, lettuce, carrot and mixed herb seeds.
The seeds will be grown indoors, using toilet roll tubes as planters before being moved outside once the seedlings appear.
"Toilet roll tubes are great because you can just put them straight into the ground as they are compostable. But you can also use egg trays," said Andrea.
Another creative idea of Andrea's was to write the name of the plants on wine bottle corks and then stick these onto the end of wooden kebab sticks.
The sticks are then put in the ground next to the seedling, so the vegetable type is easy to identify.
"As the kids are going to be off school for a long time, I think my wine consumption may be more, so I will have plenty of corks at home," commented Andrea.
She is also planning to brighten up her existing stack of plant pots by painting them using leftover tester paint.
Once the family start producing vegetables, she hopes to seed from them, so she is able to grow more.
"It's like going back to the fifties!" she said.
Get more stylish but simple garden ideas from our sister site, lovePROPERTY