Keyless car theft rising: how to keep your new car safe from thieves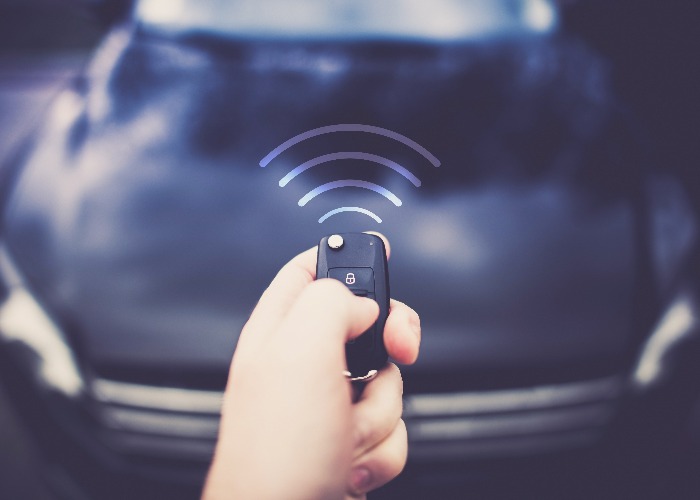 Here's what you can do to help keep your car safe from high-tech criminals.
It can be easy for thieves to hack keyless systems while your keys are in your home.
But there are lots of ways to beat them, including deterring them from picking your car, protecting your keyless system, or even avoiding car models most likely to be stolen.
Keyless car systems are popular as it makes it so easy to unlock your vehicle – I can unlock mine from the inside of my home before I've even opened my front door.
But this also makes them vulnerable to interception.
Car thieves can use relay devices to boost the signal from keyless fobs, allowing them to unlock your vehicle when the key fobs are still inside your home.
Research by motoring website WhatCar last year found it took just five seconds to hack the keyless fob signal of many new car models, including the DS 3 Crossback and the Audi TT RS Roadster.
In fact, according to data from car security firm Tracker, nearly 90% of the vehicles fitted with its devices and stolen in 2018 were taken without the owners' keys being obtained.
Hi-tech gangs can even hack into your tyre systems to make them appear to lose pressure. While you stop to check them at a garage, they can pounce and steal your vehicle.
Search for cheaper car insurance with MoneySuperMarket
Car models most popular with thieves
Unfortunately, some vehicles are more likely to be stolen than others, with data from insurer LV= showing Audi, BMW, Jaguar, Land Rover, Lexus, Mercedes, Porsche and Tesla are increasingly affected by keyless theft, accounting for almost half (48%) of all 'theft of' vehicle claims.
Separate research by comparison website GoCompare.com found models such as the BMW 1 and 3 series and the Audi A3 and A4 models were more likely to be targeted.
Volkswagen Polo and Golf, Range Rover and Land Rover Discovery also made the list.
But it's not just expensive cars that are targeted by thieves. Cheaper models, such as the Ford Focus, Fiesta and the Vauxhall Astra were actually the top three most stolen car models in 2018, according to GoCompare.
Former car thief-turned TV presenter Michael Fraser warns that any model of car can be worth stealing as they could be used in other crimes, while vans may be stolen for the tools or equipment inside them.
How can you beat the car thieves?
It sounds obvious but the police recommend that you should always manually check that your car is actually locked.
Avoid leaving windows open – even just a crack could be enough to allow criminals to gain entry.
Never leave money or other valuables in your car and try to keep it tidy inside. Thieves are drawn to messy car interiors as they think that they will find something worth stealing among the clutter.
Personally, I struggle with this as, being a busy mum, the inside of my Nissan Note is usually a state.
If you still have a removable satnav device, don't leave it out on display and remember to wipe your windscreen to remove the marks they leave, or a robber may realise one is hidden in the vehicle.
Keep car keys, whether it's a keyless fob or conventional key, away from doors and windows and don't hang them in hallways or kitchens where they can be found by opportunistic burglars.
Be aware that thieves can sometimes use keyhole 'fishing' devices to steal keys from inside your home if they are near the door.
You can use a Radio Frequency Identification (RFID) pouch or a Faraday bag to store keyless fobs to prevent thieves from hacking into the systems by blocking the signal.
I recently purchased a pack of two for me and my husband for just £7 online.
It's also advisable to keep car keys away from bedrooms. If burglars are really determined to steal your vehicle, it is best to avoid a confrontation and keep your family safe.
Park defensively
How you park your car can also make a difference. The important thing is to make stealing your car more of a hassle for criminals.
If you have a driveway, use it. Thieves are less likely to want to come close to your home to steal your vehicle due to the increased likelihood they could attract attention.
But my neighbour's experience – where the robbers actually targeted her daughter's car while on the driveway – demonstrates just how audacious car thieves have become.
As such, my neighbour has started blocking her daughter's car in with her own vehicle.
You should also avoid reversing into your driveway if possible.
Drive in normally as having to reverse your vehicle out will add precious seconds onto the time it might take a determined criminal to steal your car and increase the likelihood that they could be disturbed.
It's also a good idea to have security lights outside the house and improve your home security. For example, my neighbour recently installed a video doorbell so that she can see who is on her doorstep.
If you are parking away from home, find a busy well-lit street to park in or a staffed car park, even if it means a slightly longer walk.
You should park your car next to other vehicles in a car park if you can rather than leaving it on its own in an isolated area.
Also, park with your wheels turned towards the kerb and in car parks with your wheels turned towards the neighbouring car.
Again, this will just add an extra few seconds onto the time it could take for a thief to manoeuvre it out and potentially deter them from targeting your car.
Find cheap parking across the UK in seconds with JustPark
Use a steering lock or disabling device
Police are advising motorists to go back to using old-fashioned steering locks to keep cars secure and deter thieves.
My mother had a trusty crook lock in the 1980s despite the fact that nobody probably wanted to steal her beloved Mini Metro, and when I first began driving in 2002, I had a Stoplock in my Nissan Micra.
There are many different ones on the market now, including the Disklok and the Streetwize Urban X, which covers the whole steering wheel.
There's also the Carpoint Steering Wheel Lock Elephant that locks the steering wheel and the Master Lock Car Anti-Theft Device, which attaches between the steering wheel and the brake pedal.
These steering locks vary in price from around £20 to over £100 for the Disklok.
While the Disklok is pricey, it is police approved.
Some of the devices, such as the Urban X, are said to be unsuitable for use by drivers of new Peugeot cars, according to research by The Sun, or more suited for use in smaller cars, such as the Master Lock.
Yet any of these devices are likely to work at least as a deterrent, especially if they are brightly coloured, as many of them tend to be.
These simple measures should help to protect your car and deter thieves – and make you less likely to fall victim to this expensive and unpleasant crime.
*This article contains affiliate links, which means we may receive a commission on any sales of products or services we write about. This article was written completely independently.
Be the first to comment
Do you want to comment on this article? You need to be signed in for this feature