Can I save money by regifting this Christmas?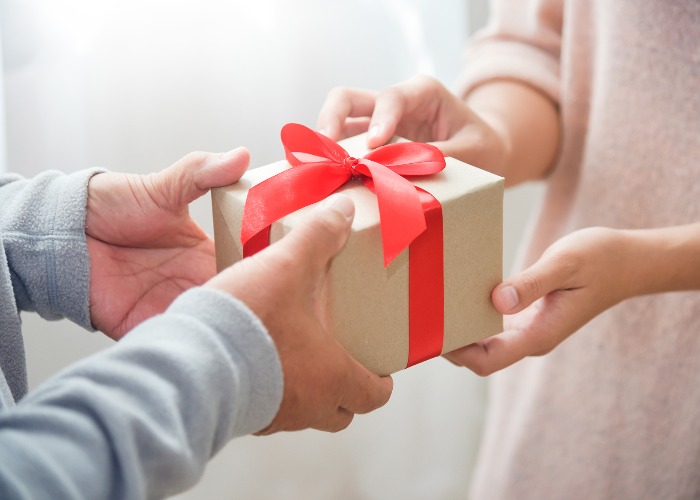 Dreading the thought of splashing out on Christmas presents or tempted to regift but feeling embarrassed? Piper Terrett reveals why she decided to be open about regifting this year.
I have a confession to make – I've become a serial regifter.
Before I had my little boy, I used to spend a lot of money on presents, but now my family are living off of one full salary, we have to keep the budget down.
Plus, I hate waste.
If I'm given something that I don't want or don't end up using, I try to pass it to someone who will appreciate it.
Regifting has become a necessary evil
Brits received nearly 60 million unwanted Christmas presents last year at a total cost of £380 million, according to a YouGov poll.
A separate poll by Vouchercodes.co.uk suggested 71% of people expect to receive a gift they'll never use.
So, I admit I often rewrap unused presents and brazenly give them to someone else. That's not to say I don't worry I might get rumbled.
Occasionally, I've hesitated to pass on children's clothing to family or friends, as I'm afraid they might post a photo of their child sporting it on social media and I might be unmasked as a cheapskate.
Although I don't regift indiscriminately as I always try to match the gift with the recipient.
My late Irish grandmother, bless her, broke the ultimate regifting taboo by handing out presents to those who had given her them in the first place (although she was nearly 90 by then).
While there can be a taboo about regifting, what if you were entirely open about it – and asked family and friends to do the same?
That would remove the risk of embarrassment as everyone would be doing it.
And, what if we tried to make regifting a special thing?
This is what I decided to do this year and here's how I got on.
Gifts you can easily make from scratch
The regifting process
I spoke to my family and friends and we agreed we would either regift items to each other or, if there was nothing suitable, we would give a 'voucher' offering our time or labour.
This could be an evening of babysitting, an offer to mow someone's lawn or spend time teaching them something.
What's more, instead of picking something general to regift, like toiletries we didn't want, we would select something special to us. This could be a book, an item of clothing or jewellery that meant something.
Initially, I wasn't sure if my mother would be keen.
But she agreed and came up with an amazing item for me, which really took me by surprise. She looked through her jewellery collection and found a beautiful brooch, which dates back to the Festival of Britain in 1951.
Get cashback when you shop with these credit cards
How regifting can be special
"This is a brooch my mother gave me, and her mother gave her," my mother said.
"It was bought for my grandmother Williamson by her son Fred from the Festival of Britain, held in London in 1951.
"It is marcasite and there are also two earrings. The Festival of Britain was all about new inventions.
"This is quite clever. I will give it to you, passing from one generation to another."
As my mother pointed out, handing down heirlooms was how previous generations regifted or recycled. It was a lovely, thoughtful present.
My mother-in-law, who I expected to like the idea of regifting as, like me, she enjoys finding gems in charity shops, also came up with an unusual present.
She told me she had found some poems and children's stories that she had written for my husband and his brother when they were children.
I suggested that she could regift these to me if she wanted to.
She had already purchased presents for my husband and my little boy, but had yet to find something for me, so this would work, she said.
Again, this was the kind of thing you would not normally consider giving ­– and I'm really looking forward to reading these poems and stories.
Donate money regularly and receive gifts with these charity subscription boxes
What I decided to regift
After all these lovely gifts from my family, I was a bit worried that my own regifting efforts would be disappointing.
After all, I don't have anything as exciting as innovative heirlooms or poems to give away.
And I was struggling to think of a voucher I could provide for my mother and mother-in-law as they both live hundreds of miles away, so I scoured the house for some ideas.
Luckily, I found a beautiful embroidered shoulder bag in the back of the wardrobe in the spare room that I'd bought on holiday in Spain and never used.
My mother-in-law would appreciate it, I thought.
For my mother, I found Richard E Grant's film diaries – With Nails – a brilliant book and something she would enjoy as she loves autobiographies about actors.
To go with it, I chose a lovely scarf with flowers that reminds me of the ones we had at our wedding and that I bought in Norfolk, somewhere special to us, but that has never suited me.
Get a £10 cashback bonus when you join Quidco
How I got my kid involved
After some effort, I managed to get my four-year-old involved, too, in choosing a gift to give one of his friends.
Unsurprisingly, he is generally reluctant to part with any of his toys and usually gets upset at the suggestion of giving anything away.
But after some coaxing, he decided to give his friend Zach a special blanket he has had since he was a baby.
Despite his initial reluctance, he was suddenly impatient to hand it over.
"I don't need it anymore," he said.
"But I hope he likes it."
Where to sell and swap unwanted Christmas presents
How much did I save by regifting?
I would normally spend around £35 to £40 combined on presents for my mother and mother-in-law and estimate they would spend a similar amount between them on presents for me.
We would probably spend up to £7 on a gift for my son's friend too – and likewise.
So, altogether, the 'regifting circle' saved up to £94 on those presents alone.
Imagine how much we'd save if everyone did this each year?
And the fact we're reducing our waste by purchasing less new 'stuff' is a huge bonus.
Of course, in our case, we would still need to pay postage for one or two of these gifts and we might struggle to find items to regift year after year.
But it's worth considering regifting as an alternative as it has, in my case, led to some refreshingly different presents.
Would you consider regifting presents, and do you think you would save a lot of money? Let us know your thoughts in the comments below.
*This article contains affiliate links, which means we may receive a commission on any sales of products or services we write about. This article was written completely independently.
Be the first to comment
Do you want to comment on this article? You need to be signed in for this feature