How to generate and store your own energy: solar panels, home batteries and more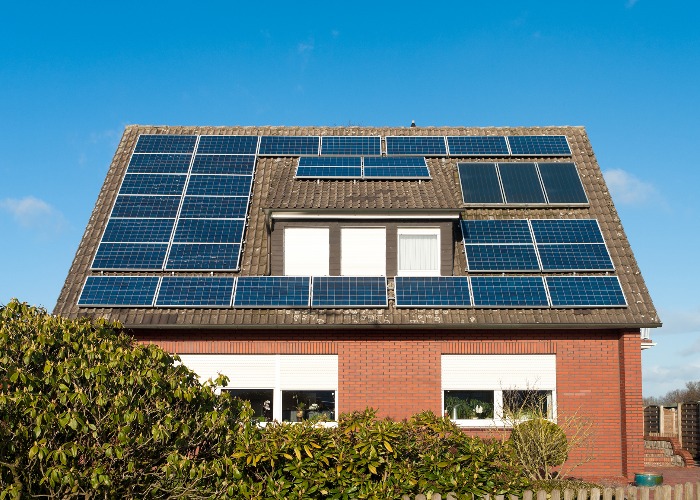 Tired of paying massive energy bills or simply want to reduce your carbon footprint? We look at the various ways you can generate and store your own energy, whether you can save money doing so and the costs involved.
New technology means there are now many ways you can generate and store energy in your own home.
Mixergy, for example, offers a hot water tank that allows you to heat exactly the amount of water you need, boosting delivery times by ensuring it is quickly heated.
You can use renewable energy sources, including solar panels, to heat the hot water tank, with excess energy being stored in a battery (approximately eight to nine kilowatt hours' worth depending on size, although you can store as much as you like with other tanks).
Using Mixergy, you can avoid buying energy from the grid and the company claims using its hot water tank could save you over £100 a year.
Of course, innovation comes at a price as a Mixergy tank costs between £800 and £1,300 depending on its size and configuration.
Now, we don't only consume energy, but we can also store it and possibly sell it back to the grid if we choose to. So, how else can your home generate and store its own energy?
Best and worst energy firms revealed: how to switch if you're unhappy
Solar panels
Sadly, installing solar panels is in't as profitable as it once was.
That's because the Government's Feed-in Tariffs (FIT) scheme, where people received payments from their energy supplier for generating their own electricity, was closed to new applicants in March this year.
At the moment, you may be able to get paid for any extra energy you generate by using a tariff via the likes of Octopus Energy, although this is a beta product, so it could change.
There are other ways you can sell extra energy, as well as store it for future use (the latter of which will be covered later on).
For example, a new scheme, called the Smart Export Guarantee (SEG), is set to replace FIT.
It guarantees that people installing solar panels will be paid by energy suppliers with over 150,000 customers from 1 January 2020.
We don't know exactly how much energy companies will have to pay out, only that it should be more than nothing. It's highly unlikely the scheme will be anywhere near as generous as the former FIT scheme, however.
So it's hard to say right now whether solar panels are a good idea from a purely financial perspective – especially as they don't come cheap.
According to consumer site Which?, a solar photovoltaics (PV) system will set you back between £5,000 and £8,000. While solar PV is expensive, it is half the cost of what it would have been five years ago.
If you're thinking about getting solar panels installed and want to know about the potential costs and benefits, this calculator from the Energy Savings Trust can shed a little more light on the matter.
It's worth flagging solar panels don't necessarily require storage and you can re-evaluate how you use your energy.
There are simple things you can do when generating solar power during the day, when this energy is technically free.
This includes putting on a washing machine or a dishwasher, heating up hot water or putting on central heating if your house is well insulated.
You could even charge an electric car during the day by using a charger that only uses surplus power such as Zappi.
As we'll cover in the sections that follow, there is a lot you can do with unused solar energy.
Why solar panels could make selling your home difficult
Tesla Powerwall
Tesla's Powerwall is a home battery that lets you store solar energy and power your home through the day (depending on your usage).
The device can store 13.5kWh and you can fit more than one, based on your energy needs.
Any excess solar energy made during the day is stored and can be available on-demand in the evening.
One of the benefits of using Powerwall is that it can detect an outage, disconnect from the grid and restore power almost instantaneously, so you won't even notice that the power went out.
If you use solar power and Powerwall, the former will continue to power your home and recharge the device.
Without Tesla's device, solar power will shut down during an outage according to the company.
Tesla estimates you can get seven days of continuous power (when using solar) during an outage, which accounts for the occasional cloudy day that could impact solar production.
This handy tool can show you exactly how long the device will last based on your daily habits.
It's a great idea, but comes with an eye-watering price tag: you'll have to fork out around £7,750 for the device, supporting hardware, equipment and delivery.
Your final bill may be even higher as the final design is based on your electrical panel, daily energy usage, number of Powerwalls bought and where you want it to be installed.
So this one probably doesn't make sense if you're solely looking for money-saving ideas.
Elon Musk: the incredible story of the world's most maverick billionaire
Ovo Energy home battery
This particular scheme is just a trial at present, but it could turn into a viable alternative to Tesla's home battery in time.
In short, participating households are given a 5kWh battery worth £5,000 that lets them store and use solar energy to keep their bills nice and low throughout the warmer months.
But between October and March, when you and all your neighbours are ramping up their usage to keep homes bright and warm, your battery's excess energy can be pumped back into the network to ease the load on the network.
The scheme is being trialled by Ovo Energy, which estimates participating households will save around £100 a year on their bill – and they get to keep the home battery as well.
If you live around Lincoln and fancy taking part, you can learn more about the scheme here.
Just note that you'll need to switch your energy supply to Ovo, get a smart meter installed to take part and that the scheme is only taking place in parts of Lincoln.
Exactly how beneficial this scheme will be if it's rolled out nationwide and you have to pay for the battery remains to be seen, but it's definitely worth keeping an eye on.
Check out a range of energy tariffs at loveMONEY's comparison centre
Ovo vehicle-to-grid charger
There's another upcoming Ovo energy trial worth looking into if you own an electric car, where your motor's battery serves as a home battery of sorts and pumps energy back into the grid (or your home).
Ovo says it will pay you 26p per kWh sold back to the grid (measured by a smart meter) if you have solar or other microgeneration systems – a small scale system that generates electricity or heat – installed.
If you don't have any form of microgeneration at your property, you will be paid 30p for every kWh sold to the grid.
You can take advantage of cheaper electricity when it's available during off-peak times to fill up your car's battery.
Ovo already has an ongoing vehicle-to-grid trial combining the Nissan LEAF or Nissan e-NV200 with its V2G charger, which it says could save you up to £570 a year.
You tell Ovo when you want to use your car via an app and select your chosen minimum charge level, then simply plug your car into the charger whenever you're at home.
The energy firm will then charge your car when demand on the grid is low and export when demand is high, working around the charging schedule. This schedule can be changed, and you can view charging data.
If you don't use all the energy exported from the grid, the excess is sold back – and you'll see your export credits for the previous month on monthly statements.
By joining the trial, you'll get the charger for free, £75 credit on your Ovo energy bill and payment for any energy sold back.
Again, you'll need a smart meter installed and have to be an Ovo customer, as well as set your data sharing preferences to half-hourly.
How to reclaim money from your energy supplier
Powervault home battery
There are other companies such as Powervault that allow you to store free solar energy or cheap off-peak energy from the grid.
You can choose from two versions:
Powervault 3, which stores between 4.1kWh and 20.5kWh, and costs between nearly £5,000 and £14,820
Powervault 3eco, which stores from 4kWh and 8kWh of energy, and costs between £3,400 and up to £5,000
You can also earn money from Powervault via its GridFLEX platform to control the battery and support the grid when it's under pressure.
According to the company, Powervault 3 can cut electricity bills by up to 20% by storing solar energy in the day and using it at night.
Extra savings of up to 15% can be made if you store low-cost electricity and discharge it during peak times.
Who owns British Gas, SSE, Npower and the rest of the UK's big energy companies?
Moixa smart battery
Moixa works in a similar way to other products already mentioned by allowing you to store electricity from solar panels to power your home.
You can buy and sell energy if you have an export tariff, that offers a greater export rate than import, which is Octopus' Outgoing Agile export tariff at the time of writing.
Unlike rivals, Moixa allows you to buy a solar panel system and solar battery together, but its most popular package costs approximately £9,000.
If you opt for the smart battery alone, it will cost nearly £3,000 for a 2kWh version or £3,450 for a three kWh one.
According to the company, a 3kWh solar panel and 4.8kWh battery system can generate 3,300kWh and save you £459 per year.
You can be charged for electricity from the grid when it's cheap by using a 'time of use' charging tariff.
You also have the option to sign up to its GridShare programme and make any spare energy capacity available to the grid.
In return, the company will extend the battery warranty for as long as they remain a member and pay you £50 a year.
According to Moixa, when you factor in the amount of energy it would potentially need to use from each individual battery, the £50 paid out is worth significantly more than if you had used that energy in your home instead.
Check out a range of energy deals at loveMONEY's comparison centre
Still early days
Looking at all the options, it's clear that, while it's becoming more popular to generate and store energy in the home, it may not yet be a cost-effective option for most people.
Hopefully, the costs will fall in the future, allowing people to more easily access and take advantage of this technology.
Be the first to comment
Do you want to comment on this article? You need to be signed in for this feature