Ulster Bank to produce 'upside down' sterling bank notes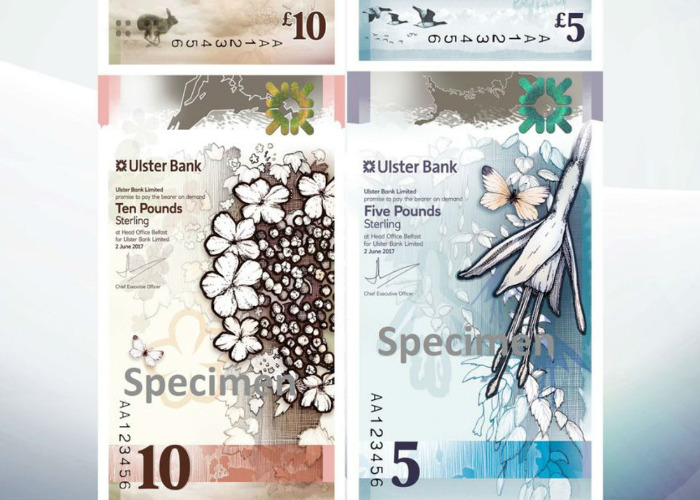 Northern Ireland has joined Switzerland and Canada in being one of the few countries to issue vertical banknotes – but it's not a UK-first.
Ulster Bank has designed a range of eye-catching vertical bank notes.
The bank has just released the designs for the new £5 and £10 notes will enter circulation next year.
Made from polymer rather than paper, as is the norm these days, the new notes are waterproof and can even go in the washing machine.
Developed by a panel of experts and people around the country, the design of the note is based on the theme 'Living in Nature'.
The Strangford Lough and Brent Geese are featured on the £5 note, with Lough Erne, Irish Hare and Guelder-rose shrubs on the £10 note. Both include images of a Strangford Lough king scallop and an Ulster Glade potato.
Unlike in England and Wales, Northern Irish banks, like Scottish banks, can print their own banknotes, resulting in a wide variety of designs.
You can use bank notes from Northern Ireland in the rest of the UK, but it's not uncommon for shopowners to reject them.
If that happens, you can always cash them in at a bank.
Not a UK (or even Northern Ireland) first
Whilst many news outlets have lauded Ulster Bank's decision as a UK- or even world-first, they're actually 19 years too late.
In October 1999 Northern Ireland's Northern Bank (now Danske Bank) released a vertical polymer note to celebrate the Millennium.
Two million were produced before they stopped being issued in 2008, although they can still be used and exchanged.
They can still be found on online auction sites for £12.99 upwards.
Switzerland also issues vertical bank notes, whilst Canada is planning to produce a vertical $10 note.
Public reaction to vertical banknotes
Ulster Bank's new vertical notes have so far met with a mixed range of responses:
Vertical bank notes - what a quirky idea - nice one Ulster Bank!https://t.co/2CL3rtMGbX

— TonyO (@tony_ogilvie) May 24, 2018
Ulster Bank making vertical notes is definitely a good case of just because you can, doesn't mean you should pic.twitter.com/7KWQ8mQmIt

— Orla Cassley (@orfala_cass) May 24, 2018
Be the first to comment
Do you want to comment on this article? You need to be signed in for this feature