Skill swaps: how I traded tech skills for some knitting tips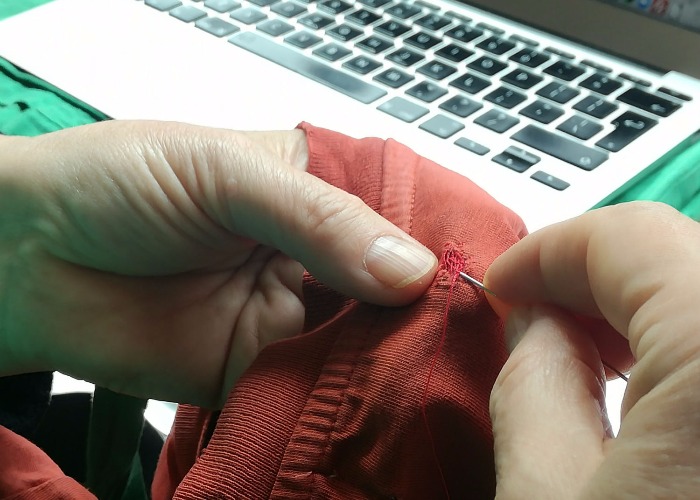 Ever wondered how to go about doing a skill swap? Anna Jordan tries one out.
Skill swapping is something that I've long been curious about, and I'm eager to find out how it works.
My search throws up some mixed results, but I find an unexpected swapping partner who taught me a skill that'll serve me for life.
Here's what I learned.
Ghost towns
With swappable skills including beer brewing, beekeeping and flying trapeze artistry, I thought I'd give Skillbound a go.
Signing up is easy – it's a case of downloading the app, creating a username and password and confirming your account via your email address.
From there, you search for people with the skills that either you or they want by browsing or searching skills or going by location.
What struck me about this and other skill-swapping websites is that they seem like ghost towns.
Pages and pages of listings were of people without profile pictures and no visible signs of life since 2013. I messaged a couple of users but unfortunately got no response.
Looking at fellow platform Swapaskill, its Facebook account hadn't been active seen 2014 which didn't make me feel optimistic about how many active users it has.
Gumtree is livelier, with a dedicated skills and language swap section. However, it's more heavily weighted on the latter so if your Italian needs some work, it's an ideal place to start.
Going local
Referring to Skills exchange: how to trade your talents and save money, I get in contact with my nearest Local Exchange Trading Scheme (LETS).
Like the other swapping sites, it seems quiet. After a dig around the site, I find Mary Fee, who handles the administration of various LETS schemes around London.
The desired skills here are much simpler, and much more practical than the other platforms. Think gardening, childminding or even just socialising.
"With the North London LETS, a lot of people don't have family – a lot of them see [other members] as family," says Mary.
The emphasis is much more on building up a currency called 'mutual credit' as opposed to doing direct swaps. Every time you do a swap, you build up currency which can be used at a later date.
It's not just skills either: people use the currency to buy items from other members. If someone creates handmade cards for example, the currency can be used to pay for those.
Even if someone doesn't use the currency, LETS is a good way of contacting people and forming a network.
Swapping skills between generations
Mary teaches me how to repair clothes using a darning method. This is invaluable to me as my needlework skills are crude, to say the least.
The former teacher guides me through picking up stitches, looping and pulling through. It's fiddly.
"The point about mending is that it's not cost-effective in the modern money. I repaired a skirt for myself that I've had since 1979 and if I costed that out, the amount of hours I put in, it would've cost me at least £100, but [with LETS] you're not counting in that way," says Mary.
She talks more about the nature of volunteering today:
"The thing about volunteering is that there's a lot of goodwill in a crisis. People rush along and help because their heart is drawn to it. When it comes to the ongoing things – helping out, social relationships – it has to be something of reciprocity".
Normally members wouldn't do a direct swap, but in the spirit of the reciprocity, I give Mary some tips for improving the LETS websites and offer up what I've learned from similar sharing platforms.
It helps to know how LETS has evolved over the years and more about its members, many of whom are in their 60s, 70s and 80s.
"Part of the reason we haven't attracted younger people is because we have the online software, but it's not cool enough," she says.
Some websites make skill swapping seem like a new concept, but LETS actually goes back quite a long way. When the scheme first started, members would receive newsletters and go to meetings. They also recorded currency using printed vouchers, but now you can make transactions online.
"A lot of people that came to LETS said 'we need to find a new way with money'. It was an experiment."
Mary talks about swapping being part of a permaculture, spanning from the heart-to-heart of household tasks to the wild woods of the stock market where anything can happen. "It's like a plant can help another plant," she says.
There you have it! A mended t-shirt and some brand-spanking new ideas for the LETS websites. All done from a café.
Where can you join a LETS group?
LETS run in locations all over the UK, and there's probably one near you. Have a gander at LETS Link UK for more information.
You can also learn more by reading Skills exchange: how to trade your talents and save money.
Want to save even more? Switch your energy supplier right now
Make your money stretch further:
From cooking to budgeting: key life skills for your teen
How to make money as an Uber driver
Voucher code shopping tool review – find out how much we saved
Be the first to comment
Do you want to comment on this article? You need to be signed in for this feature