Facebook scams: how to stay safe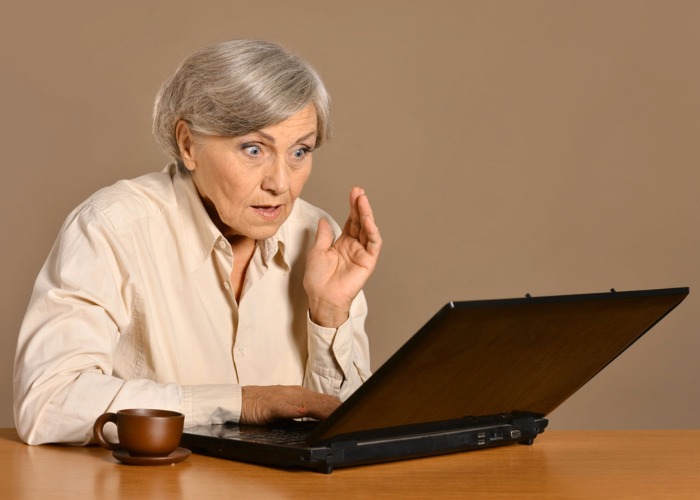 Facebook is becoming more and more popular with the over 50s - and fraudsters know it. Here are the most common scams to watch out for and how to stay safe.
Facebook is getting more and more popular, especially with the over 50s.
In fact, it's the fastest-growing demographic on the social networking site as younger users continue to flock to Snapchat and Instagram, according to a range of studies.
The downside is that scammers like crowds, especially those made up of older people. And Facebook says that as many as 5% of accounts on the site could be fake.
To keep you safe, we've listed a few of the most common scams to watch out for. Get those settings updated!
Profile viewers and profile blockers
These are scams that promise to reveal who has been looking at your profile and who has blocked you from theirs. Facebook doesn't give developers access to this data so of course, none of them work.
New and extra Facebook features
This could be a 'dislike' button, changing your Facebook colour or seeing who has unfriended you. Tempting though it might be, don't fall for it - scammers will often put malware or adware into the plug-ins which can harvest your personal details. That said, some browser extensions do offer the real thing, so only download them from reputable developers.
Phishing for your login info
Think you've had an urgent message from Facebook security? You probably haven't. Phishing scams are among the most popular on social networking sites. Be sceptical of emails about the Facebook Lottery, account recovery and policy violation as they're probably tosh. If you're in doubt, contact Facebook directly. You can do this by clicking on the 'Options' button on the message and click 'Report' or just click 'Report' next to a suspicious post.
Source: Facebook
Your friend's in trouble (but not in the way you think they are)
This one's a bit trickier to spot. You may receive a message with a photo link attached of something that you 'must see' or labelled 'OMG'. Watch out for spelling and grammatical errors on these messages as it's a clear sign that it's dodgy and the link is riddled with malware.
Alternatively, the message from your friend might say they're in trouble and need you to send through some money.
In this case, it sounds like your friend's account has been hacked. Give said friend a ring or send them a text to confirm that it's them (or perhaps to tell them that their Facebook account has been hacked).
To minimise the chances of your account being hacked you can enable Login Approvals as an extra layer of security. It's a two-stage authentication process, so even if a scammer gets hold of your password they'll still need a code to login.
Share this post and win!
These will pop up on your news feed a lot, like "Win a stay in this hotel if you like and share this page!" Some of them are genuine; others really aren't. The latter is a form of 'like-farming' which harvests thousands of likes which are invaluable to scammers.
Under Facebook's terms and conditions, pages aren't allowed to make a 'like' a requirement for a giveaway.
Fraudsters can use the page to send out spam advertising or malware viruses. If users click on them it'll give scammers access to their personal details or sign them up to premium text services.
Take a look at what's on the page itself to help you answer some questions. Is there any information about the company's contact details in the 'About' section? Are there terms and conditions? Are the prizes too good to be true? As always, go with your instinct. If it seems fake, then it's probably fake.
One sure-fire way to tell if a competition is from a genuine brand is the tick verification symbol. Facebook has helpfully adopted this seal of approval - it'll appear next to the company name on the left of the cover cover photo, as shown below.
Source: Waterstones / Facebook
Dodgy investment schemes
Investment scams are rife on Facebook, and they could be from fradulent 'brokers', or even your friends.
Posts of schemes promising unreasonably high returns for little financial commitment should be treated with suspicion. Pyramid or ponzi schemes rely on recruiting new people with no sale of goods or services, with the victim paying whoever is above them in the pyramid while getting paid by those below them. This means more and more money goes to the top while those at the bottom get very little.
Others may get messages from other Facebook users giving them impossibly good returns. However, once the victim pays the scammer the crook becomes unreachable as they've changed their details and seemingly just disappeared.
We recently reported on a Facebook investment scam, showing you how you can avoid them.
More of what you 'like'
Be careful what you 'like' and react to on Facebook. In some cases liking a post will take you to a fake website which has been set up to harvest your personal information or download malware.
Sadly, scammers have no problem exploiting you with images of people suffering or animal cruelty for your likes. After all, if one of your friends has liked it then it must be legitimate and you can like it too, surely?
While you're curbing your likes, sweep through your current likes and if any of the content on them has changed to something suspicious, unlike it and report it to Facebook.
Giving too much permission
If games or quizzes ask you for an uncomfortable amount of access to your information, it could be dodgy. It's best to check the permissions that an app or quiz wants before clicking 'accept'.
A typical example is 2015's "What are your most used words on Facebook?" quiz by Vonvon. It was shared over 16 million times in a single weekend, harvesting the personal information, friends lists, IP addresses and device information of millions of users.
It asked for access to:
Name, profile picture, age, sex, birthday, and other public info
Entire friend list
Everything you've ever posted on your timeline
All of your photos and photos you're tagged in
Education history
Hometown and current city
Everything you've ever liked
IP address
Info about the device you're using including browser and language
Vonvon has said that it has reeled in these permissions since last year.
The ol' classics
Of course, some of the less creative scammers will try and get you with viral videos and free giveaways.
Check your financial health today by looking at your credit report. Compare providers with loveMONEY today
Keep yourself safe from scams:
3 words that can make your money safe
Don't fall for these supermarket voucher scams
Common error that makes life easy for scammers
Be the first to comment
Do you want to comment on this article? You need to be signed in for this feature