Eurostar: your rights if your train is delayed or cancelled - are you owed compensation?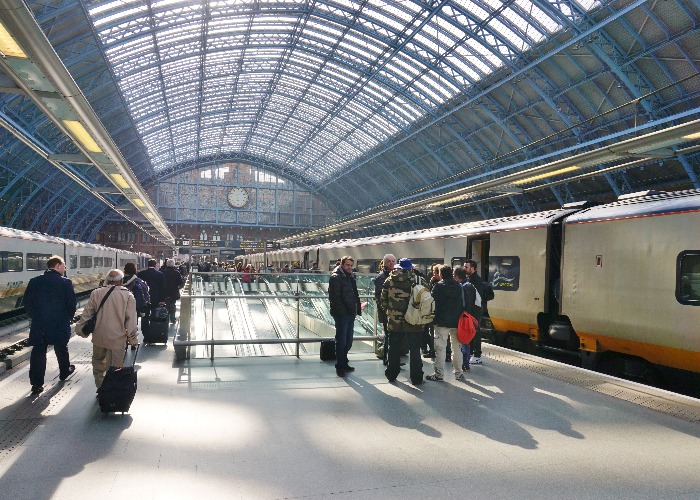 Eurostar claim strikes are right around the corner. Make sure you know your rights before you travel with them.
Holidaymakers are facing transport chaos during one of the busiest travel months of the year after Eurostar workers announced seven days of strike action could take place this month.
The strike action is a result of an on-going battle about employees work/life balance. Workers will walk out at 00:01am this Friday (12th August) and strike until 11:59pm on Monday (15th August). They will then strike again over the August bank holiday weekend.
Management at Eurostar are currently insisting the strikes won't affect passengers.
"On the days of the strike we have made some small modifications to our timetable to ensure that all passengers booked to travel will be able to travel on those days," a spokesperson said. "Customers affected by any changes will be notified in advance with options for their journey."
If you are booked on a Eurostar train read on to find out what you can do if your journey doesn't go to plan.
Keep yourself protected on holiday with travel insurance. Get a quote with loveMONEY today
How to find out if your train is running
You can check the latest timetables and service updates on the Eurostar website or call 03432 186 186 (+44 (0) 1233 617 575 if you are calling from outside the UK).
You can also see live arrivals and departures online.
Your rights if your train is cancelled
If your train is cancelled you are entitled to a free exchange of your ticket for travel on a different day within 120 days of the original travel date, or 90 days if your booking involves onward travel with a different train company.
Alternatively, you can claim a full refund for your ticket, regardless of what the original ticket conditions stated.
Anyone wanting to claim a full refund has up to a year to do so from the original date of travel.
Your rights if your train is delayed
What you are entitled to when it comes to delays depends on how long the train is delayed for and whether you want an e-voucher or cash. If you are prepared to except e-vouchers you'll get more back on longer delays.
| | | |
| --- | --- | --- |
| Length of delay | Compensation in e-vouchers | Compensation in cash |
| Up to 60 minutes | Nothing | Nothing |
| 60-119 minutes | 25% of the value of the affected ticket | 25% of the value of the affected ticket |
| 120-179 minutes | 50% of the value of the affected ticket | 50% of the value of the affected ticket |
| 180 minutes or longer | 75% of the value of the affected ticket | 50% of the value of the affected ticket |
What about return tickets?
If you are delayed on one leg of a return journey then you can only claim back a percentage of the cost of that part of your journey.
How to claim compensation for delays
This depends on what you want to claim. If you want to claim a cash refund online you need to do so within 60 days and can use this form.
If it has been more than 60 days and you want a cash refund you can call 03432 186 186 within a year of the delay to claim.
Anyone prepared to take their compensation in e-vouchers can claim for journeys going back to 29/10/2015 using this online form.
If you have problems with the online form or want to claim for delay that was longer ago (but still under a year ago) you can call 03432 186 186 to make your claim.
Does the type of problem matter?
Yes. The delay has to be due to something within the train company's control. This includes:
• Points failure
• Signal failure
• Track circuit failure
• Telecoms failure
• Overhead line problems
• Bent or broken railway tracks
However, if the problem causing your delay is deemed to be beyond Eurostar's control you cannot claim compensation. This includes:
• Vandalism
• Acts or threats of terrorism
• Suicides or accidents involving trespassers
• Fires or gas leaks in lineside buildings, unless it is the fault of Eurostar.
• Lines closed due to police or emergency service action
• Riots

Disruptions due to the weather
This is a bit of a grey area. If the weather is classed as 'exceptionally severe' then Eurostar doesn't have to compensate you for delays. But, if the weather is bad but not that bad you can claim. With this one you'll have to make a claim and see what happens.
If you aren't happy with the response then you can make a complaint.
Claiming for additional expenses
If your train is substantially delayed or cancelled Eurostar may cover some of your other expenses if they were incurred as a direct result of the travel disruption.
This includes:
• Overnight accommodation
• Food
• Transport between the station and your accommodation
• The cost of calling anyone who is waiting for you at your destination
What about onward travel?
If a Eurostar cancellation or delay means you are going to miss your onward journey then Eurostar will help you with your additional expenses.
To claim you'll need to be able to show your original tickets and all your receipts. You can then either scan your paperwork and email traveller.care@eurostar.com or you can call 03432 186 186.
What currency will my compensation be in?
That depends on where you purchased your Eurostar ticket. If it was purchased in Belgium or France your compensation will be paid in Euros. If you opt for an e-voucher this will be in Euros and can only be spent on the French or Belgian booking websites.
If you purchased your tickets in the UK then your compensation will be paid in pounds sterling and your e-vouchers can only be used on the UK website.
How long are e-vouchers valid for?
E-vouchers are only valid for 12 months.
What about Frequent Traveller points?
If you are a member of Eurostar's Frequent Traveller scheme you can claim your compensation in the form of Frequent Traveller points but these will not count towards maintaining or upgrading your Eurostar Frequent Traveller membership tier.
In order to be able to claim Frequent Traveller points you mush have quoted your membership number when you booked your tickets.
What to do if your claim is rejected
If your claim is rejected then your first port of call is to make an official complaint to Eurostar. You can do this via the website or by calling 03432 186 186.
Unfortunately, there isn't an ombudsman in place to help with transport complaints. But, if you aren't happy with the response you get from Eurostar you could approach Transport Focus. This is an independent watchdog who can approach Eurostar on your behalf. You have to make a complaint on your own first though.
Don't miss out these stories on loveMONEY
Your rights when a company goes bust
Vodafone 'scraps' broadband line rental charge - but you're unlikely to save
Universities offering two for one and money off deals on degree courses
Be the first to comment
Do you want to comment on this article? You need to be signed in for this feature