Card skimming warning: how to stay safe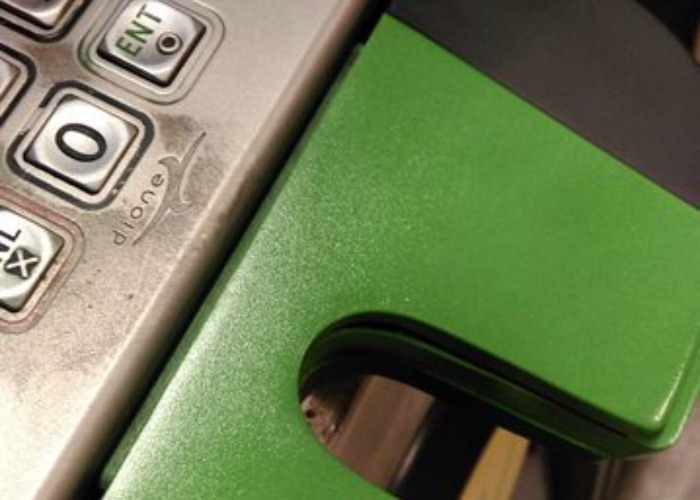 It's not just ATMs that can fitted with card skimmers - be careful when you next top up your travel card.
An Oyster travel card user is warning of a card skimming (or cloning) device at Bank underground station in central London.
He spotted the device on a top-up machine after noticing that it wasn't quite in line with the machine itself.
The man, known as TheCell1990 on forum website Reddit, said: "I found a card skimmer on an Oyster machine at Bank this morning. Please be aware. Was found at 10:30am this morning but could have been there for days."
The British Transport Police told loveMONEY that "officers are in the process of analysing the device and making CCTV enquiries".
Image credit: Imgur / WilliamShelby
What is a card skimmer?
A card skimmer is a portable capture device which is attached in front or on top of the real scanner at an ATM or other card machines. It records your data as you insert the card into the real scanner and can then be used to make purchases from your account.
Around 100,000 people a year fall victim to fraud related to skimmed or cloned debit and credit cards, according to the latest figures from the UK Cards Association.
Criminals make millions of pounds a year using cloned card details.
What to do if you spot one
If you're at all suspicious that the card slot might be a fake, give it a pull or a wiggle. Check for seam lines too - look closely and you'll see that the edge of the device it's not exactly in line with the machine.
It could have a pinhole camera fitted too, as shown in the photo below.
Image credit: Imgur / oh-noes
The original card slot that's fitted to the machine should be solid but fakes are merely snapped on over the top so they'll be much less robust, which is why pulling it or wiggling it is the best way to detect an imposter.
Image credit: Imgur / oh-noes
Spotted a skimmer at a station? Text the British Transport Police on 61016 or call on 0800 405040 with a description and the location of the skimmer. Make sure you alert station staff too.
Don't try and remove the device yourself as the perpetrators might be nearby, and they might resort to violence to get their equipment back. Always call 999 in an emergency.
Card skimmers aren't the only thing you should watch out for when you're topping up or withdrawing cash.
Be on the lookout for fake ATM fronts, a blocked or loose card slot, a loose PIN pad and groups of abnormally helpful strangers lurking close by.
Read more in our guide to spotting an ATM that scammers have tampered with.
Think your card has been cloned? One of the first places to check for suspicious activity is your credit report. Get access to your Experian credit report free for 30 days with loveMONEY.
Protect yourself from these sneaky scams:
Scammers are already using Brexit to con you out of cash
Online scams you MUST be aware of
Be the first to comment
Do you want to comment on this article? You need to be signed in for this feature