How to budget successfully
Budgeting is a great idea in theory, but it can be hard to do in practice. We show you how to make the process as simple and painless as possible.
Most of us have our financial vices. I know that I eat out too much and don't cook enough meals at home. Maybe you buy expensive coffees every day at Costa or perhaps you regularly go berserk with your credit card at the nearest out-of-town shopping mall.
If you want to make fewer money mistakes, Lovemoney's MoneyTrack tool could help you turn over a new financial leaf. It automatically tracks what you spend, categorises that spending and helps you create realistic budgets.
Let's see how MoneyTrack works:
1. Load in your accounts
Your first step is to load your bank accounts and credit cards into the tool. You can load in as many accounts and cards as you like, and it doesn't matter if these different accounts are operated by more than one provider.
You can then see a dashboard view of your financial situation:
On the left hand side, you can see the current balances on all your bank accounts and credit cards. On the right, you can see an overview of how much money has come in and gone out over the last month.
2. Look at where you are
You can now take the time to look at the bigger picture . You can switch the dashboard view to give different perspectives and also filter dates and timelines. So, for example, you can view a 'spendometer' that shows you how much you've spent as a percentage of your income: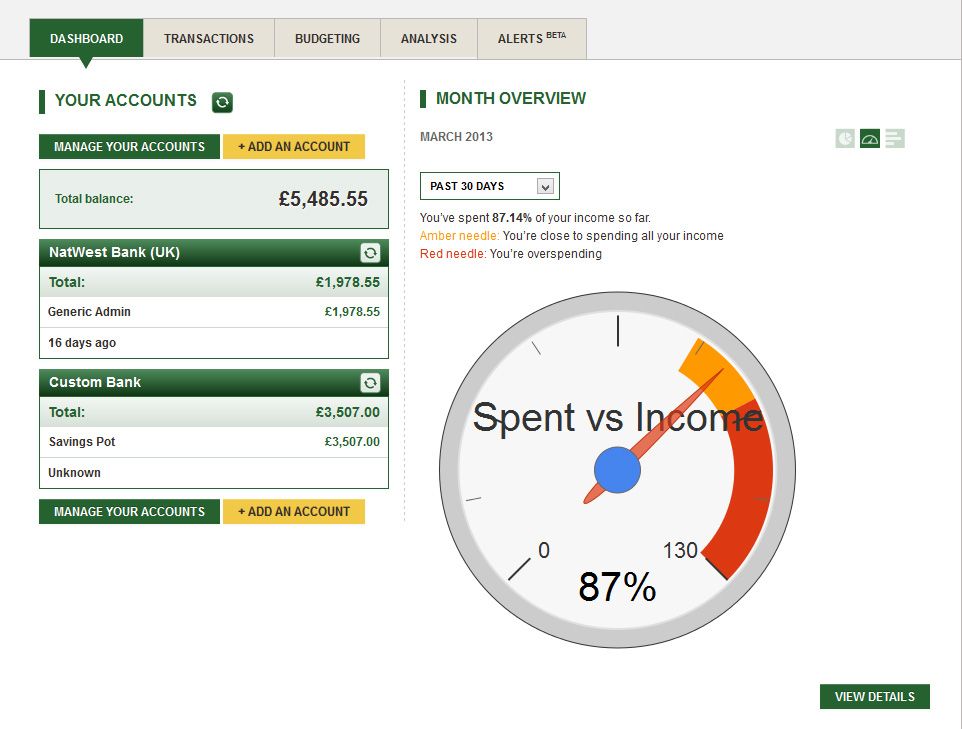 3. Check out your transactions
This is a crucial step in the budgeting process. Click on the 'transactions' tab at the top of the page and you can see every purchase that you've made and where you've made them too. Even better, MoneyTrack automatically categorises every item of spending for you. So if you bought a meal at Pizza Hut, MoneyTrack would categorise that under 'Eating out, pubs & takeaways.'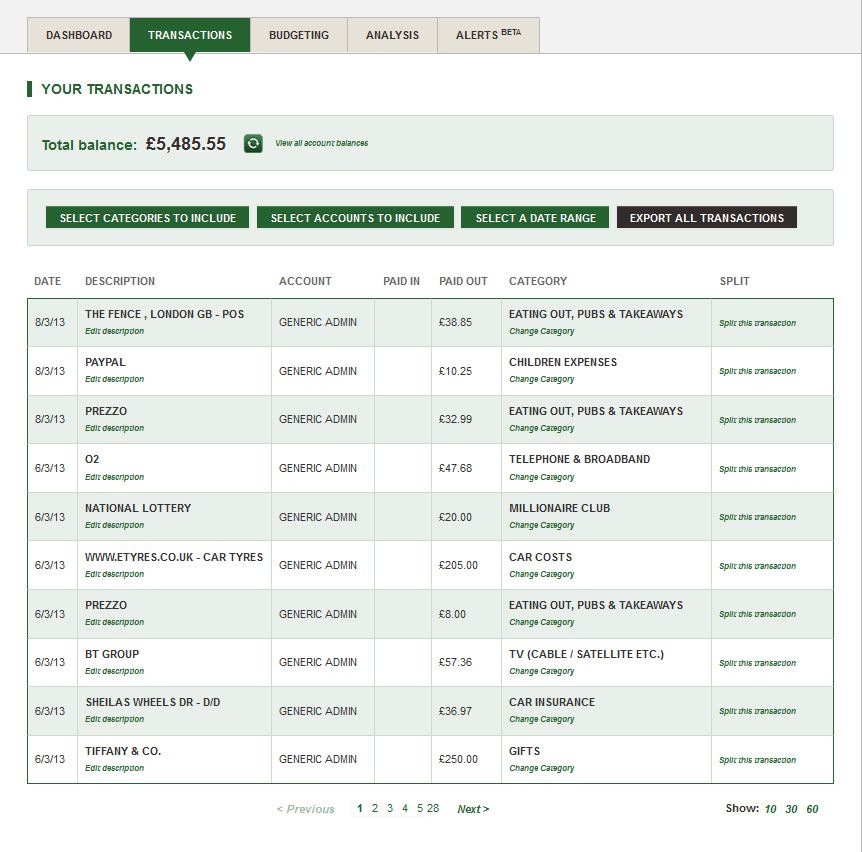 You can also amend the categorisation and even create your own categories. MoneyTrack is intuitive and future transactions will be categorised in line with your newly-created categories.
If you buy a lot of goods in one shop, you can split up the transaction and categorise different components separately. For example, a Blu-ray movie bought as part of a 'weekly shop' at Tesco can be identified separately.
You can do the same thing if you withdraw cash from an ATM - you can categorise each cash purchase individually.
Once you've made sure that you're happy with the categorisation, you can go back to the dashboard and see how much you're spending on each category. Hopefully it will now be easier for you to spot areas where you can cut back on your spending.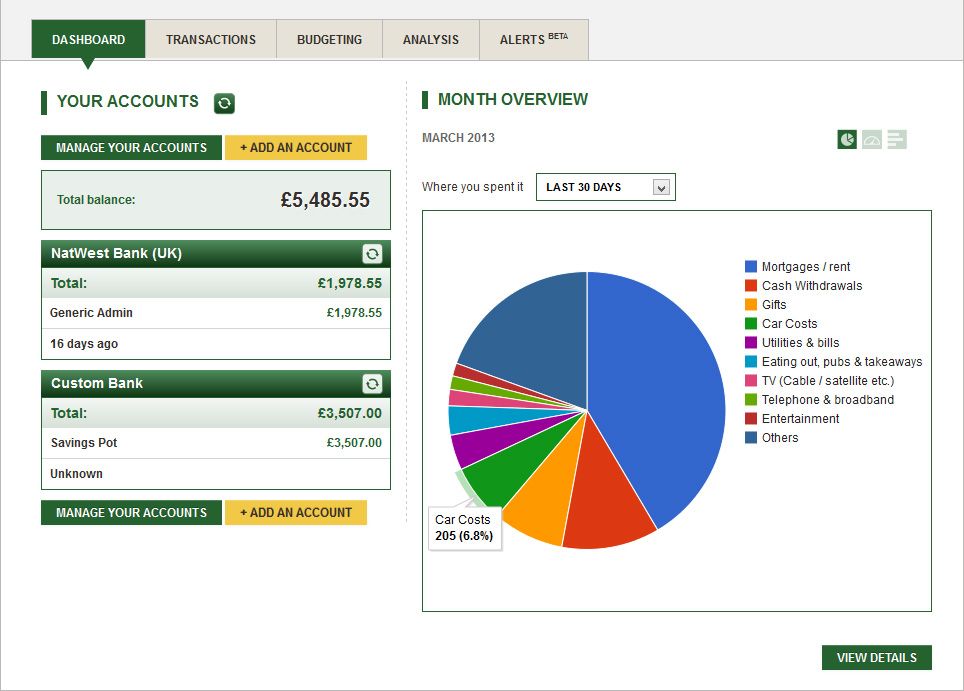 4. Budgeting
Now comes the really important part – budgeting with MoneyTrack. By looking at your transactions over the last month or two, you should hopefully be able to set yourself a tough, but realistic budget. So if you spent £60 on 'entertainment' last month, maybe you could cut back to £40 per month in your new budget.
Once you've set your budget targets in MoneyTrack, you can then check regularly to see whether your spending is on track or not. With MoneyTrack, you'll quickly see if you're overspending, and you can then take steps to rectify matters.
Don't get me wrong. I'm not suggesting that MoneyTrack will suddenly solve all your financial problems. But it does make it much easier to see how much you're spending right now and set a budget for the future that you can stick to. It's also really easy to use. So get budgeting now!
More from Lovemoney:
Your 'to do' list is costing you money
Do these 20 things and you'll always be poor
Too many people are no good at budgeting
Five ways to increase your income
Be the first to comment
Do you want to comment on this article? You need to be signed in for this feature