How to get the best deal on a new car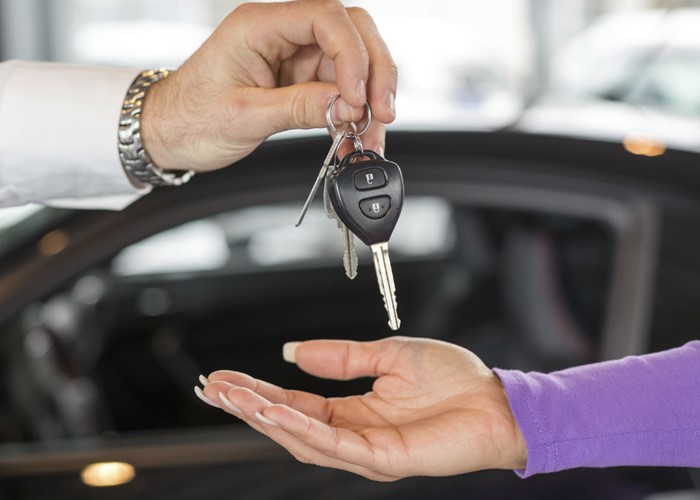 With new car registration plates hitting the road, here are some simple steps to save money on your new motor.
It's that time of year again with 1st March seeing the launch of the new 2016 car registration plates, and with it comes heightened demand for new cars.
Research from the AA reveals that 26% of motorists will be going car shopping in the next 12 months and plan to spend an average of £12,000 on their next car.
Savings are still the most popular way to buy a car, with a third of people using theirs, while 23% plan on using a method of financing, with 9% of these people opting for a personal loan. Drivers over 65 are much more likely to buy with savings or spare cash.
So if you're in the market for a new motor, follow our tips to bag a bargain.
Haggle!
The price on the screen is not set in stone. You need to be prepared to haggle.
This may mean going for a discount, or trying to get the salesperson to throw in some extras on top. If you're relying on credit to finance the new car, cutting the price will reduce how much you end up paying in interest so that should be your priority over any upgraded sat nav or sound system.
Read How to haggle and save a fortune for more.
Buy on a Monday
You've done the test drive, shopped around, and are ready to seal the deal. But when's the best time to sign on the dotted line?
According to Jonathan Williams of Autotrader, around ten on a Monday morning is best. That's because the dealerships will have just finished their sales meeting and everyone's buoyed up and eager to clinch the first sale of the day.
Also, waiting until the end of the financial quarter (so, for example, holding out until the end of March) can maximise your chances of a good deal as sales teams will be under increasing pressure to make any last sales needed to meet their targets.
Make sure you allow two to three hours so that your dealer has enough time to go through the sales process properly.
Buy online
Buying a car online can save you a bundle through reverse auction-style selling. Basically, you pick the car you want and the website will find dealers who can give you exactly what you want for the lowest price. Car comparison site Carwow will even email quotes to you.
They work with a whole host of franchised dealers and buy in bulk, passing the savings on to buyers. This is particularly good if you don't mind about your car's specs and optional extras. Just be aware that it can take a while to prepare your car and you may have to go and pick it up yourself.
See Buy a new car online for more on popular companies such as Carwow, Drive the Deal, Carfile and Broadspeed.
Be wary of dealership finance
According to the Finance & Leasing Association, the trade body for the motor finance sector, its members provided the credit for over 80% of new car registrations in 2015.
It should go without saying that using savings to pay for a new car is always the optimal way to pay. But if that's not an option, car finance can seem an easy option.
However, it will almost certainly cost you more than if you take out a personal loan.
After all, you can borrow £10,000 over five years at the moment and you can get a rate of just 3.3% APR with an HSBC personal loan. Make sure you get full details on exactly how much any dealership finance will cost you, then shop around to see if you can beat it.
Read the cheapest personal loans for more on current rates.
And take a look at all of your finance options in our guide to Car finance options: credit, loans, HP and leasing.
Is there a 0% offer?
At the moment a number of manufacturers are offering 0% deals on certain models, including Alfa Romeo, Hyundai and Mazda.
If you have the money saved up already, you may be best off sticking the cash in savings and making use of a 0% offer. Then when the 0% deal comes to an end, you can pay off the balance and hopefully have a little extra cash on top.
That said, the interest rates on many savings accounts are not the best, so you probably won't make a huge amount in interest with this method.
You may be better off putting the money in the 123 Current Account from Santander, which pays 3% on balances of between £3,000 and £20,000. There is a £5 monthly fee to be aware of though.
Compare savings accounts with loveMONEY
Can you use a credit card?
Alternatively, look at whether you can use a credit card to cover the purchase.
You can get a 23-month 0% period on direct purchases with the Santander 123 Credit Card and then get 3% cashback every time use your cards to pay for petrol. Alternatively you could use your existing credit card then transfer the balance over to a 0% balance transfer credit card, where the 0% periods extend as far as 40 months. Read The best 0% balance transfer cards for more.
Another bonus of paying by credit card means you've got automatic protection under Section 75 of the Consumer Credit Act, so even if you've only put the deposit on it, if there's a problem or the garage goes bust you can get your credit card company to stump up.
Remember that some dealers will only let you pay part of the fee by credit card. For example, Mazda will only allow up to £1,000 to be paid by credit card. You may also incur a credit card handling fee.
Compare a whole range of credit card deals with loveMONEY
This article has been updated
More on motoring:
Sainsbury's offers petrol for less than £1 a litre
Hundreds of thousands of parkng fines 'illegal'
Be the first to comment
Do you want to comment on this article? You need to be signed in for this feature