How to get cheap and free flights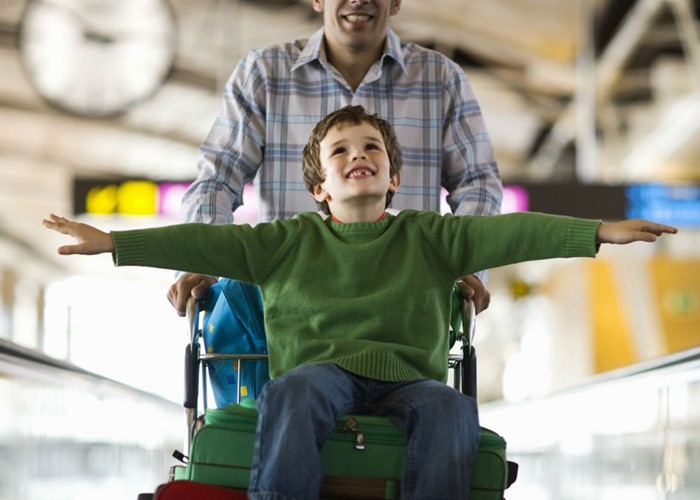 Here are our top tips for slashing the cost of flying to your next holiday.
Take advantage of special offers
Airlines often offer special promotions, such as 'Kids Go Free', which you should keep an eye out for.
Volunteer to be bumped
If you're fairly flexible with your travel dates, volunteer to be bumped from your flight.
Instances of passengers being involuntarily bumped from flights have come to the fore, but if you pass up your seat willingly it could really pay off.
Check the seating plan on the flight in advance — it could be a good indicator of whether it'll be overbooked. In fact, some flights might already be overbooked before you get there.
After you arrive at the airport, get to the gate early and let the flight crew know that you're willing to be bumped if there aren't enough seats for everyone.
They won't know if the flight is overbooked until boarding so be patient. You're more likely to get bumped off if you only have hand luggage so bear that in mind.
While you're waiting, listen out for announcements asking for volunteers who are happy to give up their seats.
Compensation varies if you volunteer to be bumped, but you'll often get flight vouchers worth more than the price you paid or other rewards like upgrades and cash – on top of a seat on a later flight.
You're also entitled to a refund if you no longer wish to fly at all.
Book before the price rises
You've no doubt noticed that the price of a flight can rise and fall on an almost daily basis.
However, you can take some of the guesswork out of booking with Google Flights, a price comparison site launched by the search giant.
It will predict when prices are likely to increase for certain journeys, so you can lock into a lower price.
"After selecting a specific flight, a notification may appear letting you know when the current fare is expected to expire and how much you can save if you book now," a Google spokesperson said.
"If you're not ready to book yet, you can choose to track your flight or route and receive notifications via email letting you know when prices are expected to change."
Shop around
There are a number of flight comparison sites out there, so make sure you use them to do the hard work for you. Try the likes of Kayak, Skyscanner, Cheapflights.co.uk, Momondo, Fly.com and Google Flights.
Once you've done that, take a look at the cheapest airlines' own websites, as they may have special deals. If you're going to a popular holiday destination, check charter airlines such as Thomas Cook and Thomson, as well as scheduled airlines, as they may be cheaper.
Be prepared for holiday mishaps with travel insurance. Compare quotes today!
When to buy and when to fly
Cheapflights reckons that travellers can save a whopping £700 if they book at the right time of year.
Andrew Shelton, Managing Director of Cheapflights said:
"Travellers who can be flexible with their holiday dates should earmark November and early December for a winter escape, as this period is consistently the cheapest time of year to visit many of the most popular holiday spots, including Dubai, Thailand, South Africa, Barbados and New York."
The Cheapflights Destination Diary shows travellers how much they could save if they book at the cheapest time of year. See if your favourite destination appears in the table below.
Month

Destination

Average Fare this Month

Most Expensive Month to Visit

Average Fare in Most Expensive Month

Saving

January

Mexico (Cancun)

£450

December

£654

£204

February

Greece (Athens)

£83

August

£169

£86

USA (Los Angeles)

£385

December

£855

£470

March

Caribbean (Barbados)

£515

December

£1,335

£820

Spain (Malaga)

£61

August

£137

£76

April

Thailand (Bangkok)

£357

December

£736

£379

May

Australia (Sydney)

£593

December

£1,302

£709

South Africa (Cape Town)

£523

December

£876

£353

June

Italy (Rome)

£84

November

£180

£96

July & August

Take a Staycation

September

France (Nice)

£83

May

£124

£41

October

Croatia (Pula)

£103

February

£184

£81

November

UAE (Dubai)

£286

December

£395

£109

December

Portugal (Faro)

£53

August

£157

£104
Source: Cheapflights
In terms of when you should book your flight, secure your mid-haul flights (think Mallorca, Tenerife and Rome) between one and two months in advance while long-haul flights such as LA and Bali should be booked two-four months in advance for the cheapest deal.
The exception is New Zealand where your best time to book is seven months in advance, according to travel comparison engine, Kayak.
It can often be cheaper to fly mid-week, so if you're not restricted by dates, see if you can cut the price even further by changing when you go. This applies to both long-haul and short-haul flights.
And if you're happy to fly on Friday 13, all the better. Kayak says that travellers can bag last-minute bargain flights if they choose to travel on 'the unluckiest day of the year'.
The biggest savings can be made on flights to:
Gran Canaria (44%)
Dubai (28%)
Tenerife (18%)
Madrid (14%)
This isn't true for every destination though. Prices to Barcelona, Reykjavik and Rome are all more expensive on Friday 13 compared to the rest of January.
Compare the total price
If you're comparing so-called full-price airlines with budget ones, make sure you compare prices accurately. Budget airlines are notorious for levying extra charges for everything from checked-in luggage to paying by credit card.
Don't get caught out on holiday without travel insurance. Compare quotes today!
Play your cards right
There are several credit cards that will offer you free flights, or enough reward points to pay for one, so long as you spend a certain amount.
The fee-free British Airways American Express card currently offers 5,000 Avios if you spend £1,000 within your first three months and around 1 Avios for every £1 you spend.
For more frequent flyers, the British Airways American Express Premium Plus card offers 25,000 Avios if you spend £3,000 within the first three months of having the card. You earn 1.5 Avios for every £1 spent. However, it comes with an annual fee of £195.
Use points to pay
If you're a member of a reward or loyalty scheme, either directly or via a credit card, you could use the points to pay for flights.
Just be aware that doing so could invalidate your travel insurance with some insurers.
Here are the top general schemes.
Avios: formerly Airmiles, this scheme divides the world into zones based on distance.
The Avios required to pay for them increases correspondingly. Return flights from the UK to other UK and Western European destinations cost 9,000 Avios and then the cost increases incrementally up to 100,000 Avios for a return flight to Australasia.
However, all flights have taxes and fees added on to them. You can earn points via a variety of reward credit cards and by shopping online via the Avios store.
Nectar: 500 points is worth £2.50 off easyJet flights. Note that admin and credit card fees apply for all bookings made via Nectar. You can earn points at a host of retailers, including Sainsbury's, and via Nectar credit cards.
Tesco Clubcard: £10 in Clubcard vouchers is worth up to £15 of rewards tokens on Monarch flights; £2.50 in vouchers is worth 625 Virgin Atlantic Flying Club miles, 600 Avios or 600 BA Executive Club Avios.
Many airlines also have their own loyalty schemes which reward frequent flyers.
Look for age discounts
If you're a student, or under 26, it's worth checking out STA Travel. Not only will they help you tailor your journey, but they also have fares especially for younger travellers.
Be prepared for holiday mishaps with travel insurance. Compare quotes today!
Be the first to comment
Do you want to comment on this article? You need to be signed in for this feature