How to get cheap and free flights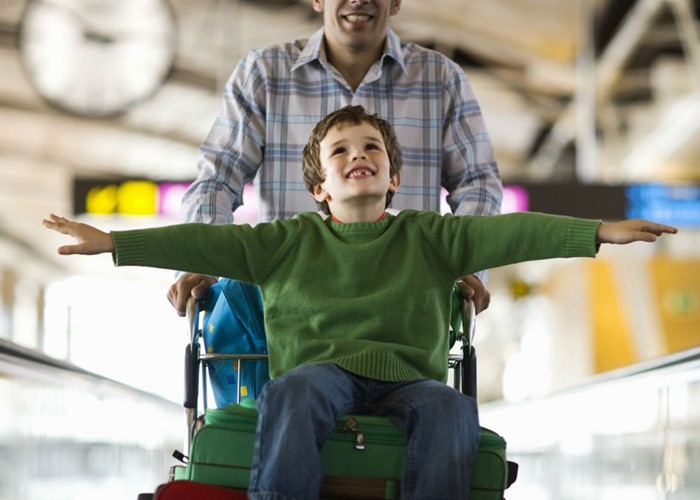 Here are our top tips for slashing the cost of flying to your next holiday.
Get comparing
It's commonplace to use a flight comparison website such as Kayak, Skyscanner, Cheapflights.co.uk, Momondo, Fly.com and Google Flights.
However, you can do much more than simply look at prices for a particular route and day.
Most sites will let you look at the cheapest prices over entire months (for more on when to book click here), and may display destinations and prices on a map.
In Europe particularly, flying to a less well-known airport can lead to considerable savings, although you should consider airport transfer costs.
Also, don't forget to check the airlines' own websites. Occasionally you'll find a cheaper price and even perks, such as a free hotel night during a stopover (particularly with Qatar Airways and Singapore Airlines).
It is usually cheaper to amend or cancel flights booked directly with the airline and, if you book with a credit card, you're better protected if the airline goes out of business.
Occasionally, if you go to a foreign airline's website and change your location to that country you may be able to find cheap domestic fares (Egyptair is one example), or domestic fare packages (Qantas and ANA).
However, bear in mind that you'll be paying in a foreign currency, which could incur extra charges from your card provider.
Look out for age-related discounts for kids and under-30s with STA Travel, although frustratingly there's no set discount for children.
Ask these questions
If an airfare appears unusually cheap, it's time to ask the following questions:
When is the flight? An overnight flight could save you a night in a hotel and potentially a day in leave, providing you can sleep on a plane.
Where are they flying to? An increasing number of cities have budget airports that can be miles out, with transfer costs that are higher than the plane ticket itself. The same question should be asked of where in the UK the flight departs.
Is hold luggage and meals included? Don't assume that legacy airlines such as British Airways always includes these perks, as the cheapest fares often don't.
Is there a stopover? Flights with stopovers can save you money but also take a big chunk out of your holiday time. The more stopovers you have, the more likely your luggage is likely to go AWOL.
Book with a credit card
There are two big reasons to book with a credit card.
The first is that credit cards can pay cashback, airmiles or other rewards. Whilst the rates might not seem that high, when these cards are used for expensive airfares they can really add up.
With the British Airways American Express card, you can get one point for virtually every £1 spent.
The second reason for booking with a credit card is that you have a much better chance of getting your money back should the airline go out of business, as Monarch and Primera Air did.
Booking directly with the airline provides the best protection.
With all credit cards it's vital you pay off your balance in full, or the high-interest charges will wipe out any savings you make.
You can compare cashback and rewards credit cards here
Apply for a credit card
There are several credit cards that will offer you free flights (you just pay taxes), or enough reward points to pay for one.
The fee-free British Airways American Express Credit Card (representative APR 22.9%) offers 5,000 bonus Avios points when you spend £1,000 within your first three months with the card.
You'll have 6,000 Avios in total (after spending £1,000) - enough for a one-way European flight.
The more expensive British Airways American Express Premium Plus Card has a higher bonus (25,000 Avios points for £3,000 spent in the first three months) but also a very high fee of £195 per year, giving it a representative APR of 76%.
You'll get a free companion ticket if you spend £10,000 in a year.
If Virgin Atlantic is more likely to fly to your dream holiday destination, the Virgin Atlantic Reward Credit Card (representative APR 22.9%) gives you 5,000 Flying Club miles for your first card purchase in three months. You can also get an extra 7,000 miles when you apply on or before 30 June 2019 (and spend £1,000 within 90 days of opening the account).
Alternatively, the Virgin Atlantic Reward+ Credit Card (representative APR 63.9%) has a bigger welcome bonus (15,000 bonus points) but has a steep £160 annual fee. You'll get a free companion ticket if you spend £10,000 in a year.
You can snag an extra 15,000 miles if you apply before or or 30 June 2019, but you have to spend £3,000 within 90 days of opening the account.
To earn points that can be used on multiple airlines, consider the American Express Preferred Rewards Gold card (rep APR 57.6%). You'll get 10,000 bonus Membership Rewards points if you spend £3,000 in your first three months of card membership and the £140 annual fee is waived for the first year.
There is also a fee-free version of this card: The American Express Rewards Credit Card, with 5,000 points on offer (rep APR of 22.9%), although you have to spend £2,000 in the first three months of card membership.
Make sure you'll spend enough on the card to qualify for the bonus: as we've found, this can prove difficult.
Use points to pay
If you're a member of a reward or loyalty scheme, either directly or via a credit card, you could use the points to pay for flights.
You can find out more about British Airways' Executive Club scheme and Virgin Atlantic's Flying Club here. It's vital that you only sign up to a frequent flyer scheme that suits both your home and desired destination.
You can usually begin to get free (taxes-only) flights once you've got a few thousand points with BA, or slightly more with Virgin, as its flights are generally longer. BA lets you pay a little more in order to use fewer flights.
Unfortunately, airlines often restrict the number of seats available to those using frequent flyer points, so you'll need to book early.
You don't need to spend your airmiles on flights alone: we've put together a guide on ways you can make the most of them.
Volunteer to be bumped
If you're fairly flexible with your travel dates, volunteer to be bumped from your flight.
Instances of passengers being involuntarily bumped from flights have come to the fore, but if you pass up your seat willingly it could really pay off.
Check the seating plan on the flight in advance — it could be a good indicator of whether it'll be overbooked. In fact, some flights might already be overbooked before you get there.
After you arrive at the airport, get to the gate early and let the flight crew know that you're willing to be bumped if there aren't enough seats for everyone.
They won't know if the flight is overbooked until boarding so be patient. You're more likely to get bumped off if you only have hand luggage so bear that in mind.
While you're waiting, listen out for announcements asking for volunteers who are happy to give up their seats.
Compensation varies if you volunteer to be bumped, but you'll often get flight vouchers worth more than the price you paid or other rewards like upgrades and cash – on top of a seat on a later flight.
You're also entitled to a refund if you no longer wish to fly at all.
For travel inspiration and destination guides, take a look at our sister site loveEXPLORING
Be the first to comment
Do you want to comment on this article? You need to be signed in for this feature