Robots that got fired from their jobs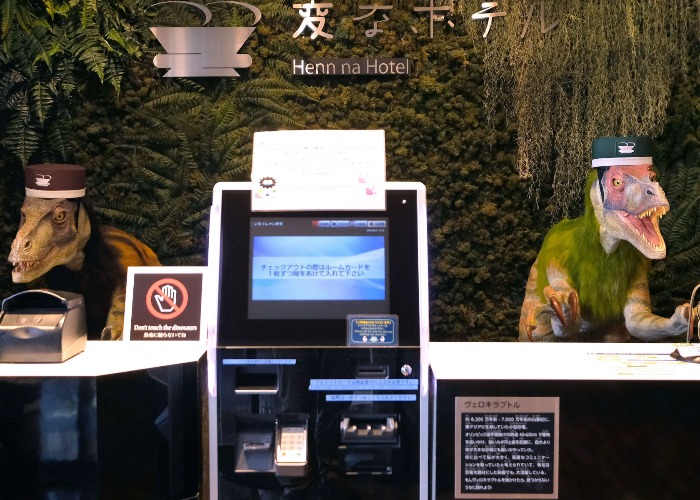 Many experts say robots are a threat to our jobs, but these models didn't work out quite as planned...
Despite growing fears that automation will replace humans in the workplace, here are some robots that won't be getting promoted any time soon.
Fabio
The UK's first robot shop assistant, named 'Fabio', was employed at Scottish supermarket chain Margiotta in its flagship Edinburgh store to assist shoppers and offer food samples. Fabio was installed as an experiment by Heriot-Watt University for the BBC series Six Robots & Us, but was fired after just a week.
Despite a promising start, charming customers with high fives and greetings, shoppers became annoyed with Fabio's inability to answer questions.
"Conversations didn't always go well," Luisa Margiotta, whose family owns the chain, told reporters. "An issue we had was the movement limitations of the robot. It was not able to move around the shop and direct customers to the items they were looking for.
"Instead it just gave a general location, for example, 'cheese is in the fridges', which was not very helpful."
Although Fabio failed to connect with shoppers, the staff grew fond of their robot colleague.
"When we had to pack it up and put it back in the box one of them started crying" said Dr. Oliver Lemon, director of the Interaction Lab at Heriot-Watt.
For now, it looks like supermarkets are safe from a robot takeover.
Flippy
Another robot that failed to meet the mark was Flippy, a burger-flipping robot installed in a CaliBurger outlet in Pasadena, California.
Flippy was created by Miso Robotics to replace the chain's human cooks, but was switched off after only a day. After news spread of Flippy's arrival, customer demand increased and proved too much for the robot.
There's still hope for Flippy, however, as CaliBurger reports it will start training employees to work alongside it.
It seems that, unlike Fabio, Flippy's brief working stint may not be its last.
Robots fired from Japanese hotel
Even in Tokyo, the cradle of robotics, robots have proven inadequate.
The world's first robot-staffed hotel, the Henn-na Hotel, fired half of its 243 robot employees after they caused more problems than solutions for staff.
On the front desk, robots struggled to photocopy guest passports, while elsewhere in the hotel the doll-shaped room assistants failed to answer simple questions from guests.
The hotel decided it was more cost effective to fire the robots than replace them.
Looks like an all-robot hotel is not yet on the cards…
Robot waiters in China
Employing robots also didn't work out too well for three restaurants in the Chinese city of Guangzhou.
Following a string of complaints, two of the restaurants were forced to close down and the third fired all but one of its robots and re-employed humans.
"The robots weren't able to carry soup or other food steady and they would frequently break down," one employee told Shanghaiist. "The boss has decided never to use them again."
So it seems robots aren't quite the model employees just yet...
Main image: KAZUHIRO NOGI/AFP via Getty Images
Be the first to comment
Do you want to comment on this article? You need to be signed in for this feature