Gig economy: how to make it work for you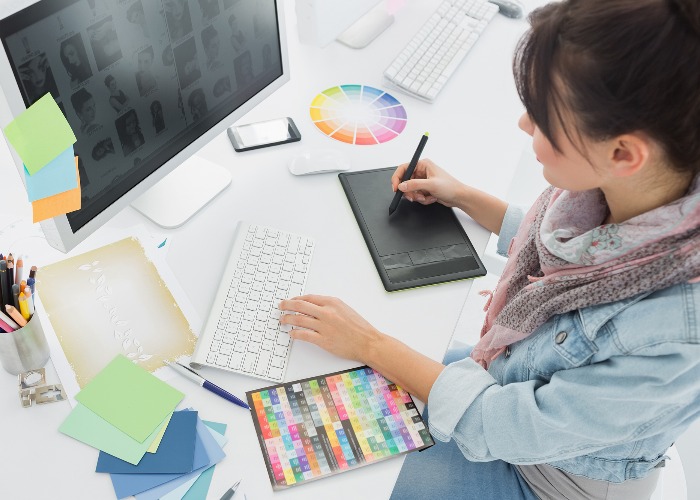 From writing CVs to creating jingles, there are thousands to made in the gig economy. In this article, three people reveal how they made the gig economy work for them and their tips for success.
Around three million people in the UK work in the gig economy earning anywhere from under £250 to £100,000 a year.
They make money successfully bidding for tasks via digital platforms and are paid on a short-term project basis.
Over a third of these jobs are found via websites or apps such as TaskRabbit, Fiverr, PeoplePerHour and Upwork, according to the 2018 gig economy report by the Department for Business, Energy and Industrial Strategy.
Access different skills
People can use the gig economy as their main source of income, or to top up a traditional salary, and is attractive to employers as it allows them to access a pool of different skills, which one individual may not have.
Thea Paraskevaides, 32, from Brighton runs Beaumont Music, which sells designer accessories for musicians.
She also freelances on PeoplePerHour as a graphic designer and then uses the money to hire other people such as videographers and developers to help with projects for her own business.
"We have hired over 100 different freelancers on the platform to the value of over £10,000 with so many different skill sets," says Paraskevaides.
"For so many reasons, this is so much more efficient than having a single part-time employee who certainly wouldn't have the same breadth of skill."
Despite the growing competition and market saturation on these gig economy sites, some freelancers have managed to curve out a profitable niche for their skills.
If you're looking for further advice on how to make money from the gig economy, check out our guide.
How jingle writing can be profitable
Twenty-eight-year old musician Sarah Hughes earns £4,000 to £8,000 a month as a freelance jingle writer, singer and voiceover artist.
She works on projects for YouTube channels plus major toy and games brands, including Smyths Toys and John Adams.
Hughes, who studied BA Music at Newport University, started freelancing when she graduated six years ago and immediately signed up to a number of online platforms.
"I have always had a passion for singing and creating original music, which is what attracted me to working freelance after getting my qualifications," comments Hughes.
"I'd never had any experience working full-time and knew I had a passion for creating original music, so I wanted to see if it was possible to pursue a career of creating music specific to a brief."
She quickly discovered there was a demand for turning people's lyrics into songs, and the work began to come in thick and fast.
"As I became more established in the freelance world, the work has begun to come to me," says Hughes.
"I started out producing a lot of work for YouTube channels and one-time briefs, whereas I now have a stable collection of return customers.
"My briefs come from all over the world.
"I am currently writing mainly children's songs for YouTube, but I also do product and business jingles for nurseries, real estate, schools, education and children's toys.
"I really like working with educational organisations as they allow me to give a little back whilst doing what I love."
Become an Uber driver UK: pay, tips, hours, tax, rights, driving licence and how much you can earn
'Pick and choose' projects
The ability to pick and choose her projects as well as the financial benefits have enabled Hughes to give up her part-time job working in a cinema.
"I was never prepared for the financial benefits of working freelance, but it essentially means that I'm rewarded financially for the increased workload I take on, whereas this can become something you're not always rewarded for when you're on a fixed salary."
And being able to work from home means she can live anywhere, so an upcoming move from Gloucestershire to Monmouthshire with her husband will not affect her work.
Having tried a variety of platforms, Hughes now sticks to Fiverr because she is not restricted by tiered payment systems and receives tax payment support.
Her advice to other freelancers is to value your work and not to settle on a set fee straight away.
"Take the time to build up a feasible cost so that you can get the maximum amount a job is worth every time."
This advice is echoed by Rory Laughton-Scott, founder of The Career Agent, who uses Upwork and PeoplePerHour to gain work writing CVs to top up his income as a career coach.
"Sometimes it can be a race to the bottom as price wins," says Laughton-Scott.
"But you can increase your price once you get the job and renegotiate your fees."
The 32-year-old from London says it takes time to build up a profile, win projects and gain reviews, but it can be a great way to earn a living or money on the side.
"It is not a get rich quick scheme. You have to build up a reputation and reviews, but for the right type of person it works really well."
Top tips for winning projects
1. Review the competition
Look at the biographies of older and successful accounts and see how they describe themselves. Then write your own bio to ensure you stand out and provide something different.
2. Act as a buyer
This is a little bit sneaky but a great way to beat the competition. Pose as a buyer with a project and then review the proposals that come in from your main competitors.
Based on their proposal and pricing, you'll know how to position yourself better for future projects.
3. Choose your words wisely
Avoid saying "I can do" and elaborate on how you can do it.
For example, rather than simply stating you are a creative designer, explain how you can make their logo communicate with their audience, which demonstrates additional marketing skills.
4. Send a custom sample
Rather than submitting a generic proposal and samples of your work, send a custom sample instead. Get 20% or less of the task completed and attach it to your proposal.
Just make sure you only do this for buyers with good reviews, rather than time wasters.
5. Increase your skill set
The fastest and easiest way to increase your earnings is to increase your skill set.
Many buyers want to work with a "Jack of all trades" as it's easier for them to communicate with just one. Even if you can't be all that, get a team or outsource.
Be the first to comment
Do you want to comment on this article? You need to be signed in for this feature