How to handle doorstep sellers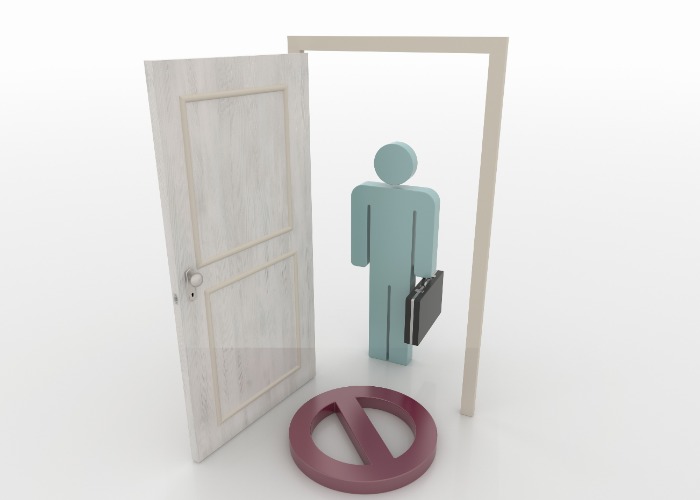 Plagued by doorstep sellers, bogus or otherwise, knocking on your door and pressure selling? We reveal your rights and how you can send them packing.
I'm on the doorstep with my toddler, having answered the door to a stranger in a high-vis jacket. We are alone in the house as my partner is at work.
Before I can deter him, the man has sprayed a square metre patch of our driveway with his pressure hose to demonstrate how clean his machine will make it.
His companion, also in a high-vis jacket, has blocked our driveway with his white van. My toddler thinks this is great fun, but I am not so at ease.
They quote me a price to do the full driveway, telling me they are only in the area for three days, so I have to sign up by tonight.
With no intention of doing so, I accept a leaflet and am relieved when they leave.
My curiosity gets the better of me as I check out the pamphlet and the website of the company it is supposed to represent. The firm exists, but it is clear these men have nothing to do with it.
There are numerous complaints online from unhappy customers saying these workmen are bogus and are trawling the country looking for new marks.
Instead of a slightly grubby driveway, we have one with a silly looking white box on it, which I now have to find someone reputable to clean.
Pressure selling
We are fortunate enough to live on a nice road, but the downside is that at this time of year we are plagued by doorstep sellers. They ask if we want our hedges cut, our driveway pressure-cleaned or our roof cleared of moss.
While some unwanted callers beat a quick retreat when we say no, others are more persistent.
I recently answered my door on a Sunday to a man who told me he could cut our hedges for £180. When I said no, he dropped it to £150 and said he could start right away.
My husband told me this was extortionate for what he knew was three hours work, as he normally does it himself.
So how do you deal with these people? Once they're on your doorstep it can be hard to turn them away and this is exactly why they use this approach.
Here are my tips for handling unwanted doorstep sellers.
Looking to improve your home? Compare loans with loveMONEY
Don't answer the door
An Englishman's home is his castle and you don't always have to open up. Admittedly, that's not always an option if you're waiting for a delivery.
I recently answered my door three times in one week when I was expecting a chest of drawers to be delivered, only to find two parcels and our window cleaner.
If you don't know who's there, don't answer and they will soon go away. If you get a viewer installed in your front door, you can see who's knocking before you open up.
You could even install a smart doorbell with a camera so you can simply check who's using your phone.
The '1950s housewife' approach
Have something ready to say to unwanted callers to make them leave.
Often when I'm door knocked, I tell the caller I'll have to "speak to my husband first". I am a feminist and once worked for Germaine Greer, but I find this works a treat.
It'll also work for men of course. Tell the seller "sorry, but I'll have to check with my wife/partner first" or you could always politely let them know you're not interested.
Be firm and shut the door.
Looking to improve your home? Compare loans with loveMONEY
Ask to take a leaflet or number
Whether you are genuinely interested or just want them to leave, you can offer to take a leaflet or a phone number. That way you end the conversation amicably and send them on their way.
If you are looking for a quote, you can research them on your terms, rather than being pressured. Always remember a genuine salesperson or workman will accept that you need time to decide.
While you may be quoted a bargain price, be wary that bogus workmen sometimes carry out extra unasked for work on homes that can run into thousands of pounds – and may need to be fixed by reputable tradespeople.
Rogue traders often target vulnerable or elderly people and have even been known to escort them to ATMs to get their money.
Doorstep scammers: tips for protecting yourself and elderly parents
Your consumer rights
You could ask whether the seller has a pedlar's certificate.
Essentially this is a document allowing them to sell goods or services door-to-door anywhere in the UK for up to a year.
Before you place an order with a doorstep vendor, there's also certain information they must provide.
Mandatory information includes their company name, address, contact details and how to complain (with an address).
They must also be transparent about pricing, payment, delivery dates, as well as any conditions around contracts or subscriptions.
Doorstep selling rules changed in 2014. Under Consumer Contracts Regulations, once you enter a contract or order goods with a doorstep seller, you have a 14-day cooling-off period in case you change your mind.
Rules under Consumer Contracts Regulations don't apply certain things, including:
Perishable goods, such as food or drinks;
Any items or services worth less than £42;
Land, insurance, credit or investment agreements;
Bus, train, flight and other tickets for passenger travel.
If the doorstep seller doesn't explain you have the right to cancel within 14 days, you get the right to cancel those services at any time in the following 12 months.
What's more, they are committing an offence and could face an unlimited fine and go to prison for up to two years if they don't tell you about your right to cancel.
If you want to cancel, contact the company within 14 days of signing and explain that you wish to do so. There are template letters online that you can download to make this easier.
Any additional contracts, such as credit agreements, should automatically be cancelled but it's a good idea to remind the firm to do so.
If you are unhappy with the firm and its services, you could check to see if they are a member of the Direct Selling Association (DSA).
If they are, you can contact the DSA, who can order them to pay compensation if they have breached its code.
Establish a no cold calling zone
If you and your neighbours are fed up of being pestered by doorsteppers, there is action you can take.
Thanks to a joint initiative between Trading Standards and the police to cut doorstep crime, you can have your neighbourhood designated a no cold calling zone.
A consultation process is required, and these criteria have to be met before a zone can be set up:
A history of doorstep offences or distraction burglaries;
A vulnerable population;
A defined geographical area.
While it doesn't make it illegal for a trader to doorstep homes in a no cold calling zone, the idea is to give householders more confidence to say no and hopefully deter traders from calling.
If you need a personal loan, you can compare different loans at loveMONEY.
How to find reputable tradespeople
If you need some work doing around your home, don't be tempted to use the first person who knocks on your door.
Ask your neighbours or friends for suggestions of reputable traders they've hired or use websites such as Trustatrader.com or Ratedpeople.com to find workers you can trust to do a good job.
Always aim to get at least three quotes for any work and recommendations from genuine previous customers.
If you are worried that a doorstep caller has targeted you, ring a friend or neighbour to help verify that the salesperson is genuine. If you are concerned that they are a bogus caller, inform the police on 101.
If a rogue trader or distraction burglar has stolen money from you and is still at large in the area, call the police on 999.
Remember, if in doubt, say no and send them on their way.
Be the first to comment
Do you want to comment on this article? You need to be signed in for this feature