Monzo mobile banking app review: what's it like for current account holders?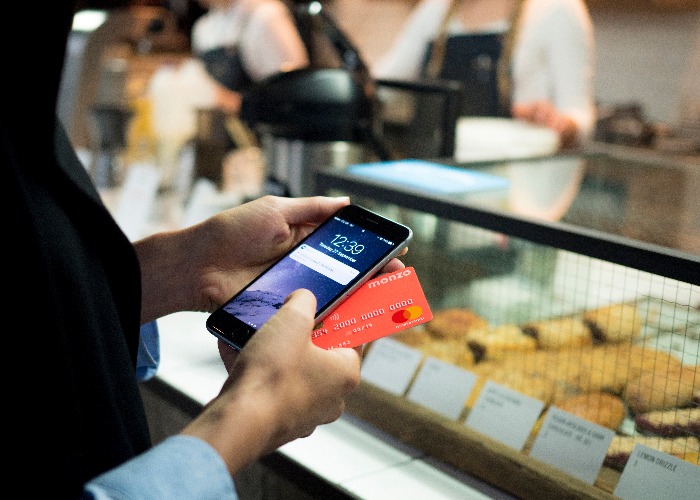 Discover how the Monzo Banking app stacks up on security, logging in, making payments and more.
If you're thinking of switching your current account to Monzo, you'll probably want to factor in how good the mobile banking app is before you decide.
When it comes to finding a new current account, the mobile banking app experience is increasingly one of our top priorities.
In the seventh part of our banking app review series, we take a look at the Monzo Mobile Banking app to see what it has to offer when it comes to features, security and more.
Reviews on NatWest, Halifax, Santander, TSB, Barclays and first direct banking apps are also available.
Why Monzo?
Monzo is an app-based challenger bank that claims 35,000 people open an account with them every week.
The app-only offering appears to be a hit as it keeps attracting new customers thanks to its range of features and fee-free holiday spending (which was the main draw for me).
In the last three months of 2018, nearly 6,600 people switched banks in favour of Monzo.
If you are considering switching your current account, you can compare accounts at loveMONEY
Who can get the Monzo app?
The Monzo app is available for download from the Apple App Store and Google Play only, allowing you to use it on your iPhone, iPad, iPod Touch and Apple Watch, as well as Android smartphones.
What you can see
When you log into your Monzo Mobile Banking app, you will be able to see your balance and what you have spent, as well as recent transactions.
What you can do
The Monzo Mobile Banking app allows you to:
View balances and transaction history;
Set up Direct Debits and standing orders;
Set spending budgets;
See a summary of your spending;
Set up a flexible overdraft;
Send instant bank transfers and pay via Bluetooth
Receive notifications if you're spending too fast;
Pay on your phone via Apple Pay or Google Pay;
Use your card anywhere in the world;
Withdraw up to £200 abroad for free every 30 days (3% charge thereafter);
Send money overseas;
Spend money abroad with no additional fees;
Set up flexible savings pots or Cash ISA.

What we like
Here are a few things that we like about the Monzo Mobile Banking app.
You can use your card anywhere in the world
The Monzo card can be used anywhere in the world with limited fee-free spending – ideal for short holidays.
Using Monzo is also arguably more convenient than a traditional bank as you don't need to tell the bank when you go away to avoid getting your card accidently locked.
Quick and easy to set up
I was surprised at how quick it was to set up an account, although the set-up may deter some tech-shy people.
Monzo only required a few personal details, a picture of my driving licence and a quick video of me confirming my identity, which was verified in less than 24 hours.
Ease of use
It's very easy to request a PIN reminder or freeze your card in-app, which is a useful tool if you lose your card.
'Committed spending'
I think this tool is pretty nifty by allowing the user to see all scheduled payments in one place, including Direct Debits, standing orders and online subscriptions.
On the subject of spending, Monzo's app allows you to exclude committed spending and set a budget, which can be sorted into many sections such as bills, eating out and expenses.
This feature can offer a helpful way for you to determine a more realistic budget by accounting for other areas that people may overlook.
Bill splitting
Ever been in an awkward situation where you need to split the bill at the end of a meal, but can't figure out how to split it without whipping out a calculator?
Monzo allows you to split the bill between several people easily so no-one overpays (head this way to learn more)
Monzo Plus
While the upcoming packaged account Monzo Plus has not yet been released, you can join the waiting list using the app.
Monzo Plus is the bank's first packaged account, allowing you to pick and choose the perks you want.
If you want to find out more about this account, read the best UK packaged bank accounts.
What we don't like
Screenshots
When I was testing the Monzo app on Android, screenshots were allowed, flagging some security concerns, although screenshots can be manually disabled.
Security
During the sign-up process, you don't get the option of adding a PIN or a fingerprint scan, although I later found out the latter is available.
Unfortunately, I found it hard to find out how to add any security and eventually used Monzo chat to find out (the waiting time was 15-20 minutes in the evening).
If you want to add a fingerprint option, you go to account, settings and click profile at the top right-hand side followed by settings, where you select 'use fingerprint to unlock app'.
You need to close the app after giving your fingerprint – not log out like I initially thought – and the new fingerprint setting will be activated.
There's no PIN option, which means you could end up with less security if your phone doesn't have a fingerprint scanner.
Logging in and out
If you don't have a fingerprint scanner to protect your phone, you can enter your email when logging in to Monzo, who will send you an email with a link. But, this doesn't seem very secure to me.
Theoretically, if someone knew your phone passcode and email address, it could be easy to gain access to your account, particularly if you use Gmail as emails pop up when they arrive.
When I asked about a PIN option, Monzo says money cannot be moved around in app without a PIN, so it's still secure.
Despite this, I would feel better with more security options.
What other customers think
Google Play Store rating: 4.4/5
Apple App Store rating: 4.7/5
What do you think?
Have you got Monzo's Banking App? Share your likes and dislikes in the comment section below.
More in this series:
NatWest Mobile Banking app review
Halifax Mobile Banking app review
Barclays Mobile Banking app review
Be the first to comment
Do you want to comment on this article? You need to be signed in for this feature