Sian Astley: how the TV presenter built her property portfolio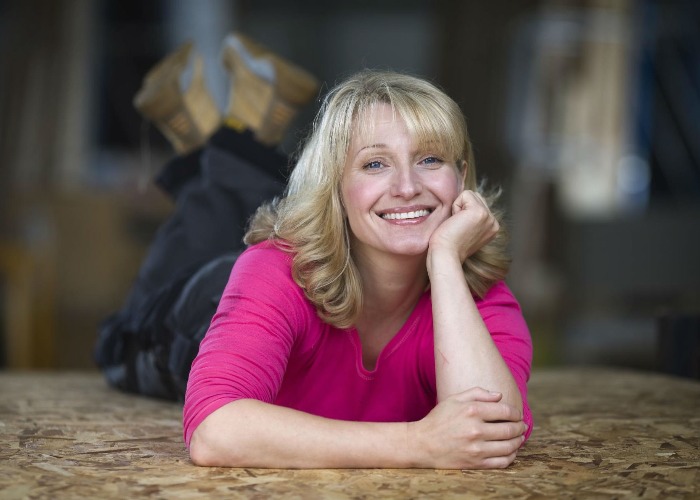 The BBC and Channel 5 star on why an eye for design alone just isn't enough to make money.
Today, Sian Astley is an interior design guru, advising renovators and self-builders on how to best spend vast amounts of money on their properties.
Astley's featured in BBC 1 documentary 'Getting the Builders In' and runs her own interior design firm, Moregeous. She's also a landlord, Airbnb host and public speaker, due to appear at the Homebuilding & Renovating Show in Birmingham in March.
It's all a far cry from 1996, when Astley was a law graduate on housing benefits, trying to make it in a male-dominated industry.
And despite all her success, Astley says she's still "really rubbish with money" – not that it's held her back.
Find a better rate on buy-to-let and residential mortgages here
Getting on the ladder with £1
Though she's now known as the 'lady builder' and 'wallpaper wizard', Astley had no family connection to building or design.
So she started out at a building company in Manchester.
It wasn't a particularly glamorous job – the company specialised in damp-proofing – but it gave her a foothold into the industry.
As Astley recalls: "I found it really fascinating, seeing houses being taken apart and put back together."
She then got a grant from the Prince's Trust to set up her own building company (you can find more advice on funding here).
At the same time, she took her first step onto the property ladder.
Admittedly it was a risky approach, certainly when viewed by today's standards. "I saw a sign saying you can buy a new-build flat for a pound, with a 100% mortgage," she explains.
"I'd been homeless, I'd never had a chance to buy my own house, so this seemed like the perfect opportunity to get some stability and security which, for me, is what houses represent."
This gave Astley the opportunity to use her newly-gained building and decorating skills: "I'd just come back from Portugal and I decided to turn this flat into a Mediterranean villa."
When their fixed-rate mortgage came to an end two years later, Astley and her partner sold the flat for £15,000, using the money to buy and renovate a two-bed terraced house in Stockport.
And from there, Astley's property portfolio grew.
You might struggle to get a mortgage for a £1 these days, but there are many other ways to get on the property ladder. We've put together a no-jargon guide.
Renovation
Thanks to TV, Instagram and thousands of online tutorials, many young couples are inspired to turn small and unpromising properties into something more valuable.
Not so back in the 1990s, Astley recalls.
"We were quite gung-ho: we just got stuck in. I don't think it was as easy to do then as we didn't have Google, or YouTube, or all these endless property shows".
While many in the era tried 'flipping' – renovating properties in order to sell them on – Astley started buying properties to hold and rent out.
"Even if you did a really crap job at doing a property up you tended to make money anyway", admits Astley. "Whether or not that was a good thing I'm not sure!"
"I think with hindsight it was probably wasn't… I was part of that and it's something that sits a bit uncomfortably with me now, to be honest."
Astley believes making money from renovation can still be socially responsible, however.
In 2004, she bought a Victorian semi-detached house which had been previously divided into poorly-renovated flats.
She converted them into small if characterful units where young professionals could save up the deposits to get themselves on the property ladder: "I was creating quite unusual properties to rent… they're hugely popular and remain hugely popular".
Airbnb: how it works, how to list your home, tax, costs and how much to charge
'Add other strings to your bow'
Many would settle for a career in interior design and a few rental properties, but that's not what happened to Astley.
The 2008 crash was a wake-up call about the dangers of depending on property.
"When the property market collapsed, I was absolutely shafted. It probably set me back a decade in building up my portfolio to the point it could provide a pension."
More broadly, Astley explains, having an eye for design just isn't enough.
"People think interior design is a really easy way to make money and if they've done up their old house nicely they can have a career in interior design, and it's just an absolute fallacy.
"It's really difficult to have a full-time career in interior design, unless you're working in the commercial corporate world."
There is a British Institute of Interior Design, which offers a six-year professional pathway into the industry.
But, Astley warns, "you have to have other strings to your bow and have various income streams."
These 'side hustles' include public speaking and TV: she's currently consulting for a new BBC 2 show 'Your Home Made Perfect'.
She's an Airbnb 'superhost' and runs an Airbnb Experience tour, showing budding renovators around 'Moregeous Mansions', her (mid-renovation) home in Manchester: "I've lived without a kitchen for three years, which is insane".
Astley believes her multiple income streams are far from unusual: "I actually don't know anyone who makes a full-time occupation from buying and selling properties. Most of the people also own and rent out properties and that says something, doesn't it?
My side hustle: how Mike Maxwell launched the Football Shirt Collective
Money and confidence
Despite risking vast amounts of money since her 20s, Astley says she's only now learning to be comfortable with money.
"I wasn't brought up with much. I had big issues being comfortable around money. My partner calls me tight because I fear not having enough money!"
Astley says one challenge has been her changing attitude to taking risks with money.
"I remember people saying 'Sian you're risking everything by buying that block at £425,000'. My attitude was that I never really had any money, so if I lost it all I'd just pick myself up and start again.
"I think the older you get, the more you fear losing what you have."
Broadening her career beyond renovation has brought Astley another difficulty.
Unlike 'flipping' property, where the value is largely dictated by the market, it wasn't obvious what to charge for consulting and building, which is in part down to confidence, she says.
"I have a problem knowing what I'm worth".
Visit our sister-title lovePROPERTY for self build, renovation and interior design tips
A male-dominated industry
'Lady Builder' is a term Astley uses herself – and indeed when she started renovating in the 1990s, there were very few other women in the trade.
Now she's just one inspiration among many for wannabe female renovators.
"I think there are definitely more women and girls who are having a go at renovating…for a lot of people the 'fear factor' has been eliminated by online content and seeing other people doing it"
She's particularly keen to encourage young women to enter the building trade: "there's a lot of money to be made: there's a massive shortage of skilled builders and tradespeople in the UK and that'll be exacerbated post-Brexit."
For those that want a career specifically in interior design, Astley has some words of warning.
"You've got to be prepared for a very boom or bust life: there's either lots of money in the bank or no money in the bank."
"I'd always say have a backstop idea and an ongoing income. I don't think it's an easy job"
Nevertheless, the 'wallpaper wizard' is still papering, despite suffering a serious back injury 10 years ago.
"I should be more hands-off, but I just can't help getting my hands dirty! When you get your hands dirty you carry on learning."
You can follow Sian Astley's Moregeous blog here, and see her speak at the Homebuilding & Renovating Show in Birmingham on the 28-31 March.
Be the first to comment
Do you want to comment on this article? You need to be signed in for this feature