Financial challenge: can I cook Christmas dinner with only yellow sticker items?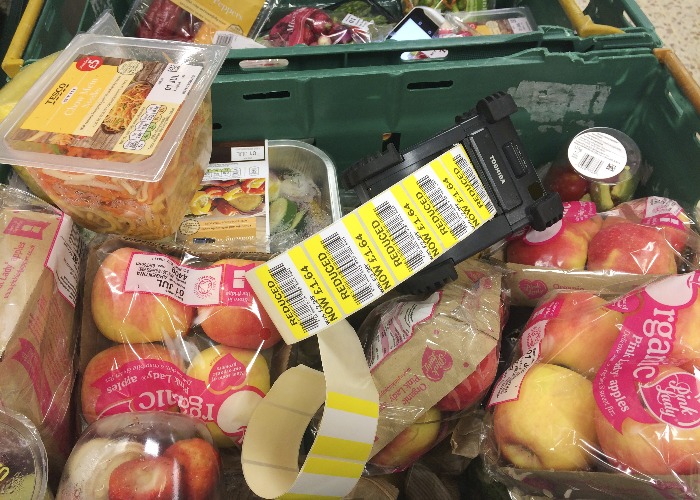 When forced to cook an early Christmas meal, I raided the bargain bins and cut costs by almost 45%.
A couple of weeks ago, my Christmas-loving cousin had what she described as an "epiphany" over our family WhatsApp group.
"Since we won't be seeing each other on the 25th, let's have a big family shindig before. A proper dinner with Secret Santa and the whole caboodle".
There was just one problem: with my house being the most convenient for everyone to get to, it was assumed I'd play host.
Perhaps somewhat curmudgeonly, I didn't relish the notion of preparing a feast for four fussy diners, especially with the average household spending £216 on food over Christmas, according to campaign group Love Food Hate Waste
So I decided on a money-saving experiment. Is it possible to cook a yuletide meal entirely from ingredients found in supermarkets' yellow sticker bins – i.e. massively reduced items soon-to-be going out of date?
The best time to buy
If you want to find the best bargains on your groceries, timing is essential so I needed to do my homework.
Venturing into my local supermarket, I approached a teenage shelf stacker and asked the time at which the store started to slash its prices.
Sniggering, he clearly had me pegged as a massive miser or supremely skint, but nevertheless suggested I could bag discounts of up to 75% after 7pm.
If you're a fan of bargain goods, check out our article explaining when you can grab discounted items from the big supermarkets.
So, what was on the menu?
Starter: pâté on toast with avocado salad
To kick off, I opted for a traditional Christmas dish that wouldn't be too much of a drain on either my limited budget or culinary skills.
Bags of salad were easily sourced at just 36p from the bargain shelves and I found yellow sticker avocados for 25p.
The pâté, however, was my first (and only major) challenge failure as there wasn't a yellow sticker find in any of the supermarkets I visited.
Luckily, it made better financial sense to stick with supermarket own brands and I bought two tubs in Tesco for under a pound.
While I was a little nervous what my guests would make of such low-cost ingredients, the starter was a hit and I added extra flavour using herbs already in the cupboard.
Total cost
Two bags of bread rolls: 10p per bag (original price £1.00 per bag)
Three avocados: 25p per fruit (original price 85p per fruit)
Bag of salad: 36p per bag (original price £1)
Cucumber: 18p (original price 35p)
Bag of coriander: 26p (original price 55p)
Two tubs of pâté: 45p per tub
Main course: honey-cured gammon with (almost) all the trimmings
Unless you're a veggie, meat will likely be the star attraction on Christmas day.
After hours of unsuccessfully sifting through discount aisles, I eventually came across a honey-cured gammon joint in Tesco reduced by more than 50 per cent.
Coming from the Finest range, the meat definitely elevated the meal above the quality of my usual Sunday lunch.
Although the veg was easy to track down and also massively reduced to just 38p per bag, it definitely lacked the crunch you'd find with fresher produce.
Total cost
Honey-cured gammon joint: £3.60 (original price £7.50)
Two bags of sprouts: 25p per bag (original price £1 per bag)
Bag of parsnips: 21p (original price 36p)
Bag of ASDA mixed vegetables: 61p (original price 89p)
Two bags of Tesco mixed vegetables: 38p per bag (original price £1.50 per bag)
Box of six Bramley apple stuffing stars: £1.80 (original price £2.60)
Bag of potatoes: 75p (original price £1)
Festive favourites
With Christmas just around the corner, I knew my guests would expect mince pies but worried about finding bargains at this time of year.
This was when I encountered the sinister side of yellow stickers as a crazed bargain hunter tried to snatch the last remaining box from out of my hands in ASDA.
I'm proud to say I walked away with the prize.
When it came to other Christmas favourites, I bent the rules slightly with a multi-buy deal from Tesco's frozen range, picking up pigs in blankets, risotto balls and Christmas tree-shaped chicken bites for five pounds.
Total cost
Box of six mince pies: 41p (original price 75p)
Pigs in blankets, risotto balls and chicken bites: £5
Dessert: trifle and Christmas cupcakes
As nobody in my family can stand Christmas pudding, I decided on trifle as an alternative and luckily, there were plenty of yellow sticker options for this traditional Christmas dessert.
This was also the point I finally embraced the festive spirit. Rifling through a trolley of reduced items in Co-op, I spotted 12 Christmas cupcakes frosted with the smiling faces of Santa and Rudolph.
Total cost
12 Christmas cupcakes: £4.50 (original price £6)
Two boxes of jelly and custard deserts: £1.00 (original price £1.60)
The final bill
After doing my sums, I worked out my yellow sticker meal had cost just £21.79 or £4.36 per head.
Had I paid the original prices, I'd have forked out £39.65 in total and £7.93 per guest.
This means I managed to slash my bill by 45%, which I'd definitely class as a money-saving success (though not quite as successful as my fellow loveMONEY writer!).
And I'm pretty sure I could have saved even more if I'd waited until later in the day to do my shopping.
If you can't make it to the supermarket at midnight to hunt down yellow sticker goodies, websites such as Approved Food specialise in items either nearing or just passed their best-before date.
The guests' reviews
And the taste? My family (including my mum, pictured above) all cleared their plates, which I took as a good sign, although the experience did take me back to my university days when I'd frantically search the supermarkets for any food going cheap.
And, while I may not be spending my Christmas Eve getting into a fist fight over cut-price carrots, I'll definitely be taking more notice of yellow stickers in the future.
Another thing is certain, I'll make sure someone else takes their turn to host next year.
If you love a supermarket bargain, be sure to keep an eye on our weekly roundup of the best deals from Aldi to Waitrose.
Be the first to comment
Do you want to comment on this article? You need to be signed in for this feature