Starting a business: how I got backing for my backpack idea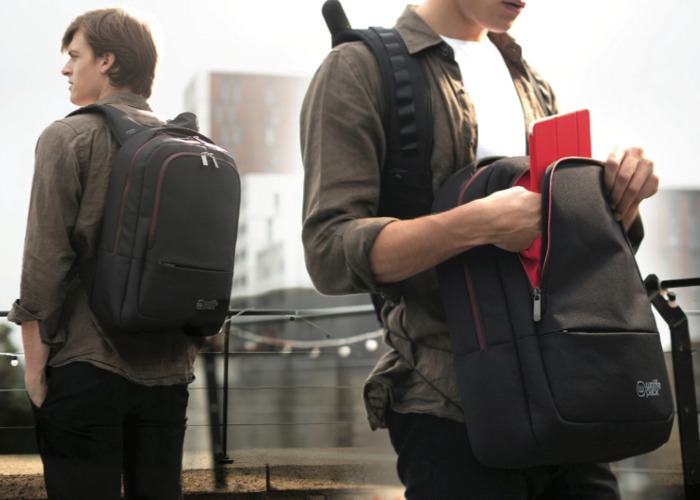 David Wolffe tells loveMONEY how he raised £200,000 to fund an idea he had for a new backpack.
When David Wolffe (pictured below) came up with an idea for a new backpack 15 years ago, one of the major challenges he faced was funding his venture.
The entrepreneur, previously group finance director of HMV plc, considered various options before opting for crowdfunding.
And it proved to be a masterstroke, with four campaigns on Kickstarter raising £200,000 to support the Wolffepack's development. The company recently won the Federation for Small Businesses Exporter of the Year Award.
"It has been the ideal way of generating funding to invest in a product launch, and as a means of getting market feedback on a new concept," he says.
The idea for the Wolffepack, which can be swung to your front without unstrapping, came to David when he was relaxing on a beach.
"I came home, built a prototype and it worked," he recalls.
"I turned my living room into a workshop, filed for patents and teamed up with some great designers."
Need a loan to fund your idea? Compare rates here
Raising funds for his idea
He opted for Kickstarter campaigns to raise much-needed finance as he felt the funding platform had established a reputation for supporting growing ventures (of course there are many more ways to raise funds).
On each occasion David used the platform, a video selling the project was posted and promoted on social media, via public relations drives, and through an email database.
Not only do you raise cash, but you raise awareness for the product and brand by creating an event. As the campaign has a limited time, he points out, this helps creates a buzz.
"The crowdfunding community are also very open to innovation and new ideas, so they are the ideal group to market to first," he adds.
One lesson he's learned is that the entrepreneur's journey often requires substantially more funding than originally anticipated as projects never go to plan.
"It is also good to tap into a range of funding sources, so as you do your research establish what the costs are of the various types of funding are," he adds.
Head this way to read our in-depth guide to your various options when looking to raise funds for your business venture.
Be the first to comment
Do you want to comment on this article? You need to be signed in for this feature