Pension clawback: my employer takes a cut of my pension and I can't stop them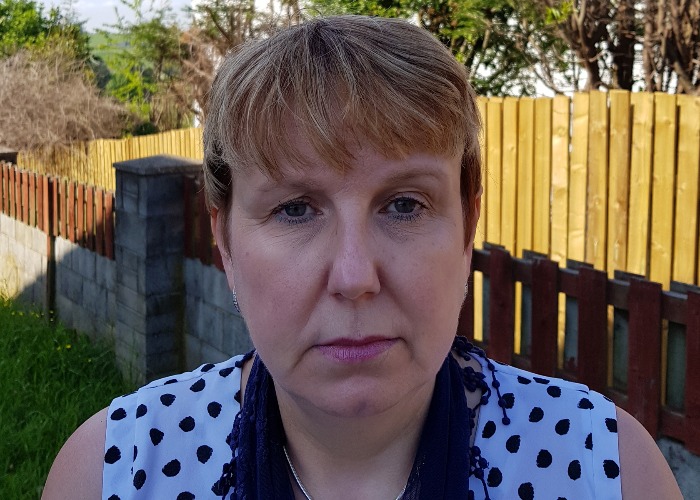 Retired Tracey Shaw and many others have seen their pension payments slashed due to a controversial tactic that's perfectly legal.
When Tracey Shaw reached the final year of her 36-year career with HSBC, little did she know that her company pension would be reduced by almost a third.
Tracey, 55, like many of the 51,000 people in the post-1974 Midland Section of the HSBC Bank (UK) Pension Scheme, is subject to clawback, a legal but regarded as largely unfair practice that allows employers to reduce the income workers receive from their company pensions when they reach state pension age.
As a result, many will have hundreds or even thousands of pounds taken away from their pensions, with some losing as much as half the value of their Basic State Pension.
Among those worst affected are women, the majority of whom work in lower paid jobs, with the longest service.
Even some women who are not entitled to a full State Pension or who have only paid a married woman's National Insurance Contributions will incur the clawback.
Because of this, some women as old as 70 are having to return to work to make ends meet or are relying on their family, or government or charity handouts to get by.
How pension clawback works
Clawback is based on the number of years an employee worked for the bank and the State Pension value either when they leave or the amount it was when the scheme closed in 2015 if they were still working for the company then.
That means, say for example you have two employees who have worked for the same period of time – a clerk and a manager – the clerk who retires on £5,000 a year gets the same deduction as the manager whose pension is £50,000 a year.
Tracey joined the scheme after starting at Midland Bank as a cashier at the age of 16 in September 1979 before it was taken over by HSBC in 1992.
After several moves, she ended up in banking solutions at HSBC-owned first direct, where despite having to juggle work and bringing up two children as a single parent, one of whom is autistic, she stayed on in the expectation of receiving a full company pension.
"I lost my house because I had to reduce my hours by so much," she said.
"The only thing that kept me going was my length of service and my pension pot."
But when HSBC announced it was closing the pension scheme in 2015, Tracey decided to take early retirement with a pension of £6,443.64 per annum.
It wasn't until she looked at her pension estimate in January last year that she found out it was subject to a State Deduction of £1,872.72 when she reached the State Pension age of 67.
Initially, Tracey assumed that State Deduction was related to opting out – also known as 'contracting out' – of Serps (State Earnings Related Pension Scheme, now known as the State Second Pension).
However, it was only when she came across the campaign group that she realised it was a deduction by the bank, not the Government.
'It discriminates against women'
"I thought how can this been legal, how can this be right? she said.
"Your private pension is completely different to your State Pension.
"To call it a State Deduction is a contradiction in terms.
"Where did it ever say that when you reach State Pension age the bank is going to take money off you?"
Sharon McGeough-Adams, 60, who was also with the bank for 37 years and founded the Midland Clawback Campaign with fellow former employee Shirley Eidman (pictured) two years ago, claims the rules of the scheme were never properly explained to members.
But the main problem, she adds, is that it discriminates against women and the lower paid.
"We feel that the communication was not clear, consistent and transparent all the way through," she said.
"We also believe that it's disproportionate and unfair because it indirectly discriminates against women employees, who in many cases make up the majority of those who are in the lower pay bracket.
"And because of the way clawback is calculated their pensions are affected the most. The bank claims that there were brochures and leaflets available explaining the rules, but the majority of people in our campaign say they never received one nor had it properly explained to them."
How the issue came about
Eidman, 70, worked for Midland Bank for 16 years before taking early retirement in 1997, during which time she paid a married woman's NI contribution.
But despite not being entitled to a full State Pension, she was deducted £720 per year from her £4,800 annual pension when she reached State Pension age at 60.
The Midland scheme was set up in 1974 and closed to new members in 1996.
Up until 2009, it was non-contributory, at which point members had to pay in through their salary, and it was based on final salary.
However, the clawback was introduced for those who joined the scheme from 1975 onwards.
Anne Johnson (pictured right), 61, started at the bank in 1973 and joined the scheme the following year, so she should have been exempt from clawback. However, she resigned when she became pregnant in 1980.
She rejoined in 1983 and went full-time in 1986, working until 2012 when she was made redundant.
Her company pension is just over £5,000, but the clawback on that is £1,140.
"All the way through my banking career my salary was poor to average," she said.
"But like a lot of my colleagues we thought that because we had put a lot of years in we would get a nice pension at the end, but not at all."
Clawback criticism
The campaign, which now has almost 10,000 members, has won support from MP Frank Field, chair of the Work and Pensions Select Committee, who has called on HSBC to stop making deductions.
In a letter to MPs, he criticised HSBC's stance, saying that the communication was clearly insufficient and the bank should consider taking action especially because many of the worst affected are long-serving and relatively low paid employees.
Field also wrote a letter to Russell Picot, chairman of HSBC Bank Pension Trust, who conducted an independent review of the rules of the scheme.
"The review was done by Russell Picot who is chair of trustees but is also a director of the pensions administrator Willis Towers Watson," said McGeough-Adams.
"So how can that be a truly independent review given his position?"
More than 40 MPs have so far signalled their support to those affected by the scheme and the campaign committee held an MPs briefing at Portcullis House this month to raise awareness.
Members also attended a town hall meeting at HSBC's Canary Wharf headquarters last December with UK CEO Ian Stuart and head of performance and reward Dean O'Connor as well as representatives from Willis Towers Watson.
McGeough-Adams said that, when asked at the meeting, Stuart said he had calculated the cost of removing clawback at £442 million, which pales in significance when compared to the £12.3 billion profit HSBC made last year.
She adds that hundreds of people have also written letters or emails to HSBC but most have just received a standard reply.
What the bank says
Asked about the clawback scheme, an HSBC spokesperson told loveMONEY: "Since the State Deduction was introduced in 1975, it has been consistently communicated in member guides, members' annual pension statements and the deferred statements that members receive on ceasing active membership.
"Through our UK pension scheme, we support a wide group of current and former employees and their dependents, including defined contribution members, and we have a responsibility to provide sustainable pension benefits to all members, both now and in the future.
"Retrospectively increasing the benefits for this section of the scheme, which was non-contributory for all members from January 1975 until July 2009, could be seen as unfairly preferring this group of members over others.
"We continue to engage with members and have recently written to all members to answer questions about the State Deduction."
While there has been little movement on those talks, the campaign's committee has set up a crowdfunding page to support its efforts, which has already reached more than £4,000.
But there is still work to be done.
"At the end of the day I feel angry and bitterly disappointed that it has come to this," said McGeough-Adams.
"For an employer who I trusted implicitly when I joined to have done this to its employees is sickening."
Be the first to comment
Do you want to comment on this article? You need to be signed in for this feature