Glint: are you better off paying with gold?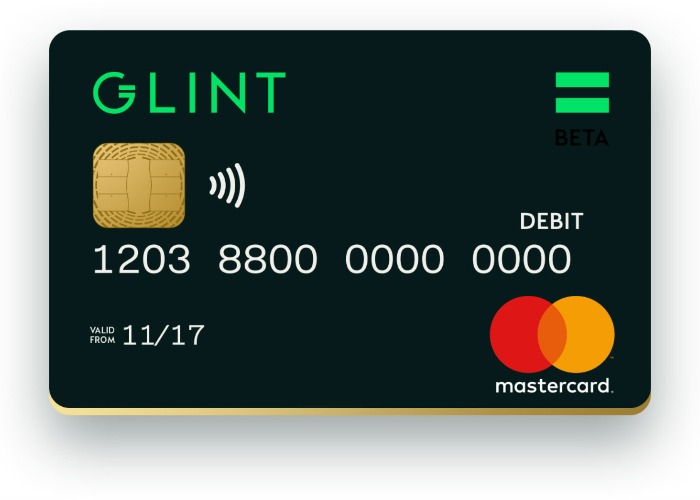 The way we use money is changing all the time, and Glint Pay is helping to transform the market by letting users pay with gold. Ben Davies explains what Glint is about.
Gold as an investment has always been contentious, but what about as an electronic currency?
Glint allows you to do just that, making regular payments, moving money between different cash 'wallets' and transferring money to contacts.
loveMONEY speaks to co-founder Ben Davies to find out what Glint is all about.
Why gold?
"Gold was once money – it has all the features and remits of a stable currency. It was the universal currency because it was a constant.
"It also stores well – that's one of the most compelling arguments."
How does Glint work, then?
"We hold physical gold by getting the money that you've paid and putting it into a physical wallet. You transfer that into a bank account and purchase gold which you effectively own.
"In your wallet you can have physical gold and some other currencies. You have a sterling wallet and a gold wallet and you can transfer cash between them. The card can be used for payments anywhere with the MasterCard logo.
"On top of that, there's the option of doing bank transfers or debit card transfers with no size limit.
"It's only on iOS but we'll be on Android within the next two and a half months."
Editor's note: Glint is now available on Android.
What about the fees?
"You'll be charged 0.5% to buy and to sell the gold. There's also a 0.5% fee for spending.
"That means for any transaction relating to gold totalling £1,000 for instance, you'd be forking out a fiver."
The buy and spending fees are waived until 2019 for the first 50,000 customers to load £1,000 onto the card.
What kind of guarantees are in place?
"The gold is held in Brink's in Zurich, Switzerland and it's 100% guaranteed by Lloyds of London and Brink's – the latter has custodial insurance with Lloyds.
"If the company were ever to lose a bar, it'd be out of business. That pertains to the agreement we have with our bar list – call it $50 million, as an example. We would have a client list that adds up to $50 million in gold that matches that list.
"As part of our legal structure, we confer all property rights to the individual so that in the event of our default, the gold is still legally owned by you."
What about fraud protection?
"If you spend over a certain amount on your card in a day, you'll get a system alert. We need to be careful about fraud – in fact, we need to do more than the banks do.
"You'd be amazed at the number of people who open up accounts like this to try to do something fraudulent. We've got transaction monitoring systems to combat it.
"Largely, the risks are no different than any bank, such as the classic money laundering. Or they'll buy some gold, sell it then try and withdraw it. They'll always get frozen and their accounts automatically shut down.
"For security reasons you can block the card in-app, accessing it with biometric fingerprint identification when you need to."
Hasn't gold historically been volatile?
"Half of the volatility in gold is from the underlying volatility of money. In the last 15 years, the periods where gold has gone up the most have been when there is a deflationary contraction in the dollar.
"In any given day, gold feels like it's going up and down. Stock markets go up and down by 3-4% and that's an asset class."
What's in it for travellers?
"A traveller can save themselves 5% forex fee by using Glint.
"After Brexit, the pound fell 25% against the dollar. In sterling terms, gold went up in value. If I go to Europe, my gold has effectively kept pace with the euro. Companies often charge twice our rate of 0.5%.
"Over the course of the next few months, we'll have 17 settlement currencies."
It is now also possible to load Euros and US Dollars onto Glint.
Some people have compared Glint to Goldmoney. How would you say the two platforms differ?
"Goldmoney did a good job of improving the mindset of using gold as money.
"What it hasn't been able to do is provide liquidity on gold. When I buy something, it deducts in real time like a bank card.
"Goldmoney has a preloaded card so things take longer. You'd have to have the gold and move it, which could take one or two days and doesn't achieve the objective of keeping you in gold at all times.
"It created that first stepping stone. There's a reason we arrived later than it did. We'd already started when it existed. That was frustrating but we're excited."
LoveMONEY's verdict
Glint appears enticing on the surface, but it's important to pay attention to those fees.
Beyond the novelty value of the first transaction, I'm struggling to understand why anyone would pay a transaction fee to buy something with gold in the UK when they could just buy an item with no fees attached.
That said, it can be useful for travellers who want to save themselves the higher transaction fees on regular credit or debit cards.
But if you're organised about it you can save yourself a load of cash by either scouting out the best exchange rates and by getting your currency in advance or by loading your money onto a prepaid card and withdrawing from ATMs.
Read more on Best foreign currency exchange rates: don't get ripped off on your travel money and The best UK prepaid cards for spending abroad
Be the first to comment
Do you want to comment on this article? You need to be signed in for this feature