Burglary hotspots UK: the towns and places with the most break-ins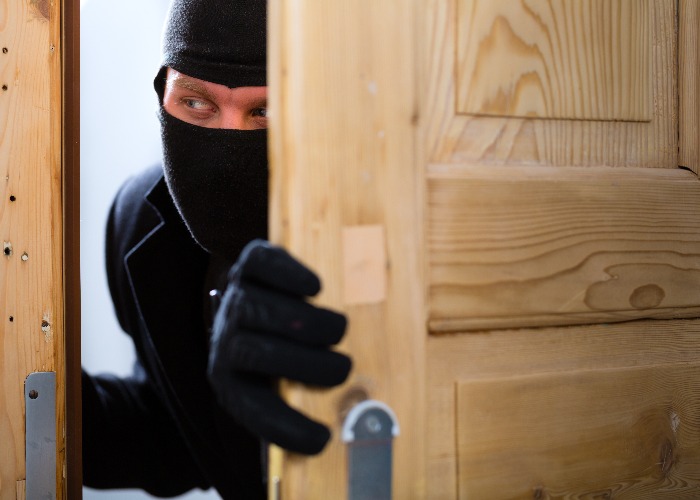 Henley-in-Arden has been revealed as the UK's burglary hotspot with proportionally more break-ins than anywhere else. So, where does your hometown rank?
There's not much going on in the small Warwickshire town of Henley-in-Arden.
Apart, it seems, from burglaries: it's topped a list of burglary hotspots across the UK.
Price comparison site MoneySupermarket analysed two million home insurance quotes over the past two years to identify the postcodes with the highest and lowest rate of claims for home contents theft.
Henley-in-Arden was found to have over 50 claims per 1,000 insurance quotes over the past five years, closely followed by the Essex villages of Blackmore, Fryerning, Ingatestone and Stock.
Cities also featured heavily in the top 20 burglary hotspots, including parts of Edinburgh, Leeds, Manchester, Cambridge, Bristol, Liverpool, Leeds and London.
Although London residents are likely to believe they live in a crime hotspot, the capital's rate of burglaries was only slightly above the national average of 15.57 per 1,000 quotes, according to the data.
Scroll down for the postcodes where a burglary is most – and least – likely to occur.
Burglary: insurance tips to better protect your belongings
Is burglary getting worse?
MoneySupermarket found that the number of burglary claims increased by 16% this year.
Official crime figures also show a rise in burglaries, albeit by only 2% in the year ending June.
The difference is likely to be due to MoneySupermarket monitoring home insurance – which many poorer households might not have – whilst official figures record crimes reported to the police.
Overall, the rate of burglaries has fallen by three-quarters since the 1990s and you've got one-in-50 chance of being a victim, according to the official figures.
If it does happen to you, it can have lasting negative effects when it comes to getting cover in the future.
MoneySupermarket found people previously targeted by thieves paid 16.8% more on average for contents insurance.
How to cut your home insurance premiums
Burglary hotspots
| | | | |
| --- | --- | --- | --- |
| Rank | Postcode district | Post town | Contents theft rate (per 1000) * |
| 1 | B95 | Henley-in-Arden | 50.46 |
| 2 | CM4 | Ingatestone | 49.76 |
| 3 | IG5 | Ilford | 47.56 |
| 4 | EH4 | Edinburgh | 46.43 |
| 5 | LS8 | Leeds | 46.30 |
| 6 | B94 | Solihull | 45.80 |
| 7 | GU23 | Woking | 45.30 |
| 8 | SK8 | Cheadle | 45.29 |
| 9 | EH15 | Edinburgh | 43.99 |
| 10 | M21 | Manchester | 43.98 |
| 11 | CB5 | Cambridge | 43.48 |
| 12 | M20 | Manchester | 42.92 |
| 13 | BS7 | Bristol | 42.79 |
| 14 | RH8 | Oxted | 42.65 |
| 15 | SK4 | Stockport | 42.08 |
| 16 | L16 | Liverpool | 42.04 |
| 17 | LS17 | Leeds | 41.81 |
| 18 | BS9 | Bristol | 41.78 |
| 19 | TW11 | Teddington | 41.32 |
| 20 | IG9 | Buckhurst Hill | 41.2 |
How to protect your home
Despite widespread concern about burglaries, almost half of us haven't taken any precautionary measures to protect our homes, such as burglar alarms, window locks or security cameras.
The Metropolitan Police has put together a list of tips to make your home safer, which we've listed below:
Lock your doors and windows every time you leave the house, even when you're just out in the garden, remembering to double-lock UPVC doors (lift handle and turnkey)
Hide all keys, including car keys, out of sight and away from the letterbox (remember a device could be used to hook keys through the letterbox)
Install a visual burglar alarm (as part of a suite of prevention measures - a burglar alarm on its own will not prevent entry to your home)
Install good outside lighting
Get a trusted neighbour to keep an eye on your property
Leave radios or lights in your house on a timer to make the property appear occupied
Make sure the fences around your garden are in good condition
Secure bikes at home by locking them to an immovable object inside a locked shed or garage
Keep ladders and tools stored away; don't leave them outside where they could be used to break into your home
The Met also recommends that you:
Ensure side gates are locked to prevent access to the rear of the property
Ensure rear fencing is in good repair
Improve natural surveillance at the front of your property i.e. trim high hedges
Mark your property with postcode and house number and register your property for free with Immobilise
Consider joining or forming a Neighbourhood Watch scheme
Remove valuables from view of ground floor windows
Store any high-value items (i.e. jewellery, passports) in a properly secured safe or bank vault
My home insurer punished my loyalty with a £700 penalty
The safest places to live
At the other end of the spectrum here are the 20 postcodes with the fewest claims for theft from the home.
| | | | |
| --- | --- | --- | --- |
| Rank | Postcode district | Post town | Contents theft rate (per 1000) * |
| 1 | CA28 | Whitehaven (near the Lake District) | 0.76 |
| 2 | TR11 | Falmouth | 0.92 |
| 3 | CA13 | Cockermouth (near the Lake District) | 1.08 |
| 4 | SY23 | Aberystwyth | 1.08 |
| 5 | CA1 | Carlisle | 1.10 |
| 6 | PL19 | Tavistock | 1.23 |
| 7 | DD10 | Montrose (East coast of Scotland) | 1.24 |
| 8 | NR10 | Norwich | 1.29 |
| 9 | KY4 | Cowdenbeath (near Dunfermline) | 1.32 |
| 10 | KY5 | Lochgelly (near Dunfermline) | 1.35 |
| 11 | NR11 | Aylsham (Norfolk) | 1.36 |
| 12 | DL8 | Aysgarth (Yorkshire Dales) | 1.39 |
| 13 | PA8 | Erskine (near Glasgow) | 1.46 |
| 14 | SW3 | Chelsea | 1.48 |
| 15 | CA15 | Mayport (near the Lake District) | 1.48 |
| 16 | AB25 | Aberdeen | 1.54 |
| 17 | SA14 | Llanelli | 1.56 |
| 18 | TD15 | Berwick-upon-Tweed | 1.57 |
| 19 | TQ7 | Kingsbridge (near Plymouth) | 1.59 |
| 20 | EX17 | Crediton (near Exeter) | 1.62 |
Be the first to comment
Do you want to comment on this article? You need to be signed in for this feature