5p bag charge to be extended, coffee cup tax on the cards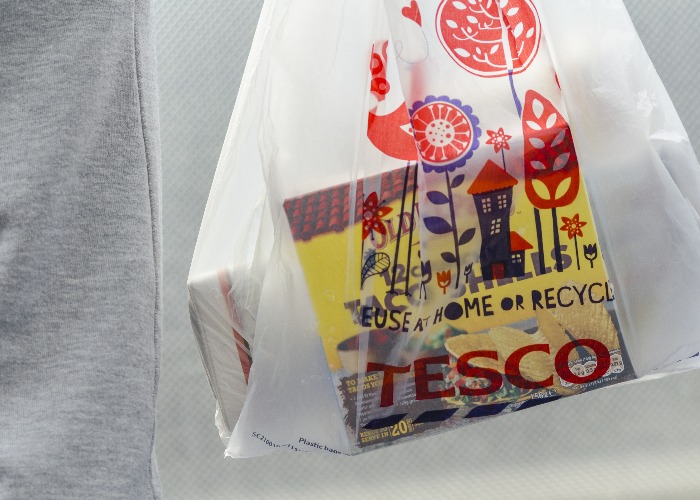 The levy on plastic shopping bags is to be rolled out to smaller shops under new Government plans, while a heftier 25p 'latte levy' is also being considered for takeaway coffee cups.
The 5p plastic bag charge is to be extended to almost all shops in England, the Government has confirmed.
Under current rules the charge applies solely to larger stores with more than 250 workers, so it's been seen primarily as a supermarket bag tax.
But the Government is set to extend the levy to almost all stores as part of a broader plan to tackle Britain's supposed "throwaway culture".
More details of when it will be applied will be released in a speech by the Government tomorrow (Thursday, 11 January), in which it will outline its environmental plans for the next 25 years.
Paper bags will remain exempt.
Whether or not you agree with the bag tax – and it's not been without controversy – there's no question that it's been successful in cutting usage.
Government stats suggest it's down 90% since the tax was introduced in 2015.
Wales, Scotland and Northern Ireland all introduced their charges earlier than England – in 2011, 2014 and 2013 respectively.
Read more: where does your 5p bag tax actually go?
Article continues below
Coffee cups next on the list?
There is also widespread speculation that the Government could be planning a hefty 25p charge on disposable coffee (or tea) cups, such as those served in Starbucks and Costa.
It's become a hot topic among environmentalists and it's not hard to see why: each year the UK throws away millions of the cups, which are extremely costly to recycle because of their plastic lining.
And politicians are now keen to be seen to be doing something about it, with a hefty tax the most likely outcome.
Michael Gove who always acts the fool got caught out with a disposabale coffee cup last Cabinet meeting Today turns up with what looks like a plastic cup !!! pic.twitter.com/MSdQ3vFm46

— Political Pictures (@PoliticalPics) January 9, 2018
It's believed any funds raised will be invested in reprocessing facilities to better recycle them and similar packaging.
As a final point, it's worth noting that some coffee shops, such as Pret a Manger, already offer a discount of up to 50p if you bring your own coffee or tea cup in with you.
So if you're a regular visitor to one of these shops it'd definitely be worthwhile investing in a reusable cup.
Heading down the shops? Make sure you get the best price with our weekly supermarket deals round-up.
Be the first to comment
Do you want to comment on this article? You need to be signed in for this feature